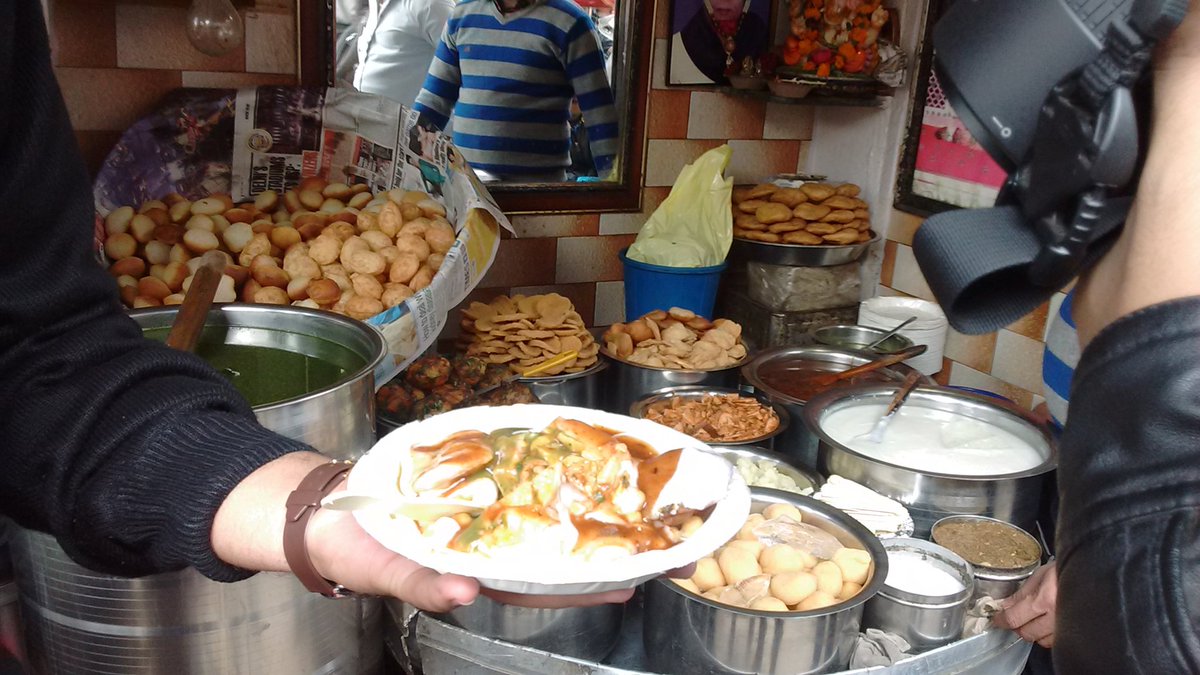 Late morning we met at the Chawari Bazar Metro station and started the last working day of 2015 with nearby Ashok Chaat's Papri Chaat and Golgappas, a shop more than fifty years old! My colleague (Haleem fan) had arrived early in the hope of having Haleem for breakfast, but, we arrived just in time to dash all his hopes and he had to satiate himself with Chaat for breakfast!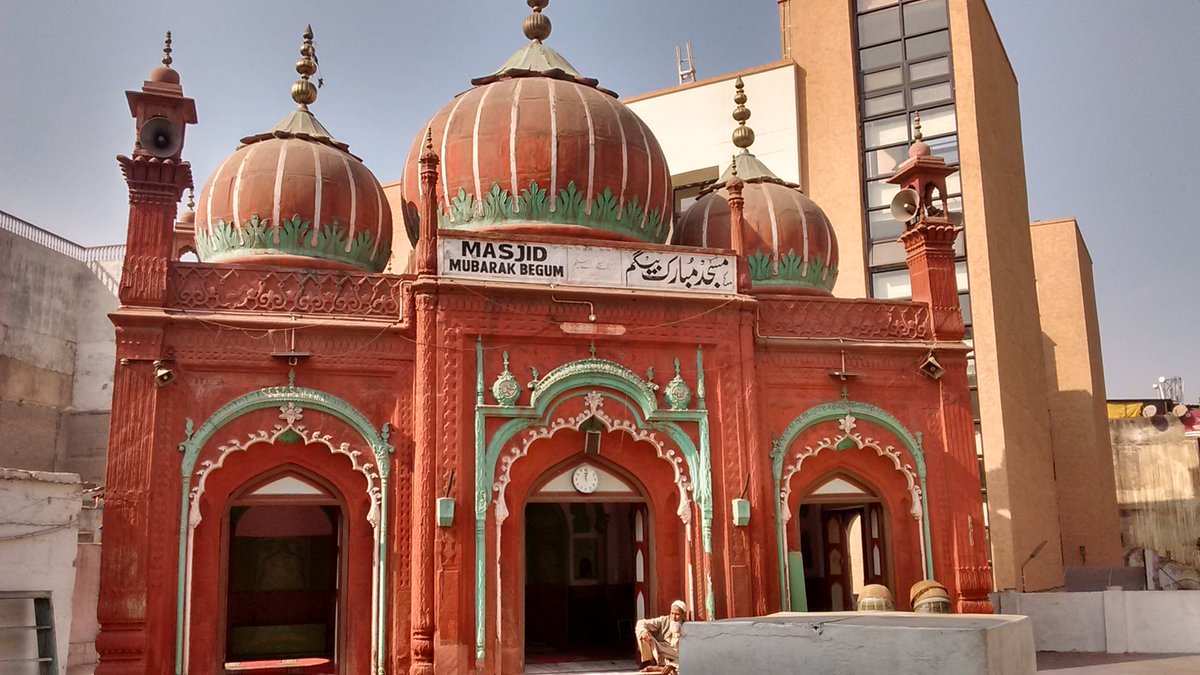 We decided to cover the market of Hauz Qazi. On the main road, one can easily spot Mubarak Begum's mosque. Constructed in 1823, also referred to as "Randi ki Masjid" (Prostitute's mosque) on account of her being a mistress and a nautch girl from Pune, she converted to Islam and became 13th wife of General David Ochterlony (first British resident of Delhi). The mosque is an interesting mix of Anglo-Islamic style, painted in red and green. The caretakers were friendly, did not object to us shooting, but only asked us to hurry up, as the time of afternoon prayers was approaching. The board with the details about the mosque, on the ground floor was covered by Bhatia Pipe's stuff. We asked him to remove it, the owner swiftly removed everything that hung from the board, but in no time was back again as we walked ahead.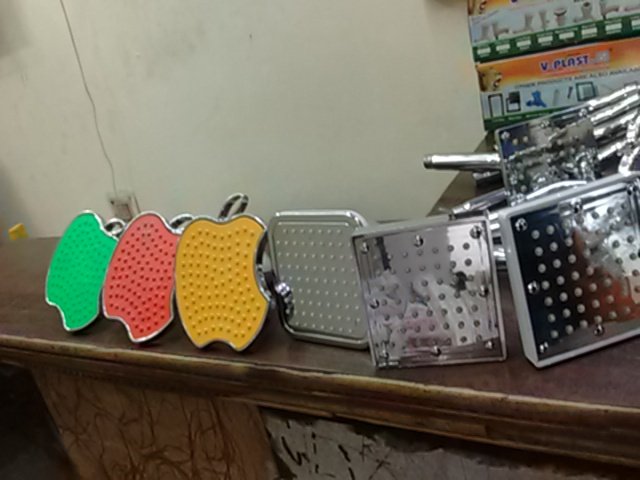 We walked into one of the lanes of the Hauz Qazi market. This is Asia's biggest sanitary ware market, we were told by various shopkeepers. We went inside an old haveli-turned-godown. The designs on walls and pillars were somewhat visible, but the traders disallowed us to shoot over there. Legally, it was a heritage building and they had converted it into a go-down! They threatened to throw us out and take our cameras, we did not want a scene so we walked into another lane. The variety of taps, showers, toilets and all the accessories were mind boggling.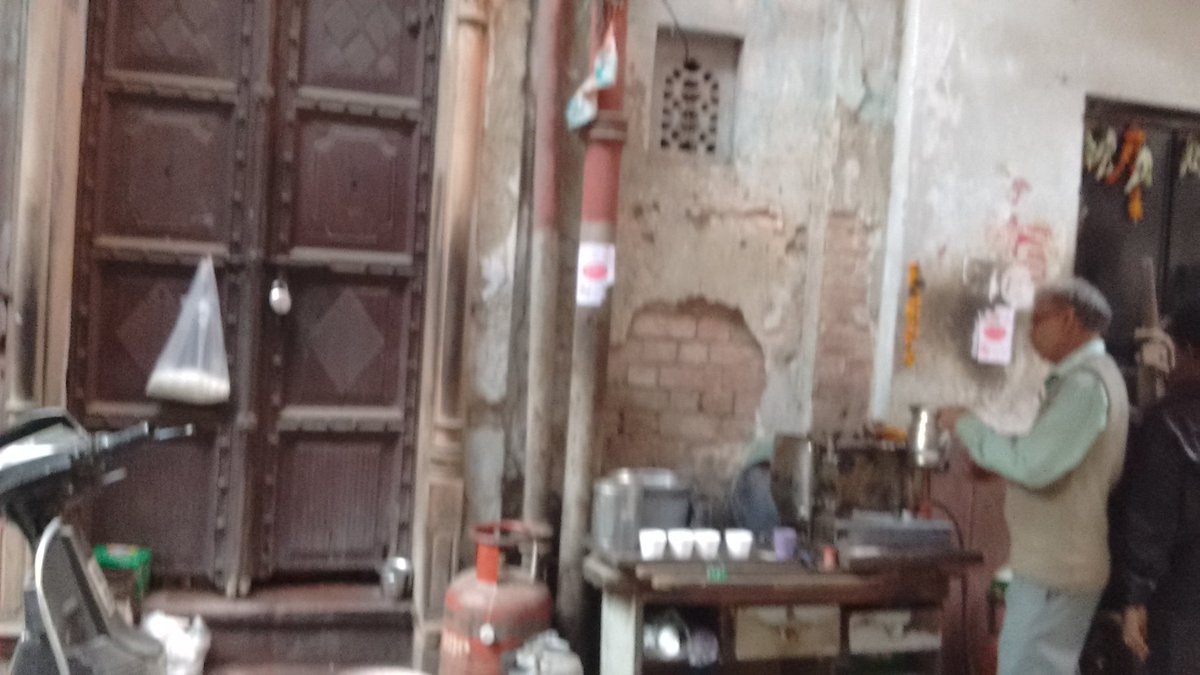 We kept walking into lanes and shops and found this tea seller, making tea with froth on coffee machine with cardamom. He had been selling tea here for over 40 years.
The haveli nearby had a board which said "Not for Sale or Rent ", as it is a market, the house owners who have shifted out are under constant pressure from traders to lend their space for keeping goods. The name was interesting - "Chhatta Sufi- Peepal Mahadev", named after a temple dedicated to Peepal tree and Shiva.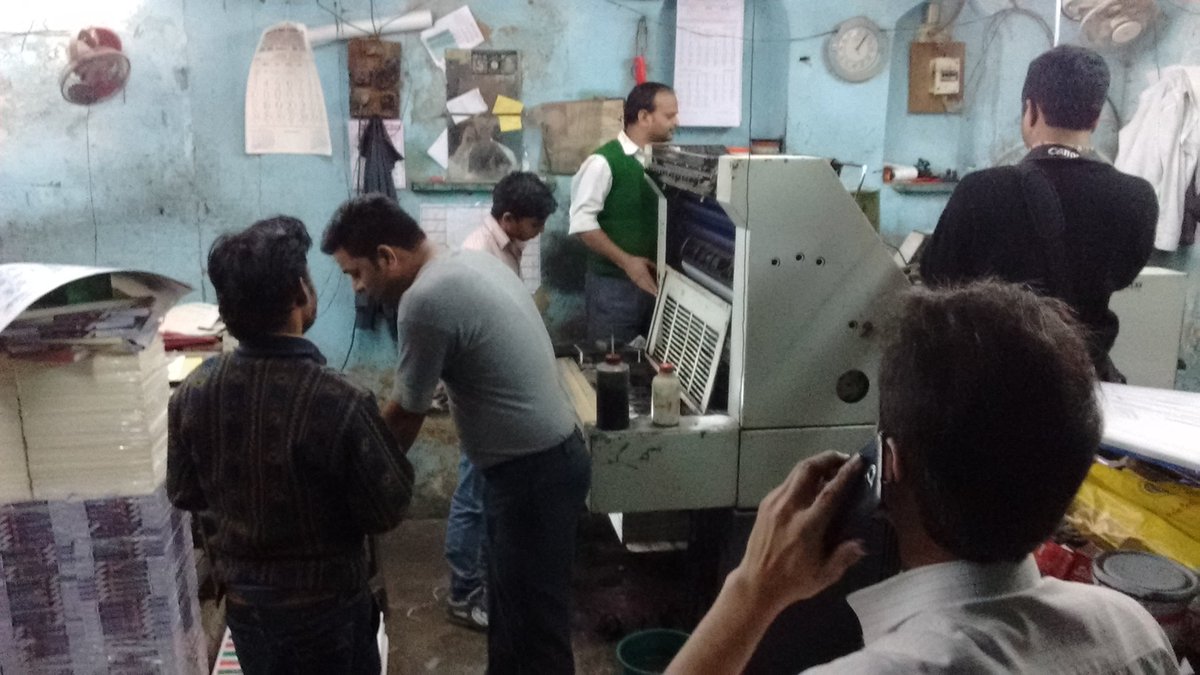 Walking further, we came across again a beautiful Haveli falling apart, where a school was run previously. On the ground floor was Sharda Printing Press printing since 1940s. The owner Sanjay, printing calendars, said, the business was only 10% left now. The digital printing had taken away his business.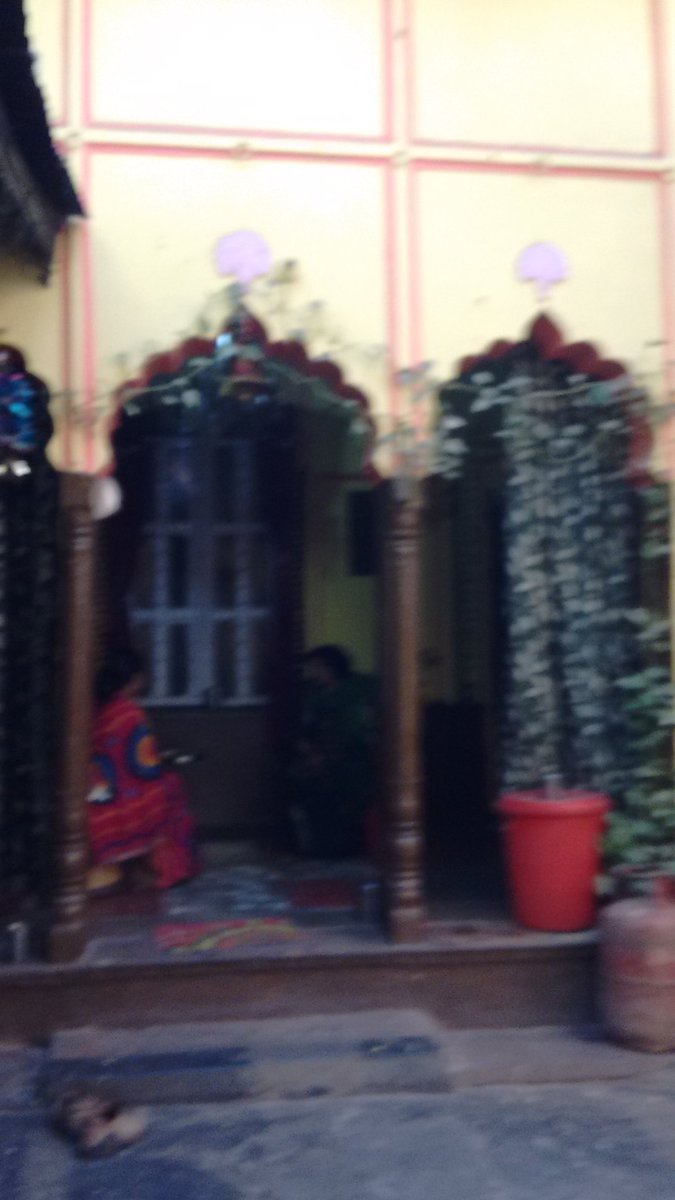 As, we kept walking in the by-lanes of the market, our eyes getting tired of all the showers/ taps on display, we spotted this beautiful haveli painted in bright colors and well maintained too. We decided to knock on the door, (and I am glad we did), as we met the Sharma family, one of the most friendly and nicest family, from oldest to youngest were kind and sweet(even their Dalmatian dog!). Two brothers living in this haveli, where recently a Manoj Bajpayi-Aditi Sharma film was shot recently, they kept telling us about the shooting stories. The entire ground floor has atleast four different temples, in the courtyard, in the rooms. Kitchen is on the ground floor, and bed rooms on the first floor. Even though they had closed the temple doors post- Pooja but opened it for us. The house had a covered well (now water drawn through pump), water was used for ritual/ pooja purpose. The elder sister- in-law gave us a guided tour, more talkative of the two sister-in laws, told us about the history of the house, Manoj Bajpayi stories, and other details! There was space for 'Parikrama' around the temple. We went to the first floor. There were some plants and around three to four varieties of Aloe-vera plant. She said, pointing at one of plants, that it was sweet, and they also use it to make sabzi of it! As she tore a part of it, offered it to us, my colleague ate a part of it, I politely declined, and she happily finished it herself .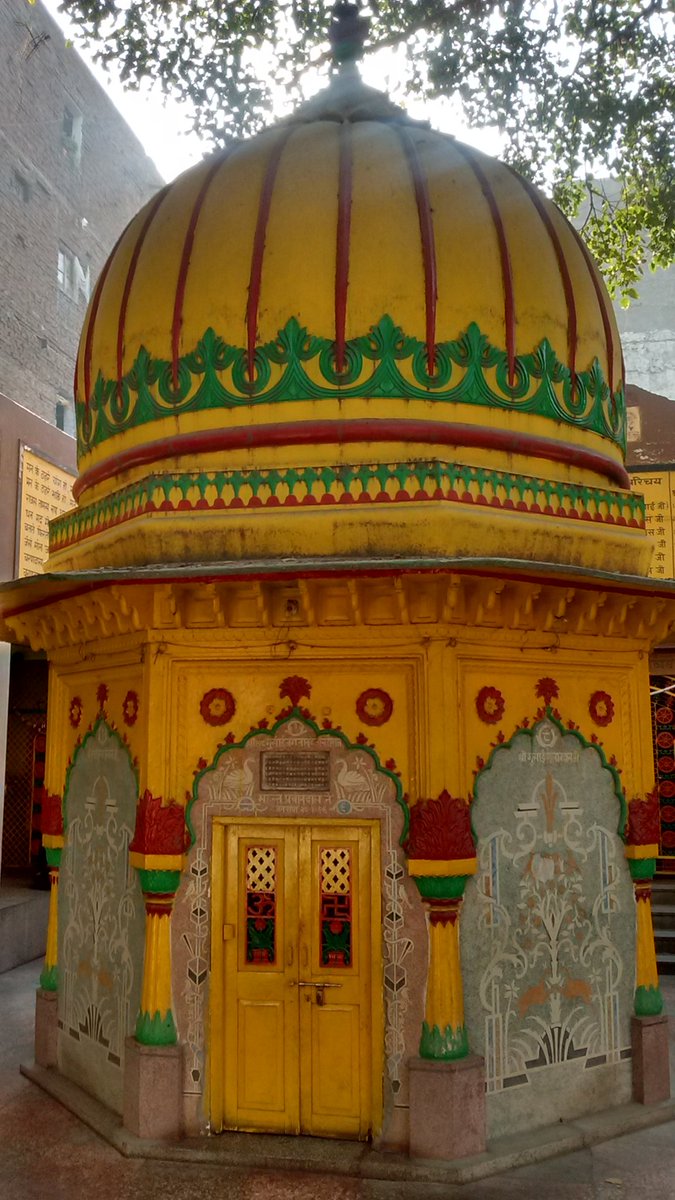 Their "foreign breed- Dalmatian" dog was basking in the winter sun, only 9 months old, it looked big. We took our time and shot around the haveli. There was a pakoda shop opposite to the house frying gobhi pakodas, as Mrs. Sharma, praised the pakodas, we decided to check it out. I bought some for us and some for the family. I gave it to Mrs. Sharma's son, (a school- going boy), he instead asked us to join them for lunch or tea or just some/ any food. We were already impressed by the family and their hospitality (finally some Old Delhi tehzeeb, as I proudly told my colleagues!)
Mrs. Sharma had told us about the many mandirs in their lane. But, since it was afternoon, most were locked. Apparently, Gods rest in the afternoon! Luxuries Gods get, denied to human beings!
Guru Charandas Mandir looked very big, well maintained, brightly painted, but inner part of the temple was locked. Another temple in the opposite lane, had a fountain in the courtyard, where the families living on the first floor had planted a banana tree!
This part is mostly Hindu dominated part where Vegetarian food is found, often even with out Onion/ garlic. The trader community living here, practices strict Vegetarianism. Thus, the Jain fruit sandwich, matar samosas, milk/paneer dishes, gobhi/ bread pakoras, etc. We finally found our way out towards the main road on the Chawari Bazar, and moved towards Nai Sarak.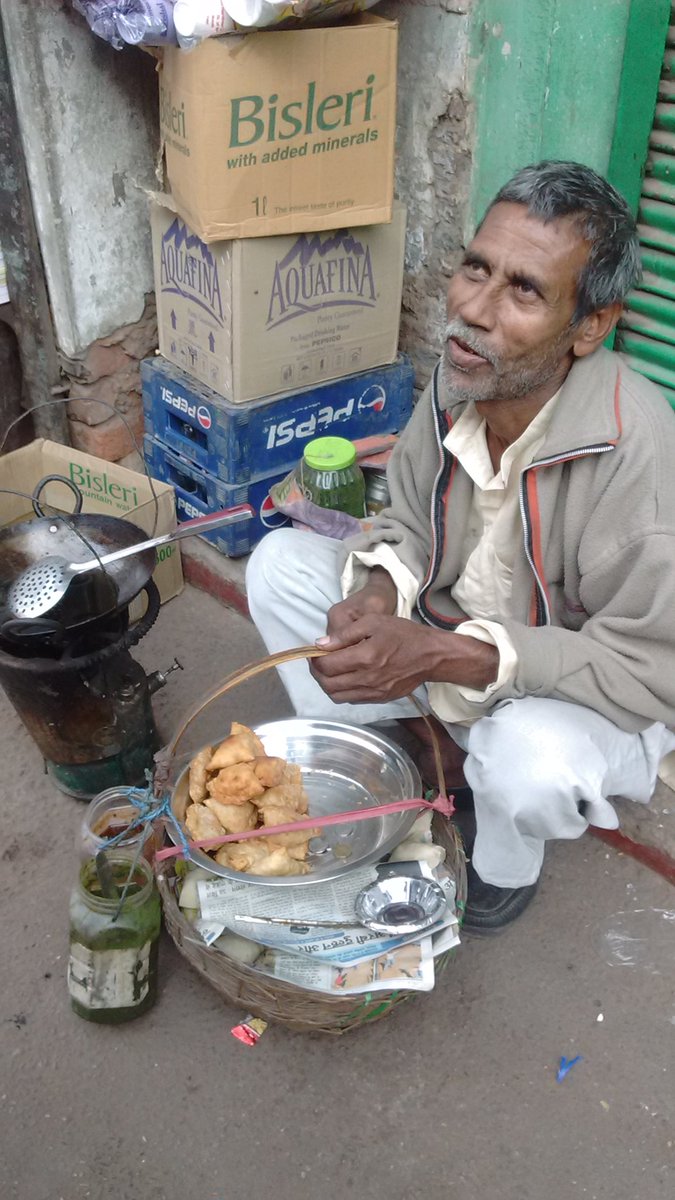 Nai Sarak is a big paper market for books, stationary, diaries etc. The market is always crowded. We tried to do what we had done at the Bhagirath Place. Climb a tall building and take a shot from there of the crowded lanes. The people were not friendly here, and the shots just did not happen!
We kept walking and found this samosa wala selling samosas for the past 45 years at Nai Sarak. From Bihar, he was disinterested in the Bihar politics (rare Bihari)! The samosas were small, spicy but nice.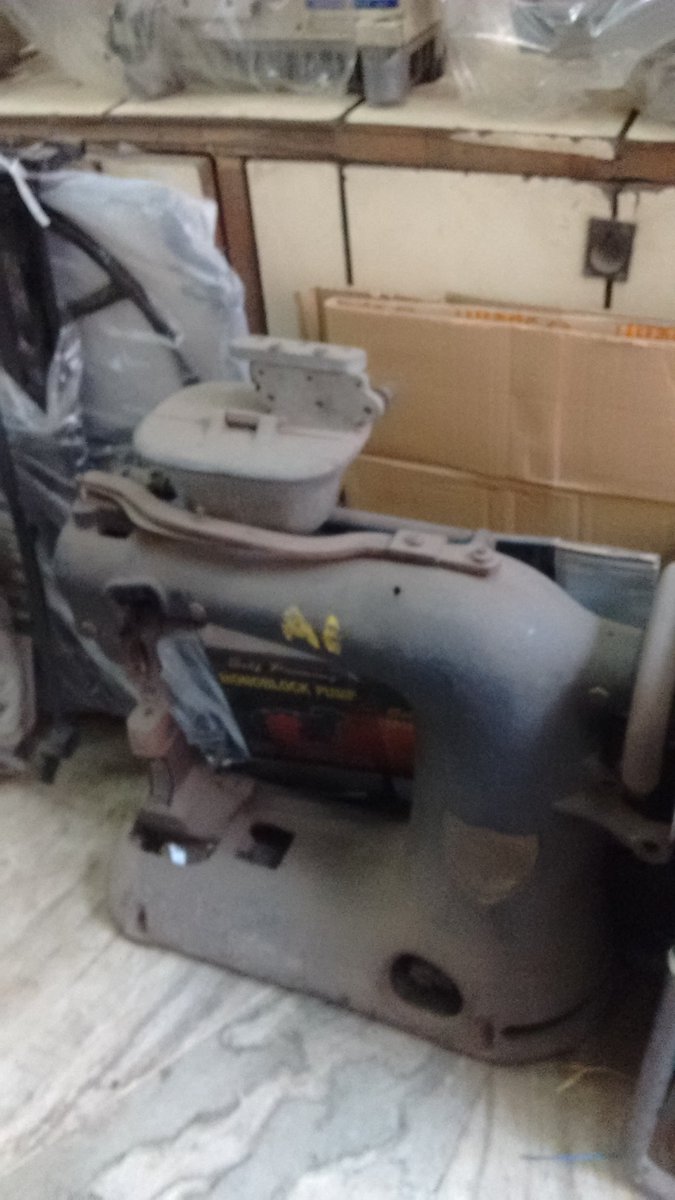 We entered a Singer sewing machine shop, and found very old sewing machines. The owner said, the sales have not been affected, as people still give their daughters sewing machine at the time of wedding. Also, retail revolution in clothes means their machines are still in use. The designs have changed though. The oldest sewing machine in the shop was from 1885.
Next, from Nai Sarak we turned to purana Marwari Katra, where one can always find people shopping for wedding clothes. Heavy lehengas, sarees, etc. One of the small lehenga shop seller told us his most expensive lehenga was for Rs. 30,000, as the work was all handmade. Machine lehengas can come for Rs.5000 also.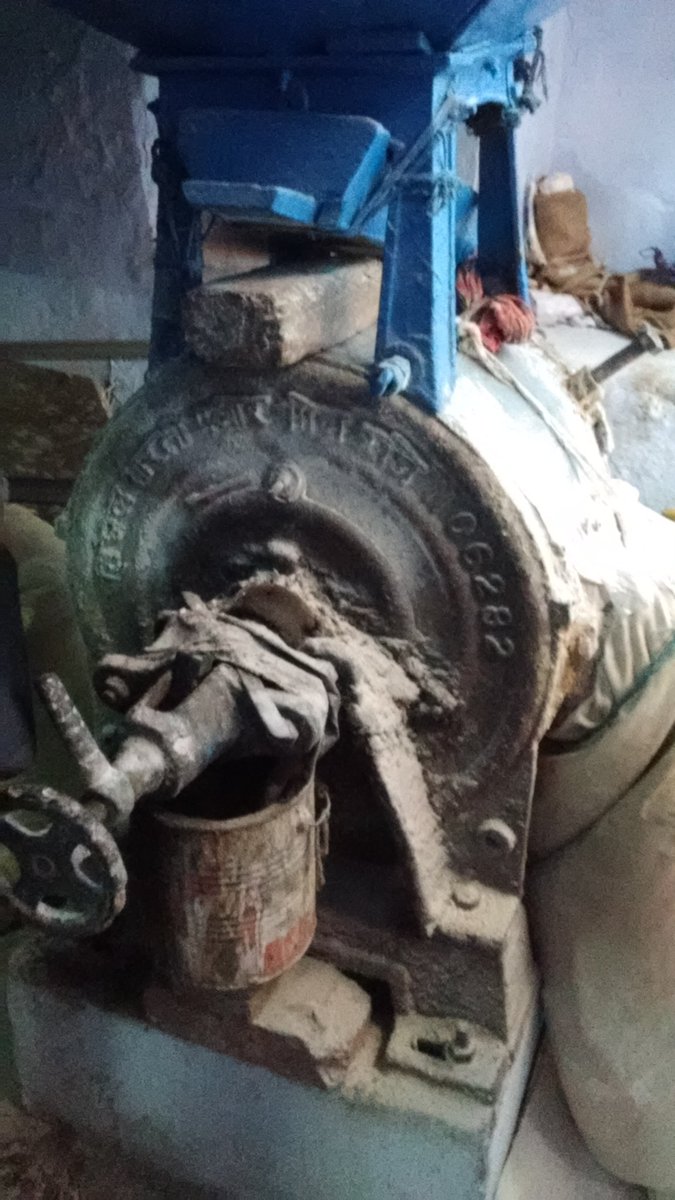 One of the shop owner in the market, under a beautiful Haveli, told us about the history of his haveli. A very old Haveli, happy to pose and talk on the camera but refused us the permission to shoot inside his house!
There was an old Atta chakki, we decided to speak to its owner, who was sleeping inside. He promptly got up, and started the chakki for us! 110 year old Atta Chakki, could still do 100 kg of wheat in 40 minutes.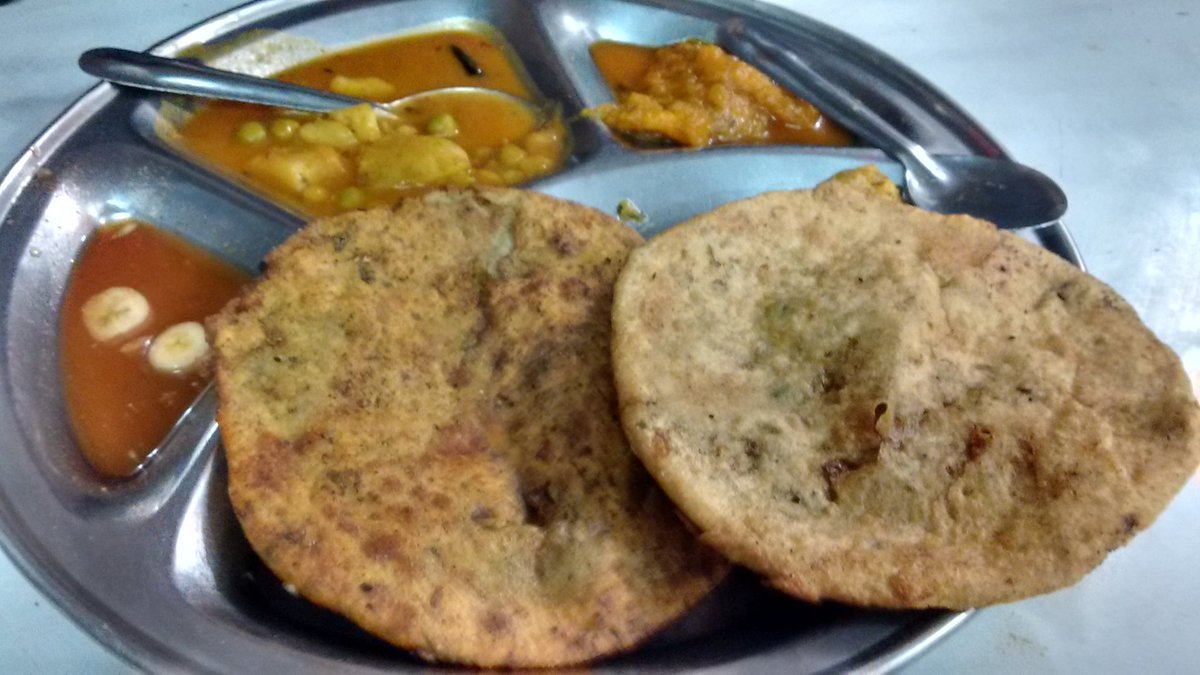 This street merges into the famous Parathe Wali gali. All the paratha shops in this street are of the same family, now run by cousins. The owner of one of the shops was happy to pose and talk about the history of his shop. Also, prompted me to ask questions, that I "should" ask! He said, after the coming of Metro to Old Delhi, the business has really picked up. The smell of parathas made us hungry and we decided to gorge on mixed/ aloo/ rabri parathas, served with two kind of sabzis. Parathas are deep fried in Desi ghee. We ordered Lassi too, which was disappointing! Gluttony? Nope, its work!
Outside was a nankhatai wala, looked educated, made in desi ghee his nankhatais were big and actually very good. He told us, it has been his family business, but his children would go into service industry, they will not carry the family tradition!
From here, we emerged on the main road of Chandni Chowk. I thought, we should go towards the Fatehpuri side. The bedsheet market near the St. James' Church (built in 1867), was very crowded, its streets stone paved, but had come up only in the 1970s. Not old enough, we decided to walk to the opposite side, where we had seen a couple of interesting buildings.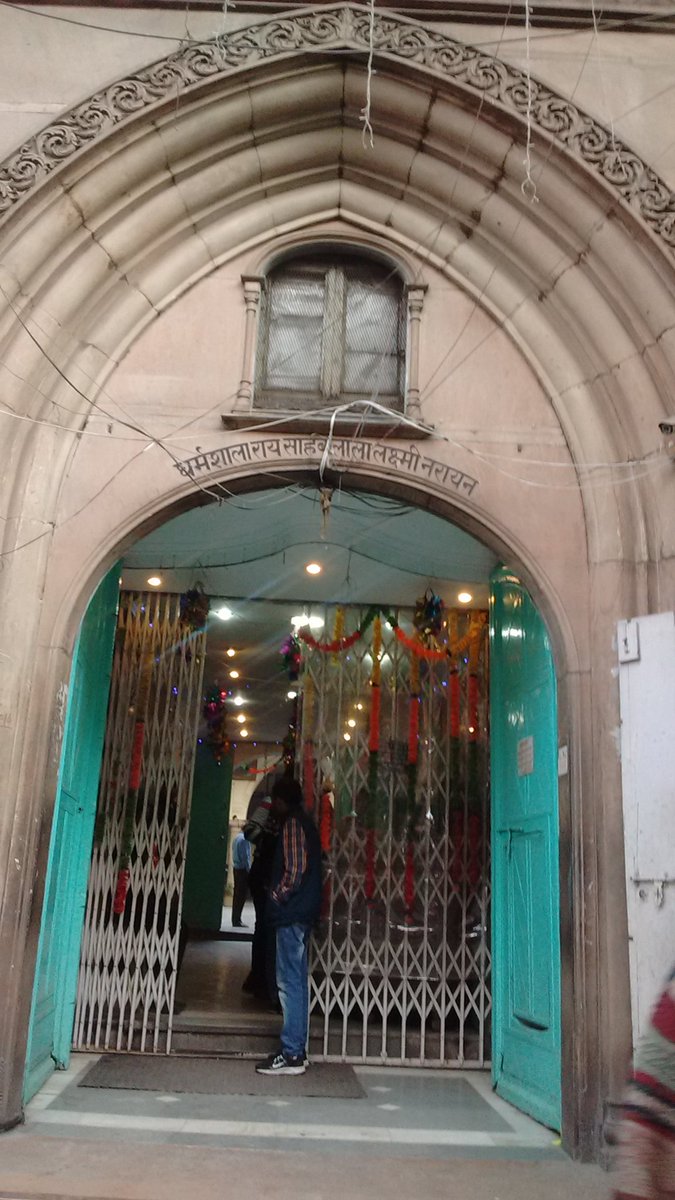 One was a school run by a trust, its charges were nominal and classes ran in shifts in the morning and in the afternoon. The same trust also ran a Dharamshala, the charges were Rs. 70 per day! The place was big and clean. We asked, if they face problem of over-stay by people as charges are so nominal. The friendly person at the Reception desk said, they give three days, and allow overstay depending on the seriousness of the reason for it.
But, the senior in-charge team (three not- so- friendly heavy Lala men sitting behind a big desk) refused us the permission and told us to contact their secretary who lives at Hailey Road!
We came out and went to the opposite hotel- Punjab Hotel. Here, the charges were from 280 to Rs. 300 per day for single and double room respectively. The building was very open, British style and very quiet. Hotel team was friendly too, owned by a Sardarji, the hotel occupancy was almost full too.
It was evening now. The light was fading and we were feeling tired too, after a long day. We decided to take rickshaw back to the Metro station. As my colleague inquired again, if he could eat some haleem, at least now!