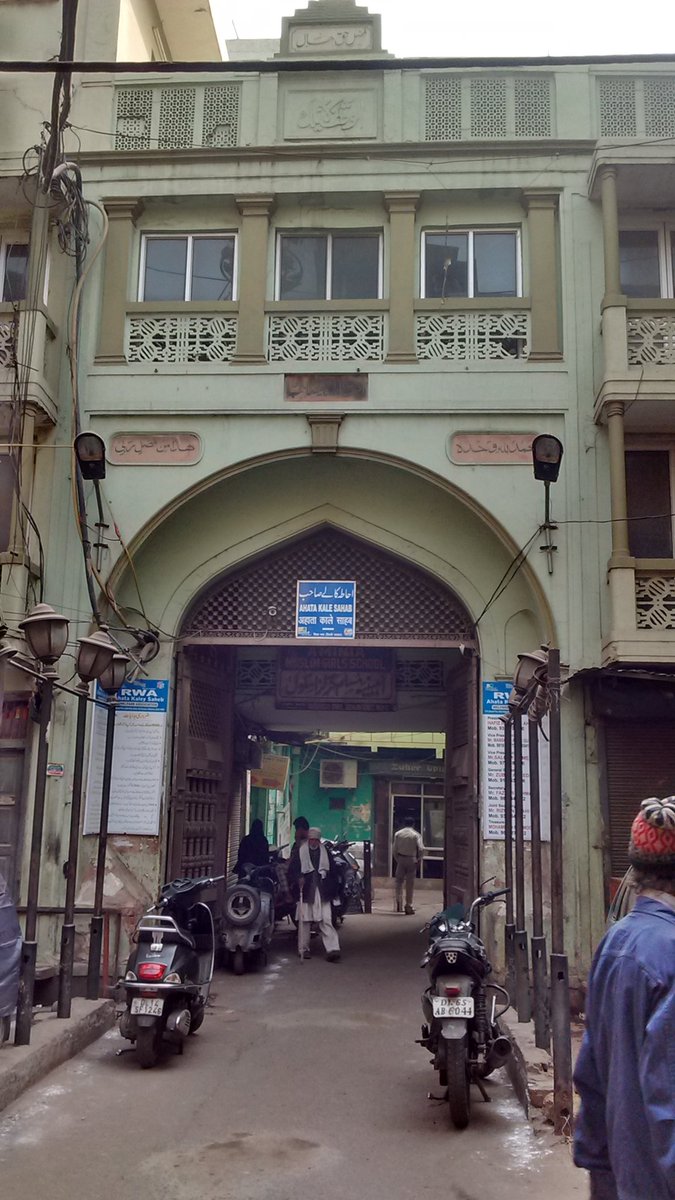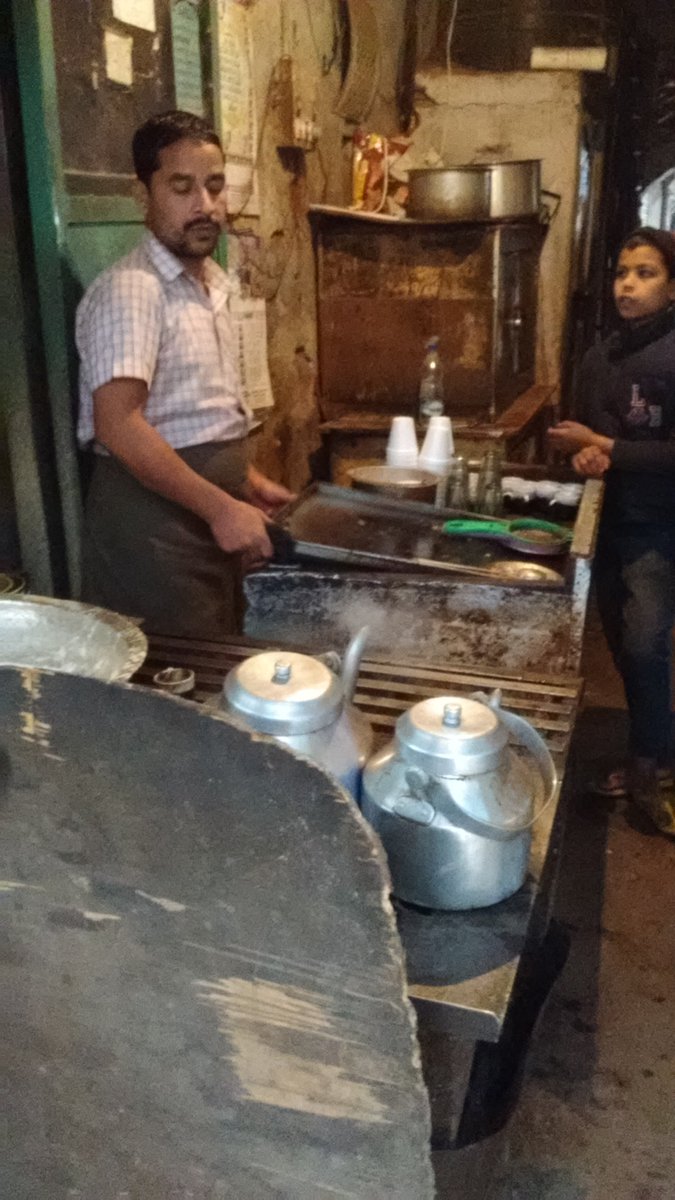 It was going to be our last day of shoot before we took a break for a month till February. There was no plan, so we decided to explore more of central Chandni Chowk. Chawari Bazar Metro station has now become our meeting point.
We walked from there to Ballimaran, crossing Hauz Qazi, Lal Kuan on the way. Gali Qasim Jaan Ballimaran became famous especially after Gulzar's TV series on Ghalib. We decided to have tea at one of the Chai walas, as buildings around made it 'interesting' architecturally. Opposite was Ahata Kale Khan Sahab, a neighbourhood mostly dominated by Punjabi Muslims.
As we discussed our plans for the day, and I told my colleagues about some of the famous bakeries of Ballimaran, other people having tea suggested a few other names'.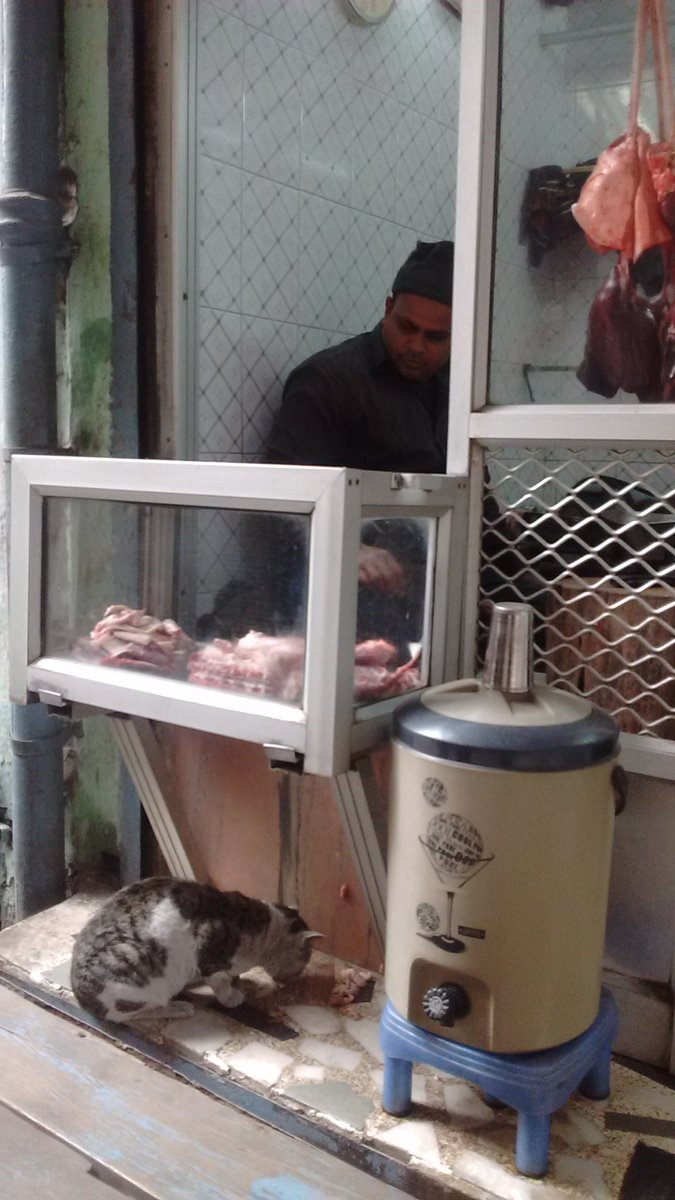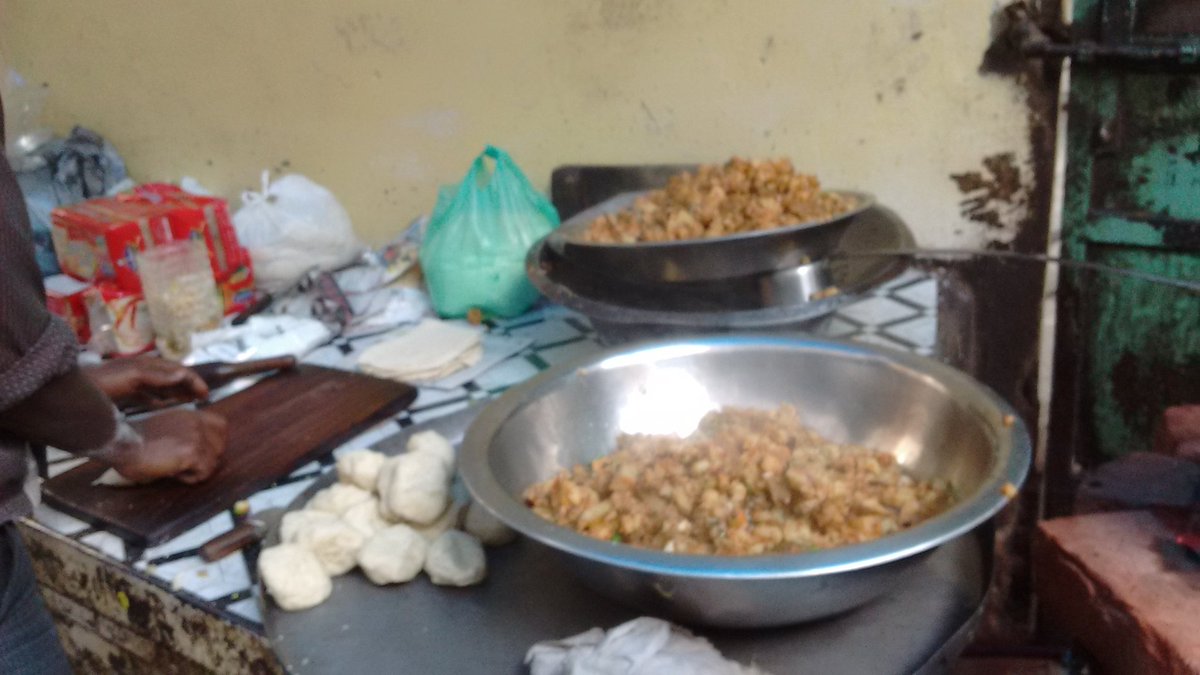 The other eateries looked interesting too, we had decided in the morning itself that we will have early lunch at Ballimaran. One of the perks of working in the city of Shahjahan, is one can decide, pick and choose liberally from the available abundant options- Vegetarian and non-Vegetarian both.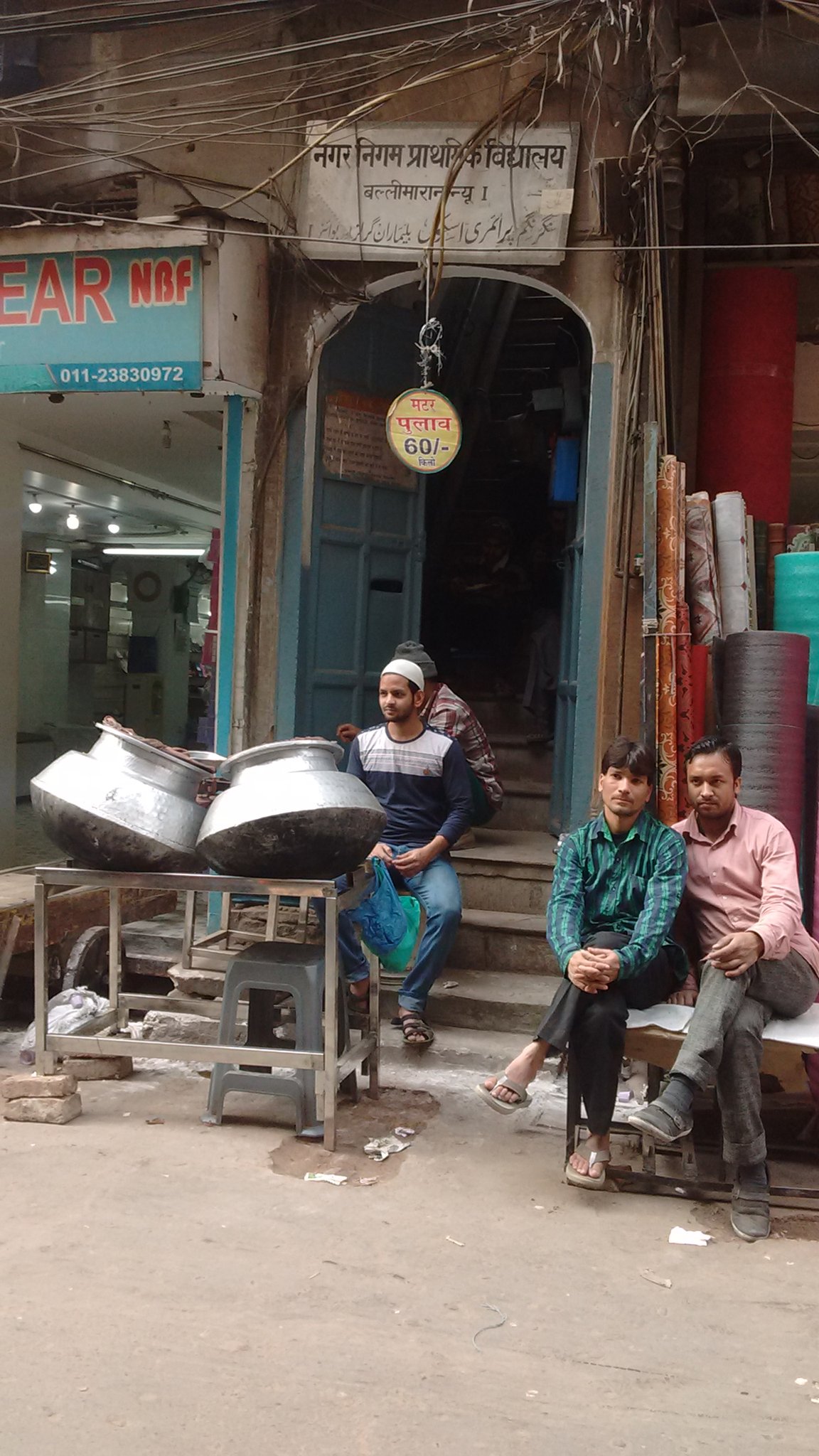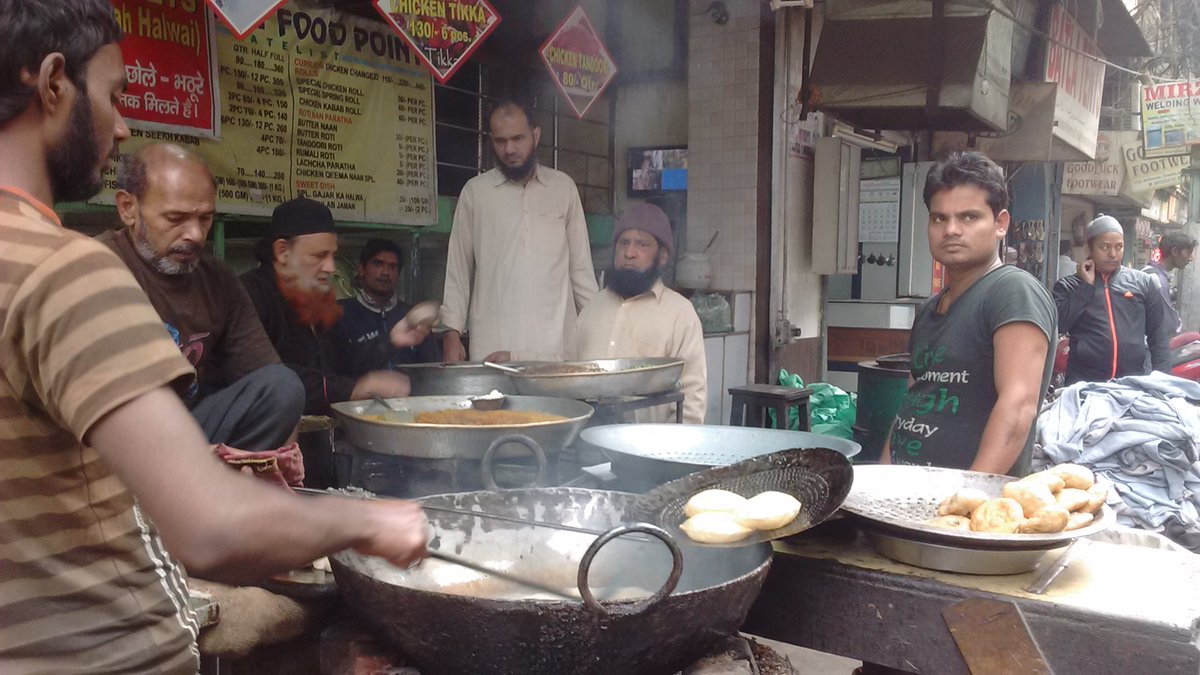 (A butcher feeding the cat all the useless meat, and on the right samosa preparations on for late evening, along with another shop still selling poori-sabzi). Another interesting boy was shouting about Vegetarian Biryani- his board said Aloo ki Tahiri and Matar Pulao, a kilo for Rs. 60!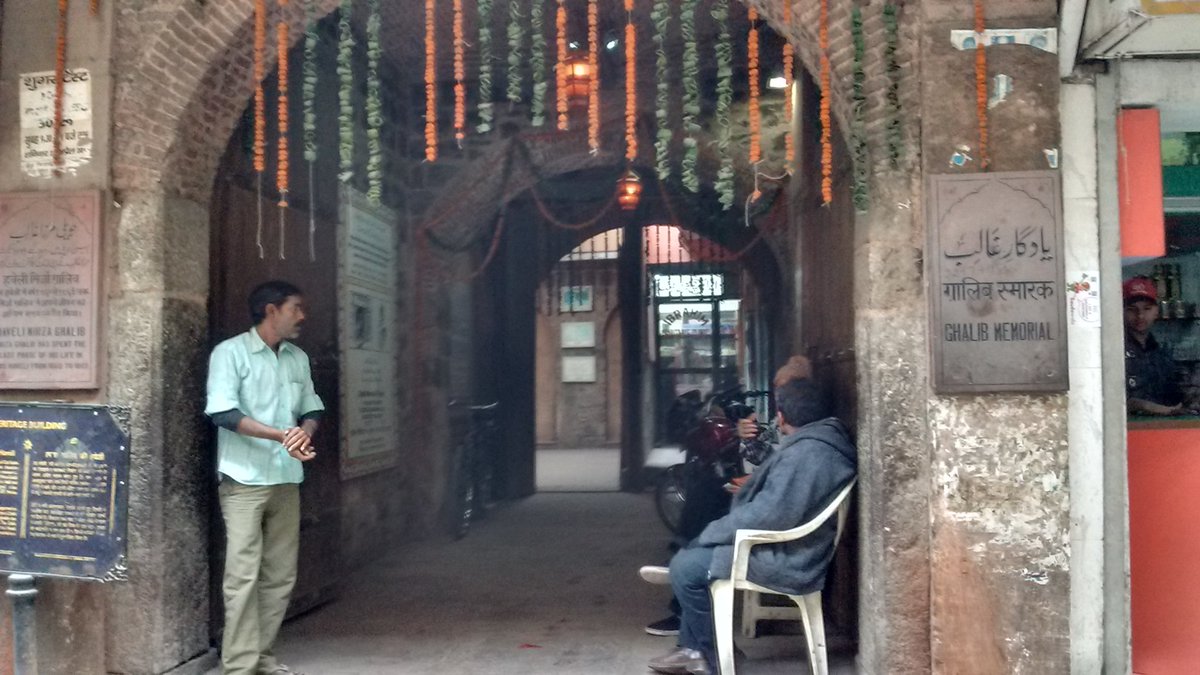 We went further in Gali Qasimjan and reached the Ghalib's Memorial. It was encroached upon heavily and has only recently been restored partially. Ghalib's poetry written in calligraphy in English, Urdu and Hindi. Some of the translations in English were quite bad, to be honest!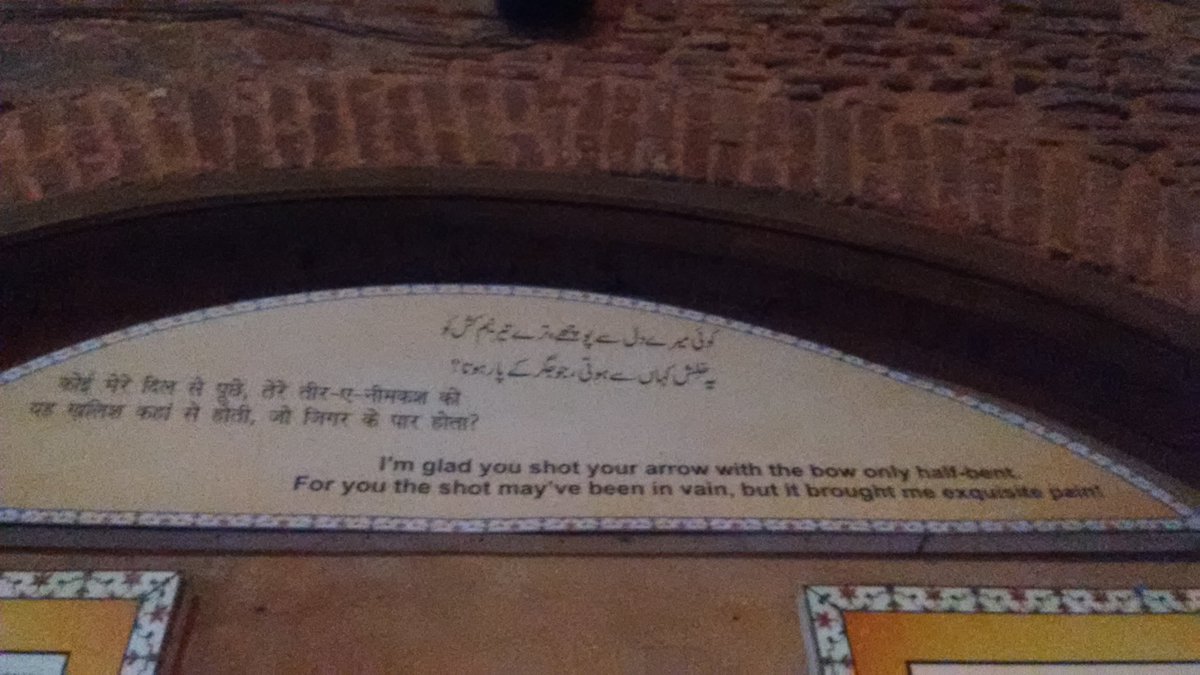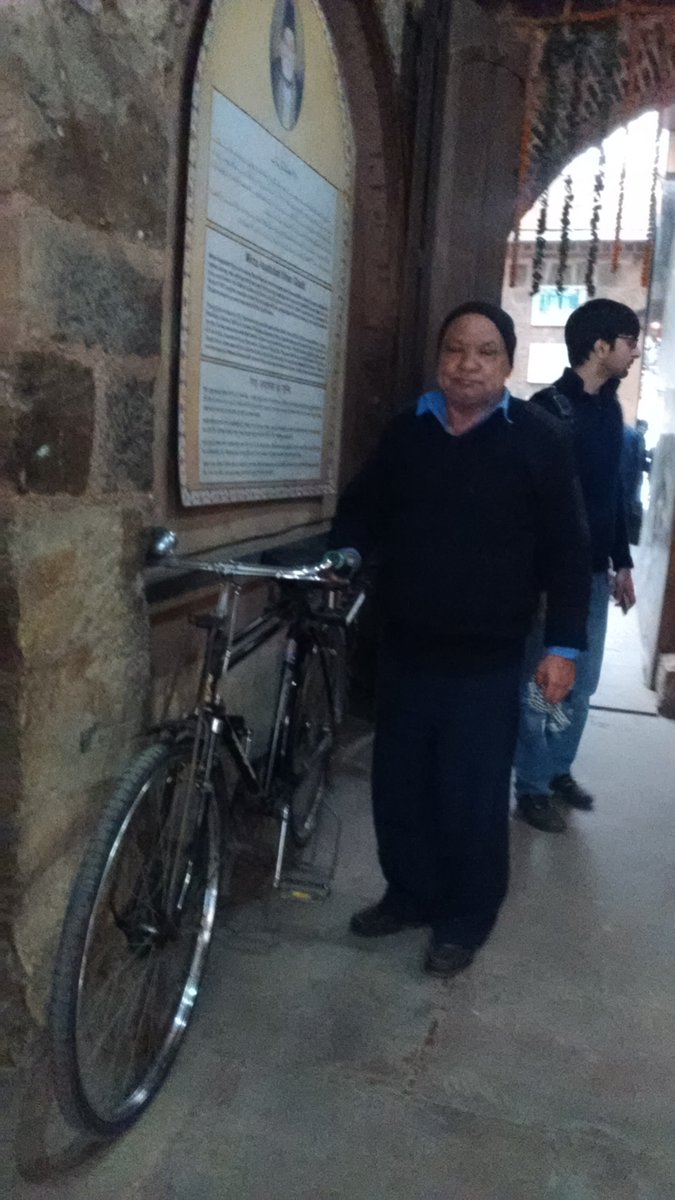 The guard at the Memorial cycles everyday from Yamuna paar colony and gets Rs. 6000 per month. He complained about lack of toilet in the complex.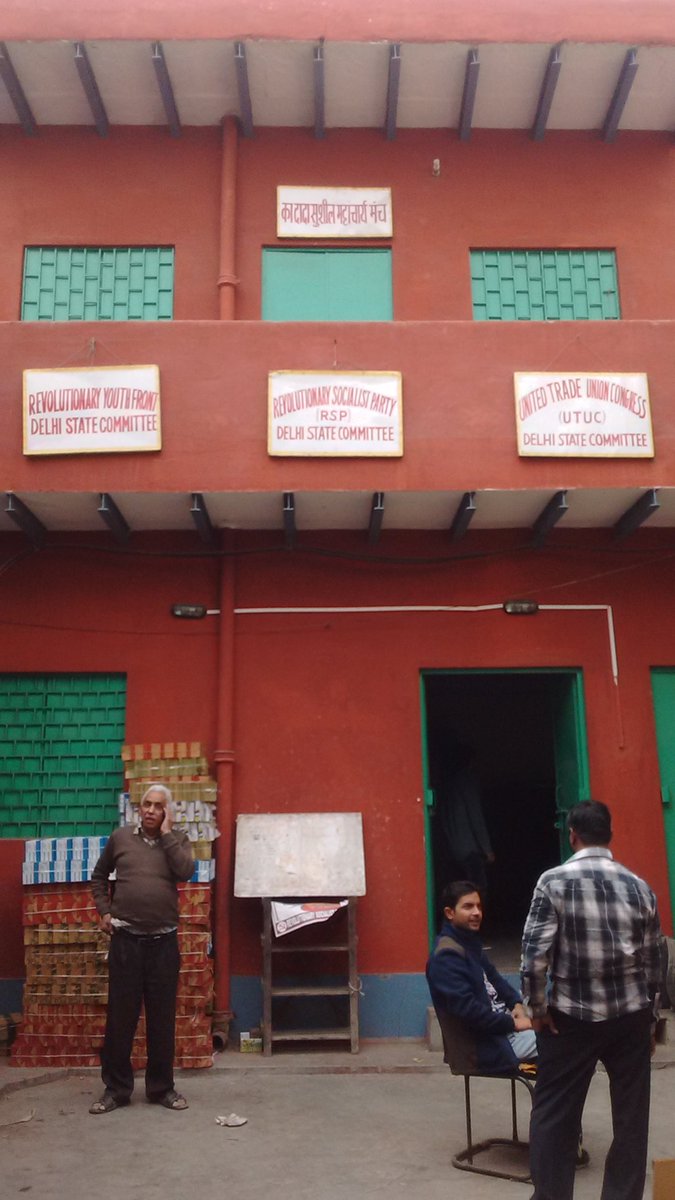 Further, as we turned towards the Spectacles Market of Ballimaran, from Gali Qasimjan, we found a few interesting offices.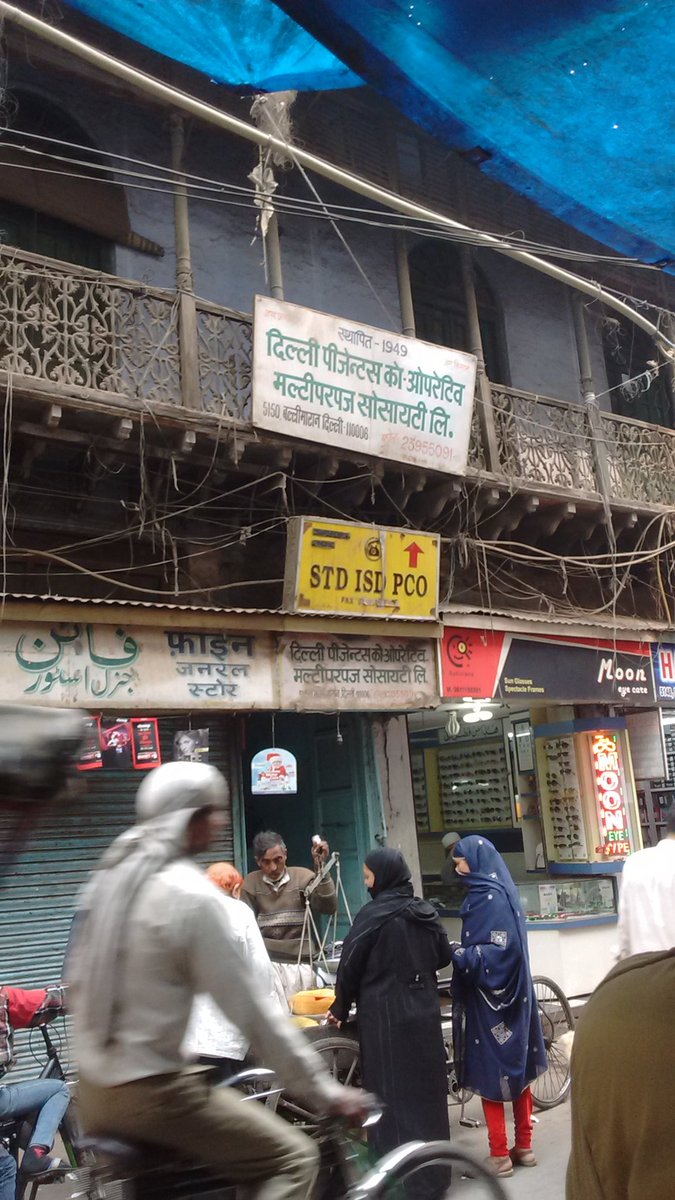 On the left is the Party office of Revolutionary Socialist Party Office. I wanted to go inside and climbed the stairs to the first floor office to speak with the people managing it. Only problem- it was empty! We joked, Revolution has finally been abandoned, and everybody has gone home!
As we asked some of the other people who had other shops on the same floor, they said usually a man sits and probably had gone to have his food. But its doors were open, I tried to look at the literature inside the office, there were just some flags, no pamphlets, nothing! Disappointed I came out.
A little ahead, we spotted an interesting building with the board, which read, "Delhi Peasants' Co-operative Society" working for Delhi's peasants. There were three to four people who were sitting inside. My first question to them was, there are no peasants here, so why have an office here in this part of Delhi? They said the office was set up by the first Delhi government, to help the farmers' of Delhi. Now the farmers live around Yamuna, Okhla, Seelampur areas. Some farmers' come to this office and sometimes they have to go to the field. The building was very interesting, we took a few photos, thanked them for their time and left.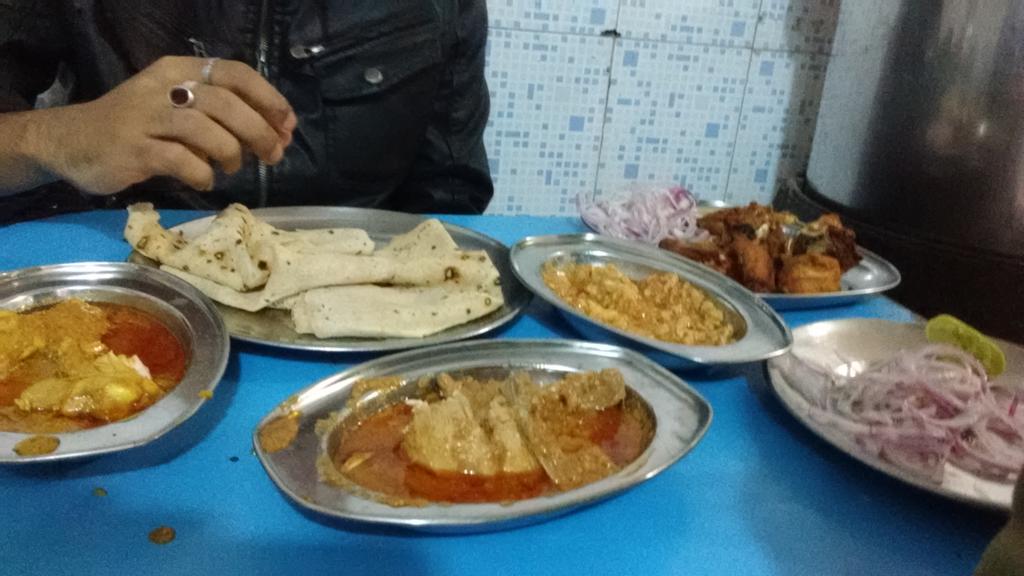 It was afternoon now, we were hungry, so we went to a eatery and ordered almost everything from the limited menu. And the bill came to just Rs. 350 and most of the food was of Chicken based, except for the fried Fish.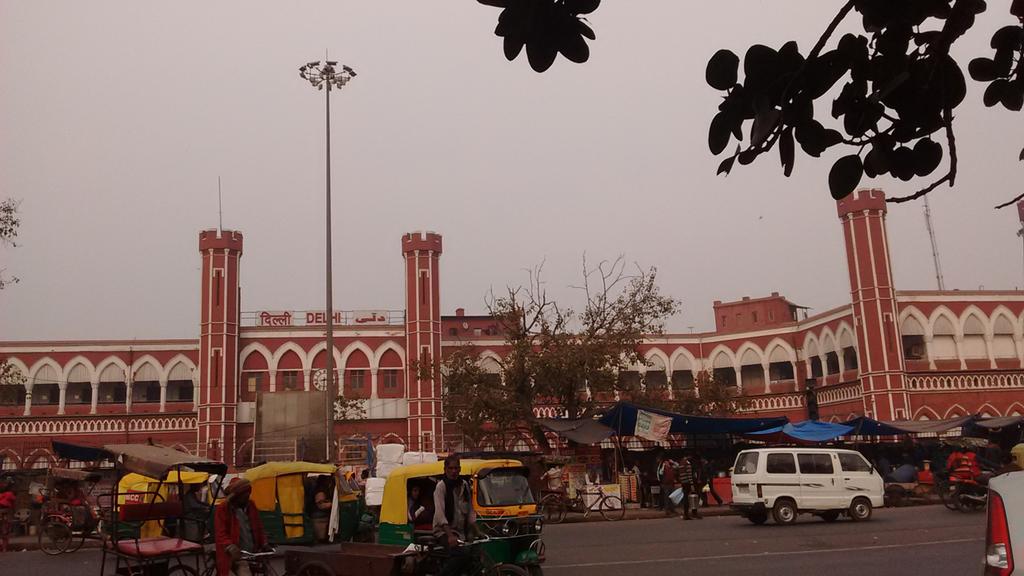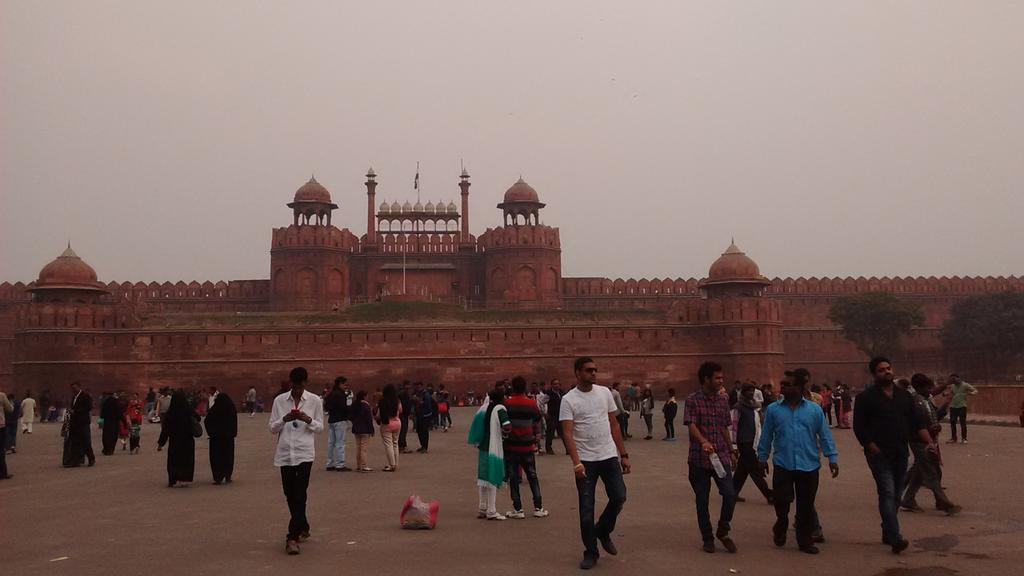 Post- lunch we decided to go towards Old Delhi Railway station , but the crowd and traffic was too much. We kept walking and reached Red Fort. It was late afternoon now. The light was fading fast, when we entered Red Fort.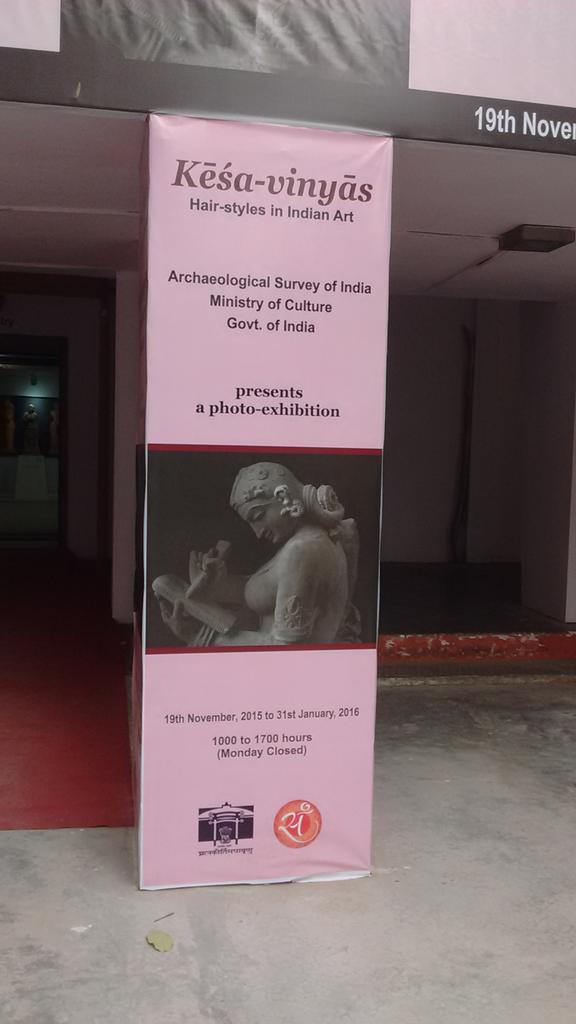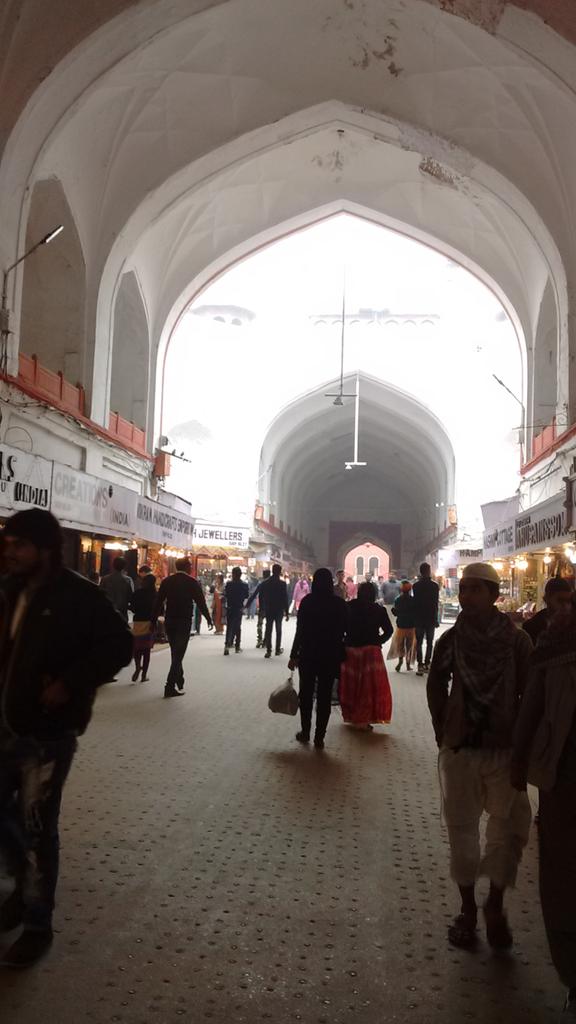 The covered Meena Bazar market inside Red Fort where rent starts from Rs. 16 and goes up to maximum of Rs. 120.
There was a very interesting exhibition going on by ASI and Ministry of Culture on the Hair styles in Indian Art. And outside on the cut outs there was a long queue of people busy taking photos, we could not resist too!
On one side, there was even a Selfie Corner!
There was a note which explained -
"Hairstyles very much depended on the wealth, age and social group the individual circulated in. Bound hair was felt to be symbolic of propriety..." (language for aam janta!)
Hairstyles of men, women, priests starting from Harappa/ Mohenjodaro to Mughal era all were on display through paintings, sculptures, etc.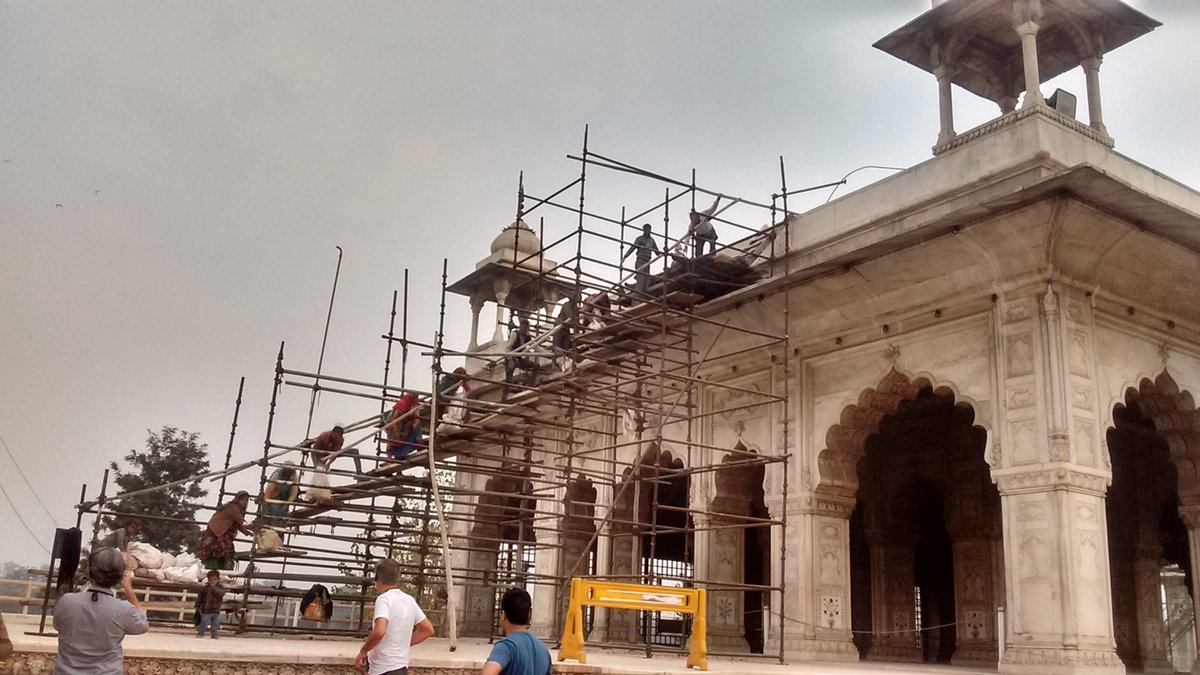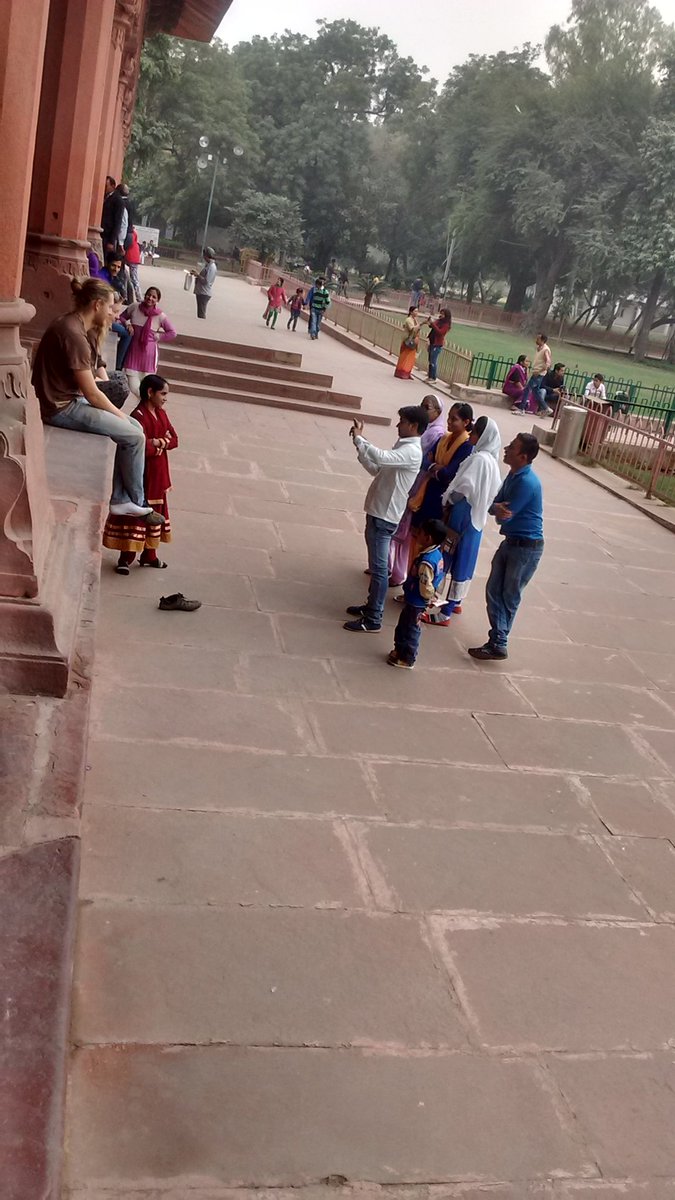 As we went inside to capture whatever we could in the fading lights, we saw this family where each member including the newly weds separately posed with a "firangi" couple! The Indian obsession with the White skin knows no bounds, we laughed our hearts out, when we saw the husband ask his wife to pose, then posed himself and rest of the family joined later! It was very gracious of the firangi couple to agree to be a part of this "photo session"!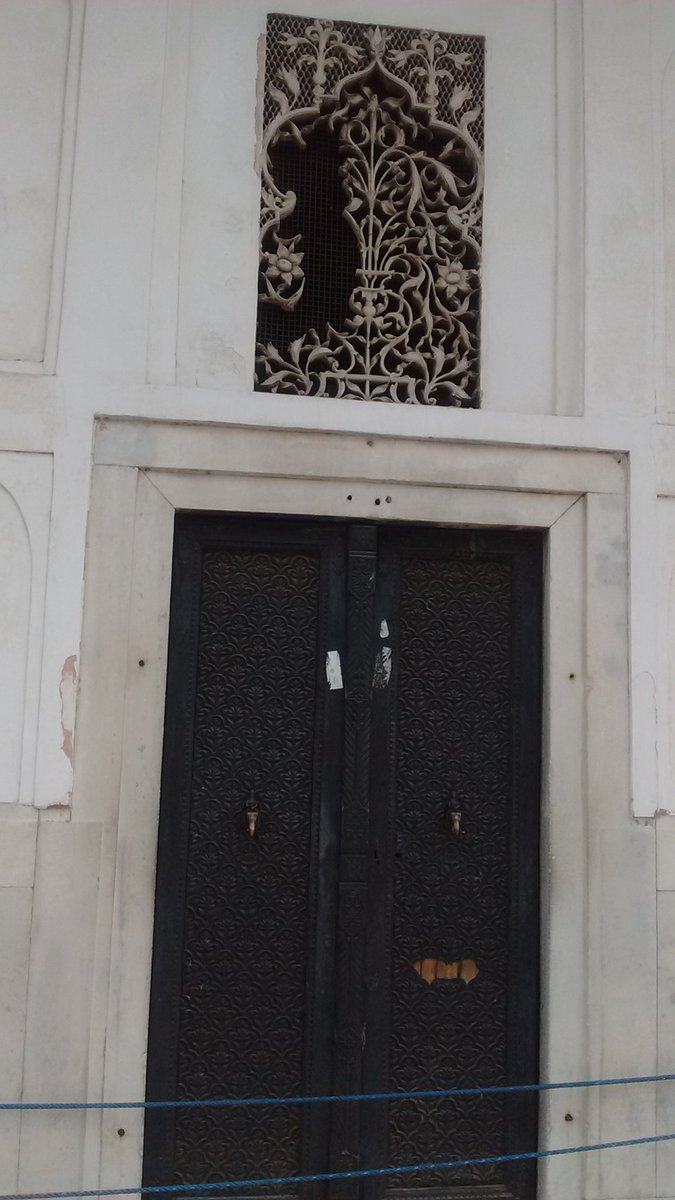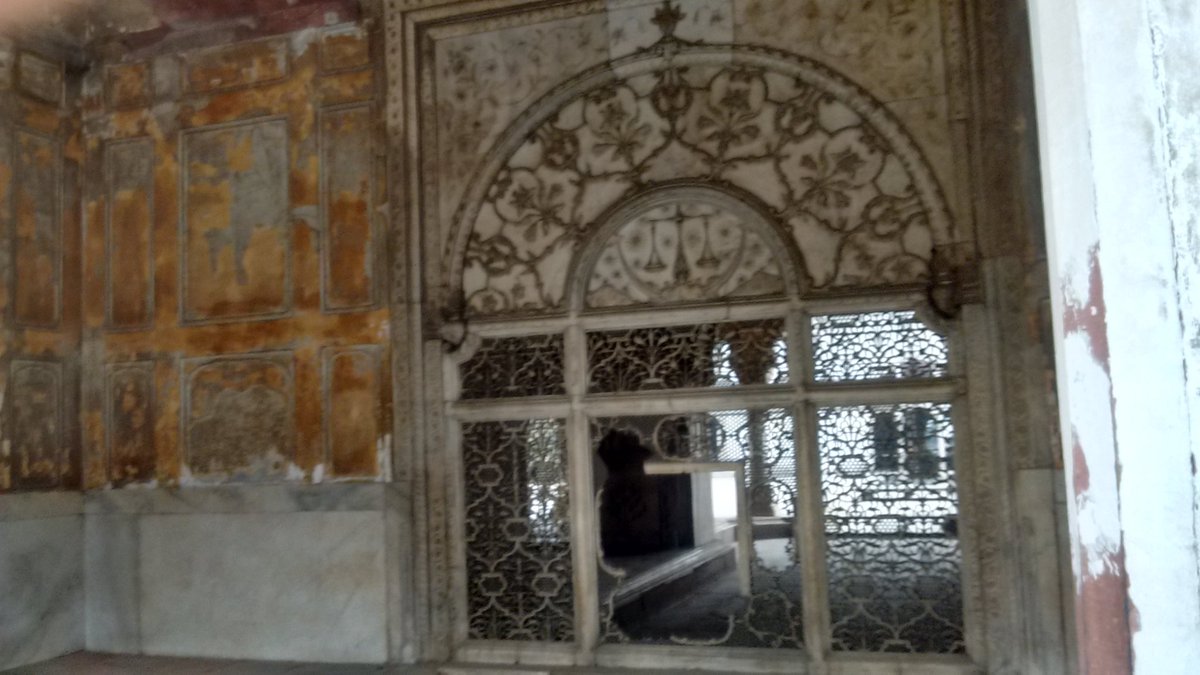 There were renovations going on inside, and after only half an hour the weather got so cloudy and dark that it became impossible to shoot/ click photos. So, we decided to just take a walk around and soak in the history of the place. My Photographer colleague, quite an expert on Mughal history kept explaining various things about the architecture and on Mughal kings especially Aurangzeb. Mughal empire expanded exponentially mostly under Babar, Akbar and Aurangzeb. The politics around Aurangzeb mostly by the British still carries on by the right wing, quite a misunderstood man! For more details and discussion on Aurangzeb, I can pass the number/mail of my colleague!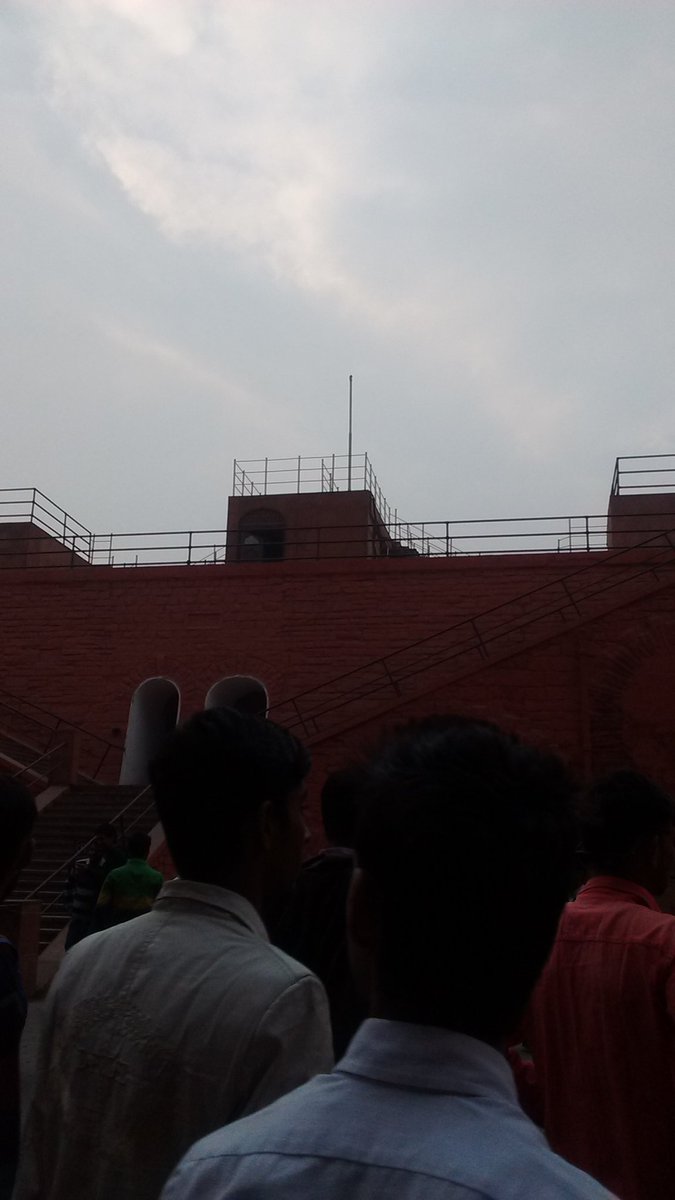 Diwan e Khaas or Emperor's room looked in severe need of restoration. Also interesting was to see the symbolic scale of justice here on the arch.
As we finished our walk and decided to come out, my Mughal History expert colleague commented on the rule according to which Indian flag is removed after sunset everyday. We asked the guard, and he confirmed. Another weird rule of which one cannot make any sense!