Breakfast walk of Shahjahanabad with Anubhav Sapra (Delhi Food Walks) was done in two phases- spread over two days.
Since, it was breakfast we had to meet in the morning at Metro station, as we started our 'very serious' work- of shooting breakfast joints at Shahjhanabad. First thing we had to do was to take a rickshaw to Chitli Qabar- Haveli Azam Khan for Haji Shabrati's Nahari. This is the second generation running the shop. Even "the New" at Shahjahanabad usually is around fifty years old, most of the shops, especially the eateries are all at least 60-70 years old. Nahari is meat stew cooked on slow fire and legend has it, that they used to cook it the entire night and hence came the thickness and the flavor. Haji Shabrati's Nahari is one of the best (of buffalo meat), you can ask for butter and bone marrow on top!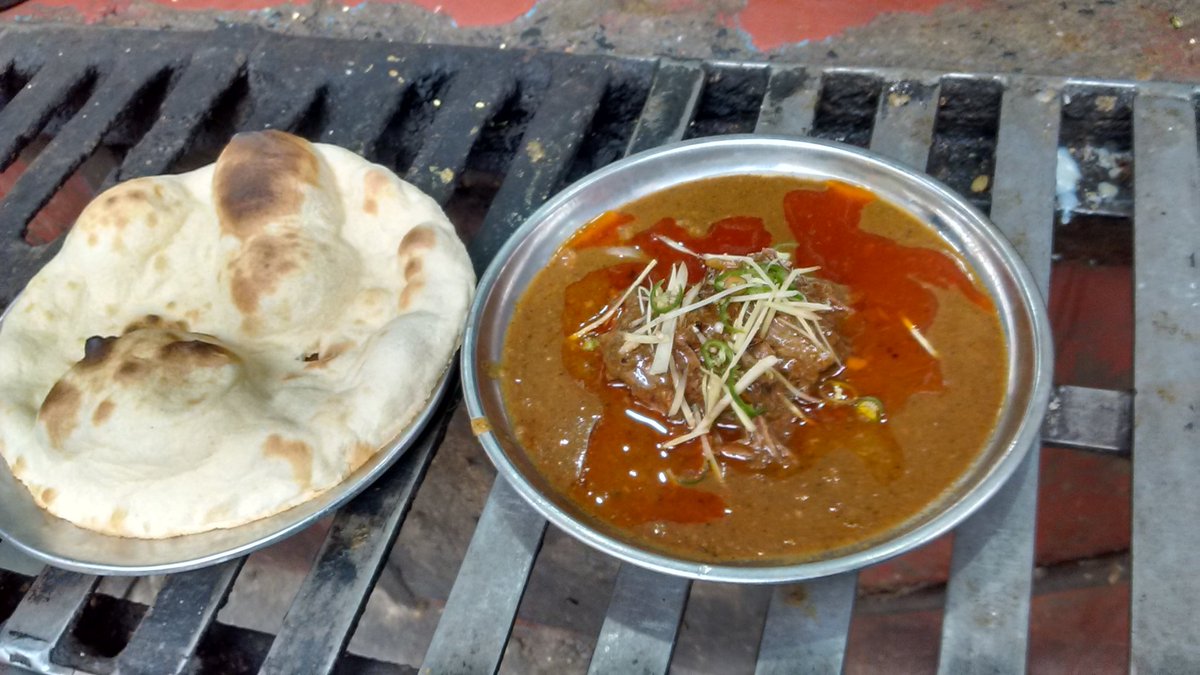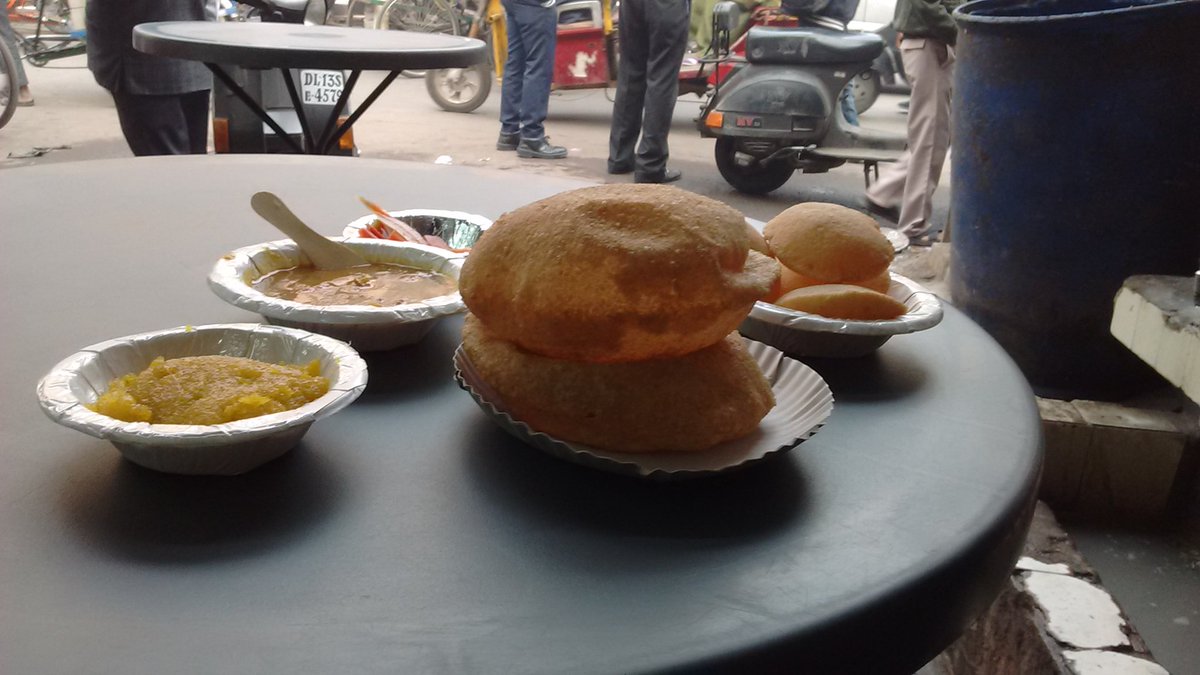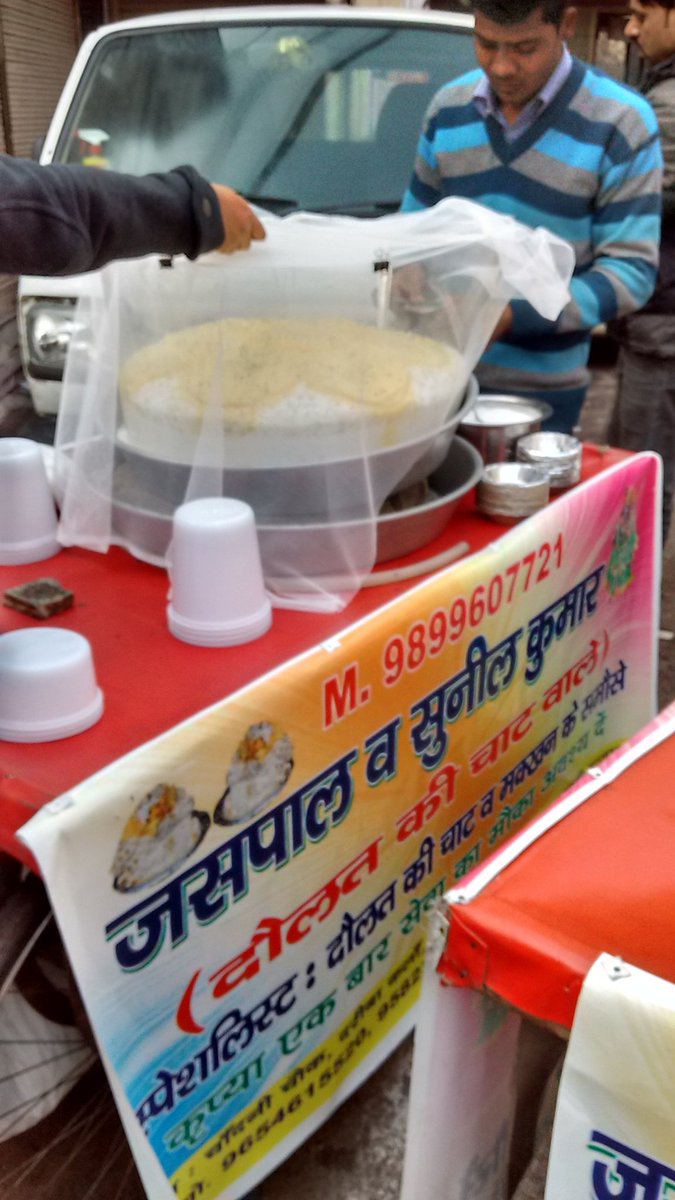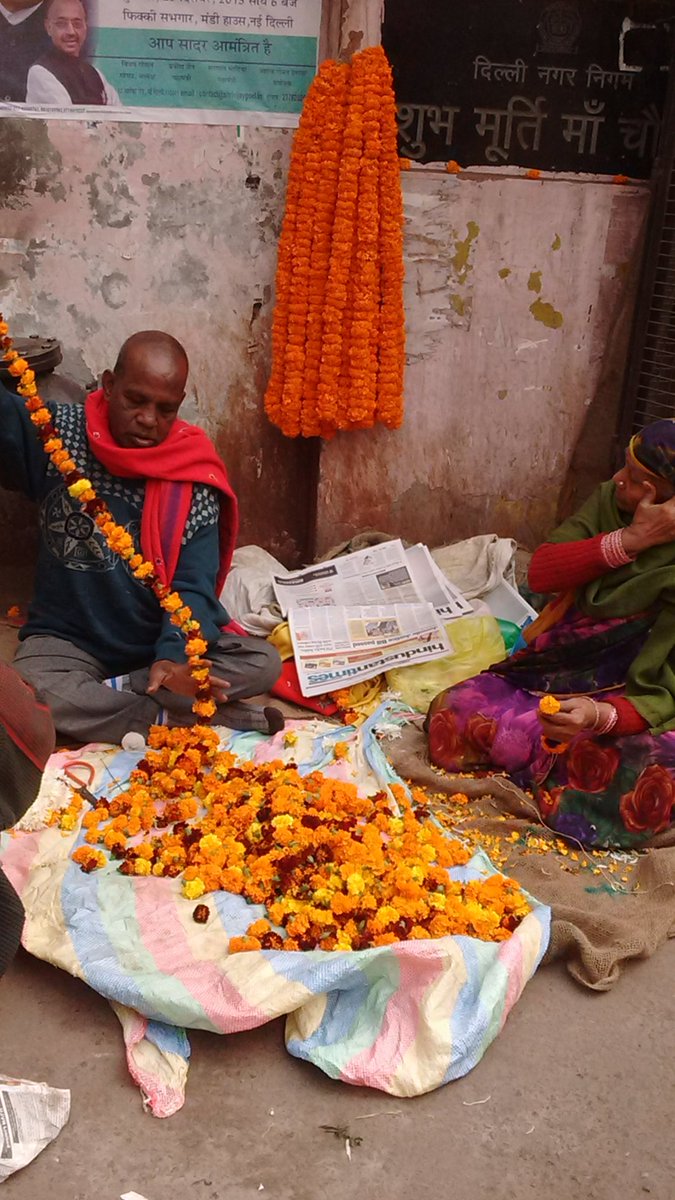 Post-Nahari session, we moved to a nearby shop for tea. Anubhav informed us that the tea shop owner's daughter is pursuing PhD from DU in English Literature, and 'recently has just come back from a conference in US', added the proud father!
Anubhav got some Tabarak ki Roti from nearby Diamond Bakery and we had our 'chai-waye'.
In the same street there are a few shops selling meat. We tried to take a few shots and they got angry and shouted at us for not asking for permission (must have been illegal so we came out).
We moved out of the street and moved towards the street where Karim's is (main Jama Masjid road). When you walk further in the street, beyond Kareem's there is Haleem degh/ cauldron being cooked in the open. The cook had just put it on 'dum', but on our request removed the numerous clothes, opened it and did some more mashing for our camera. He told us to come after couple of hours. Meanwhile, we went to Shyam Sweets for Bedmi poori. There were less people so the owner agreed to talk to us. Most famous is his Matar Kachori, as some Jains (sizable number of traders in the wholesale markets of Chandni Chowk) do not even eat Aloo, thus peas/ matar became popular as a filling for samaosa/kachori, etc. He recommended a few shops in Daryaganj, popular for different snacks. Near Shyam Sweets stands Daulat ki Chaat vendor. Milk is cooked until the cream is left, and thus name comes from its richness- daulat!
In the morning, one can also spot various flower vendors selling garlands mostly of marigold flower for ritual/ pooja purpose. We went to check Lotan Chhole Kulche wala in the opposite side a bit further from Nai Sarak, but he had left. In the meantime, Anubhav received a call from Haleem wala that he was going to open the degh! We hurried our pace and reached Gali Kababian (Kebab vendors' street). Interestingly, a board hanging on the other side of Karims' said, "Outsiders' not allowed". The degh was opened in front of us, as we shot the entire procedure of adding water, checking consistency, adding various spices, etc. The entire degh was shifted from the burner with a thick rope. As people saw us, there gathered a big crowd and started discussing the haleem, its uniqueness and the family which had been doing business here. Once, it was cooked he gave us all plates and did not even charge us for it!
Anubhav suggested having haleem with biryani (new for me!) and again the kind gentle soul, Haleem seller ordered it and refused money for it. Haleem (buffalo meat) was actually very good. And all of us got so full that we decided to postpone the rest of the walk and breakfast places to the next day!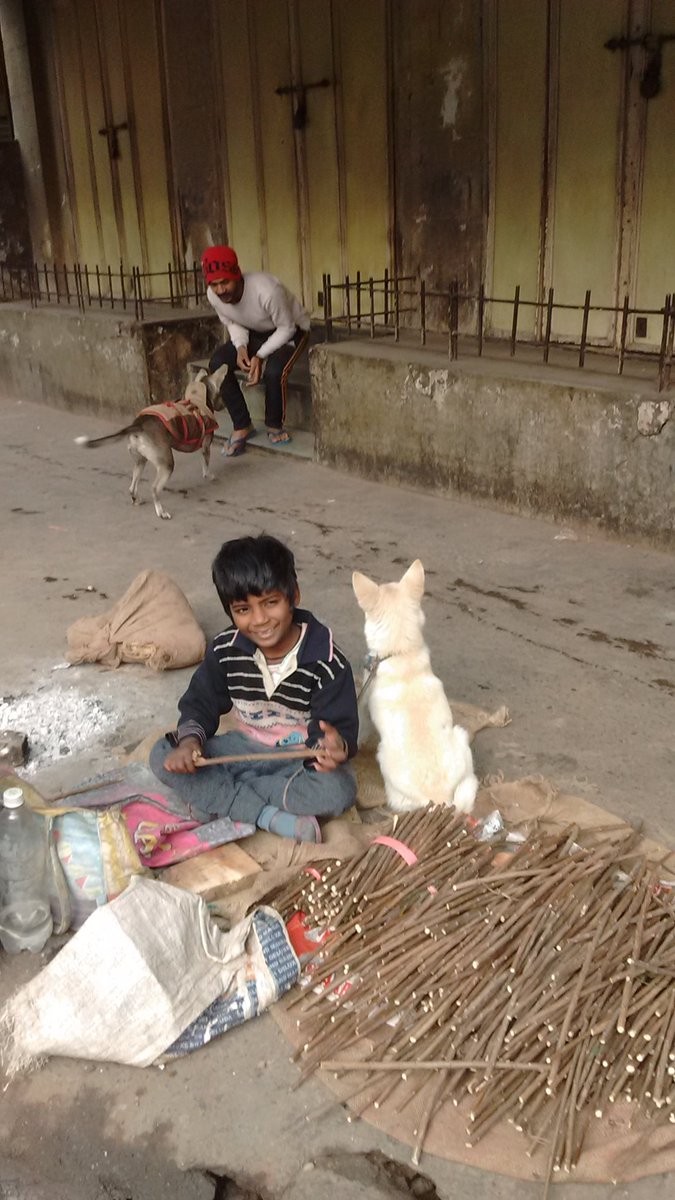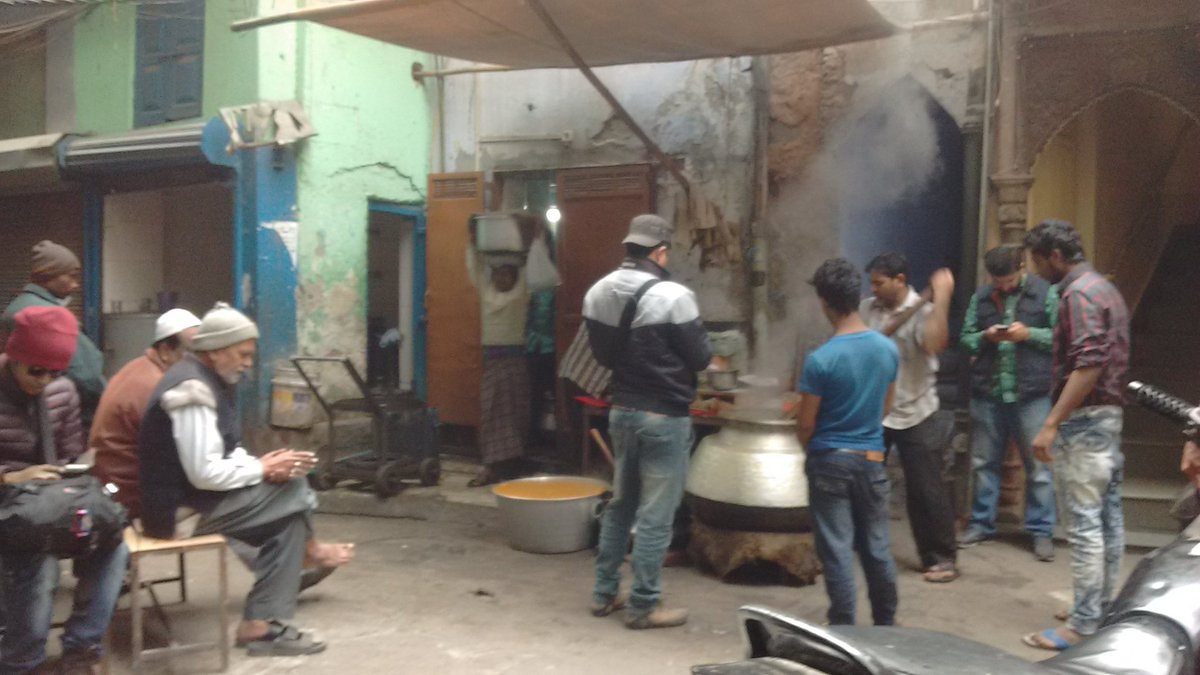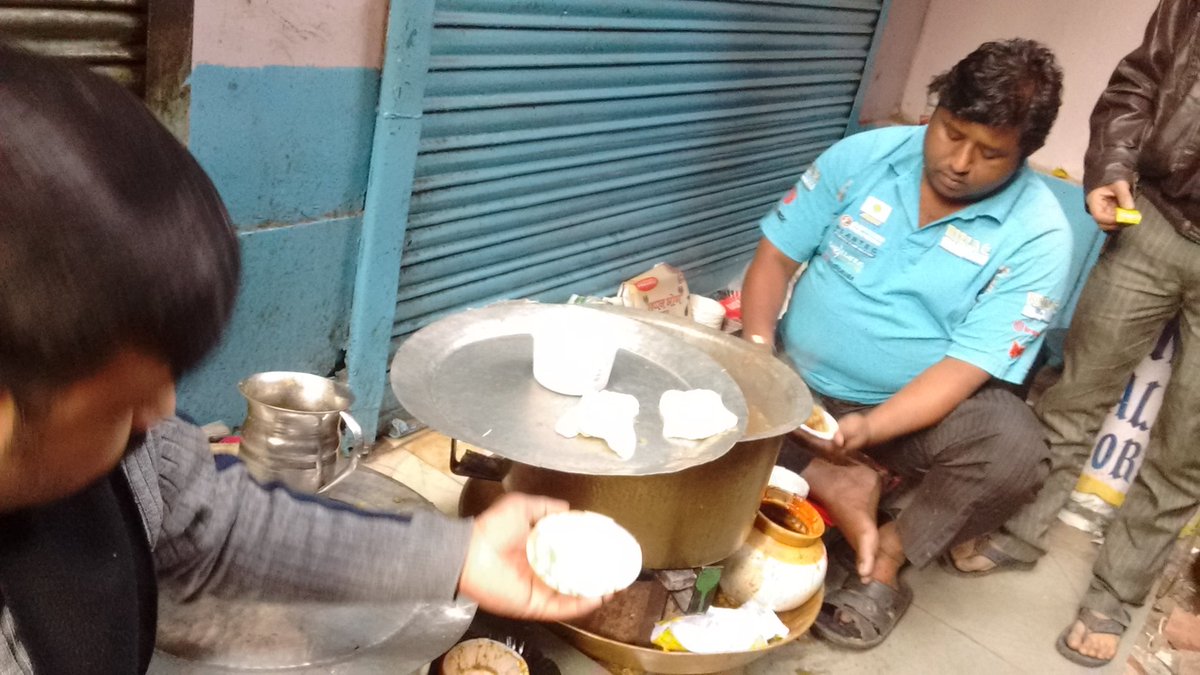 Next day we met Anubhav and four foreigners at the Chawari Bazar Metro station and started for Shyam Sweets. Since, we had had our fill of Shyam Sweets we just walked around a bit. Simran with her dogs sits on the opposite street and sells 'datun' sticks, and uses the same sticks to guide her dogs!
From Shyam Sweets we walked in the opposite lane in the search of Lotan Chhole Kulche wala, and this time we found him with a big crowd around him. This is the second generation selling chhole kulche here. Chholas were a bit spicy for us but kulchas were thin, soft and non-oily as they usually are (as compared to bhaturas!). He also added some butter for us. And gave the water of the boiled chick peas separately. From here he goes and sits outside a school.
After sharing a plate of Chhola Kulchas we moved to Karim's for Nahari and Paaye (mutton). This nahari was not as thick as we had on the previous day, and same for paaye. Both dishes are usually known for thick gravies. It was less spicy and average, probably better suited for foreigners. Post nahari we went to taste different kind of breads/ rotis at Rahmatullah hotel- Lachha paratha, sheermal, etc. There you can also see rows of homeless people waiting for food. Often if somebody wants to do charity, money is given to hotel people to feed certain number. For example, food is Rs. 20 per person, so you can feed five people on Rs. 100!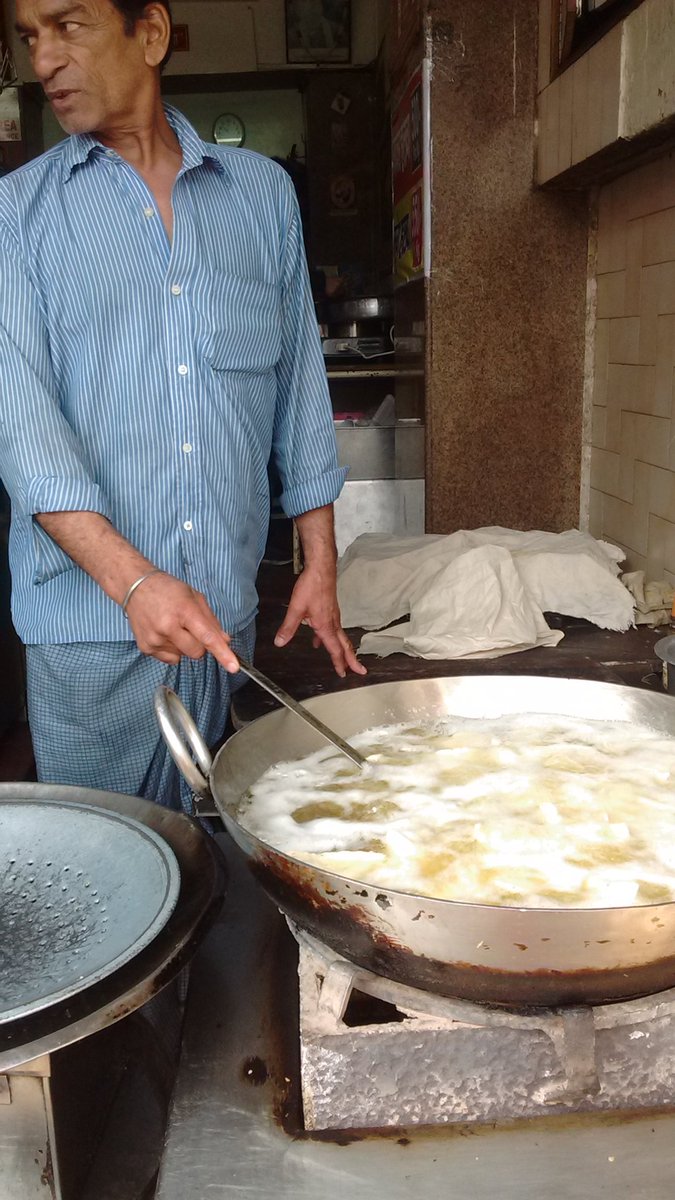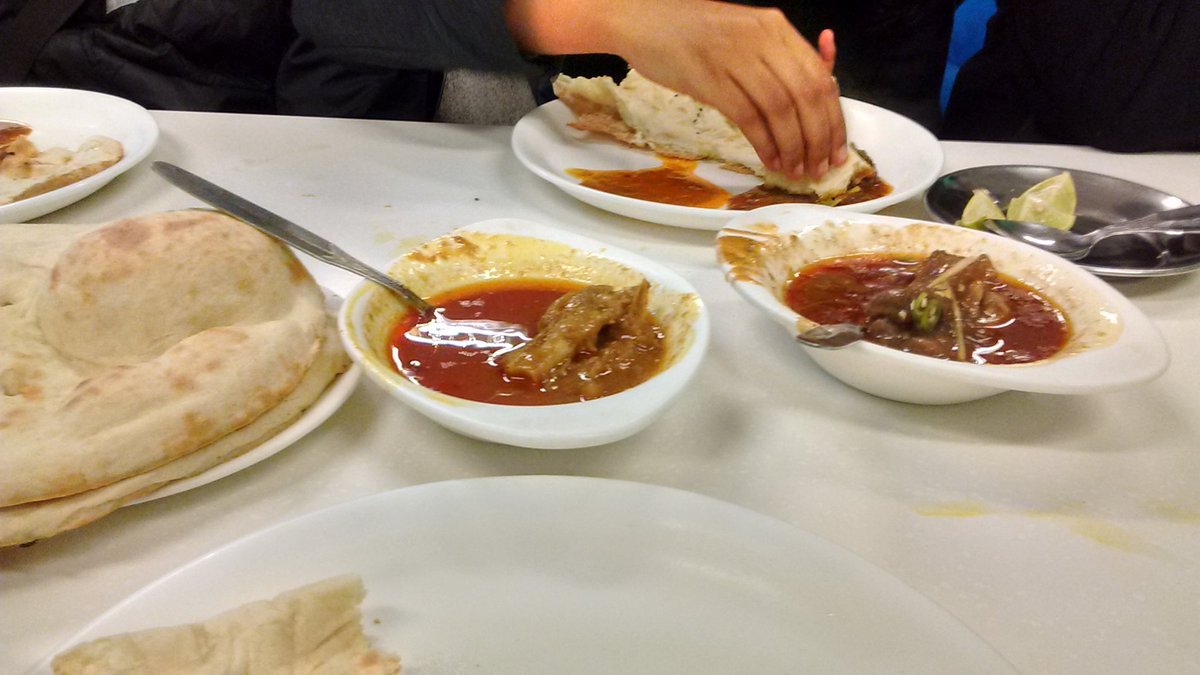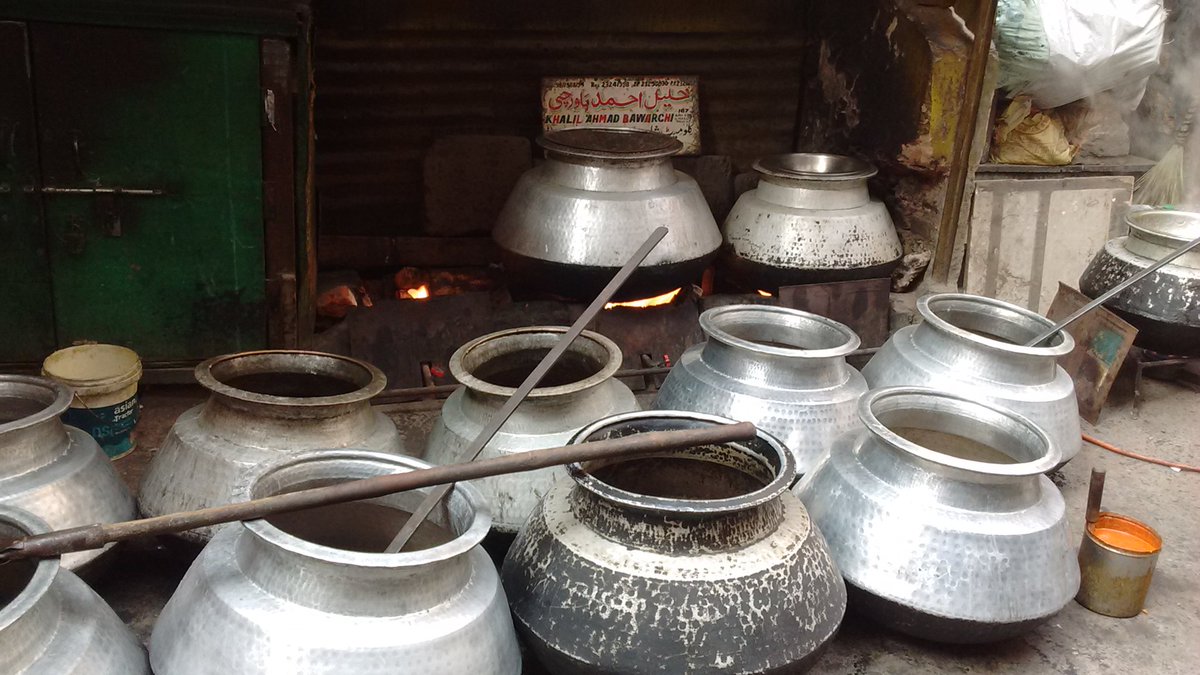 Next we walked to Bazar Matia Mahal for Taufiq's Biryani. But, on the way got some good photos of biryani being cooked on order (catering) as the same day was Eid e Milad un Nabi (Prophet Mohammad's birthday). Taufiq's biryani was very good, and from the inside lanes we came out at Chitli qabar and took rickshaws for Fatehpuri Masjid, Chandni Chowk.
At Fatehpuri, we got off and gorged on some delicious Chaina Ram's different sweets like Karachi Halwa. We wanted to speak with Chaina Ram's owner but he refused citing some legal cases going on (water pollution!). But, we spoke with the guy frying samosas in desi ghee. Everything is cooked in desi ghee at Chaina Ram. He makes desi ghee pooris in the morning.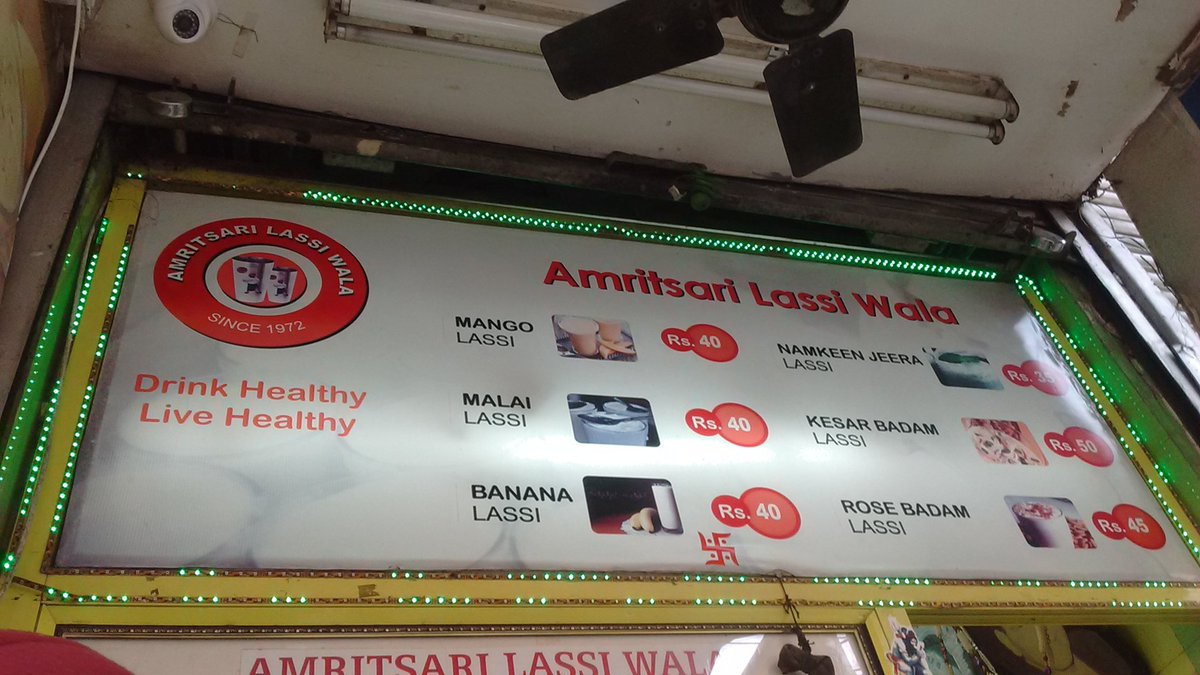 From Fatehpuri, we crossed to the opposite lane for Amritsari Lassi. We tried namkeen, Rose- badam and a few others. All had generous dry fruits and right mix of sweet/ salt!
Next we walked in the busy lanes of Khari- Baoli/ Spice market. Here we saw many other groups of foreigners getting guided tours. Anubhav took us to the terrace of an erstwhile haveli of British times in Gadariyon ki Gali. Stairs were narrow and often dark, but the view from the top was worth it. It gave a bird's eye view of the entire bazar and of the nearby Fatehpuri Masjid as well.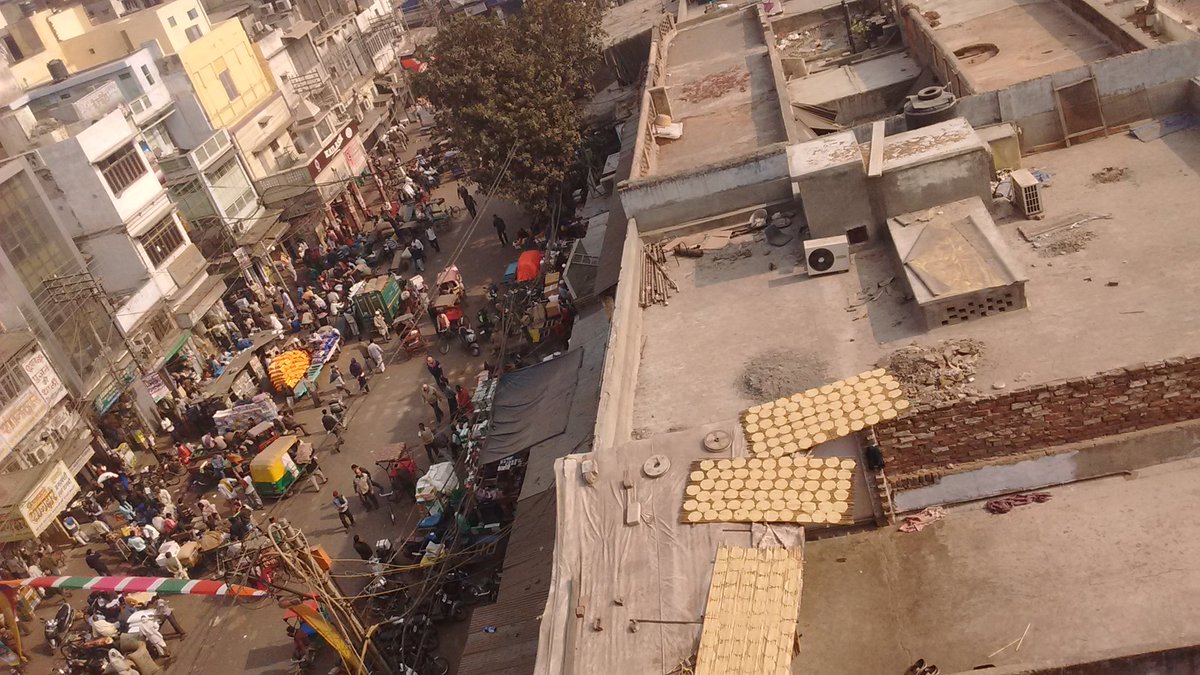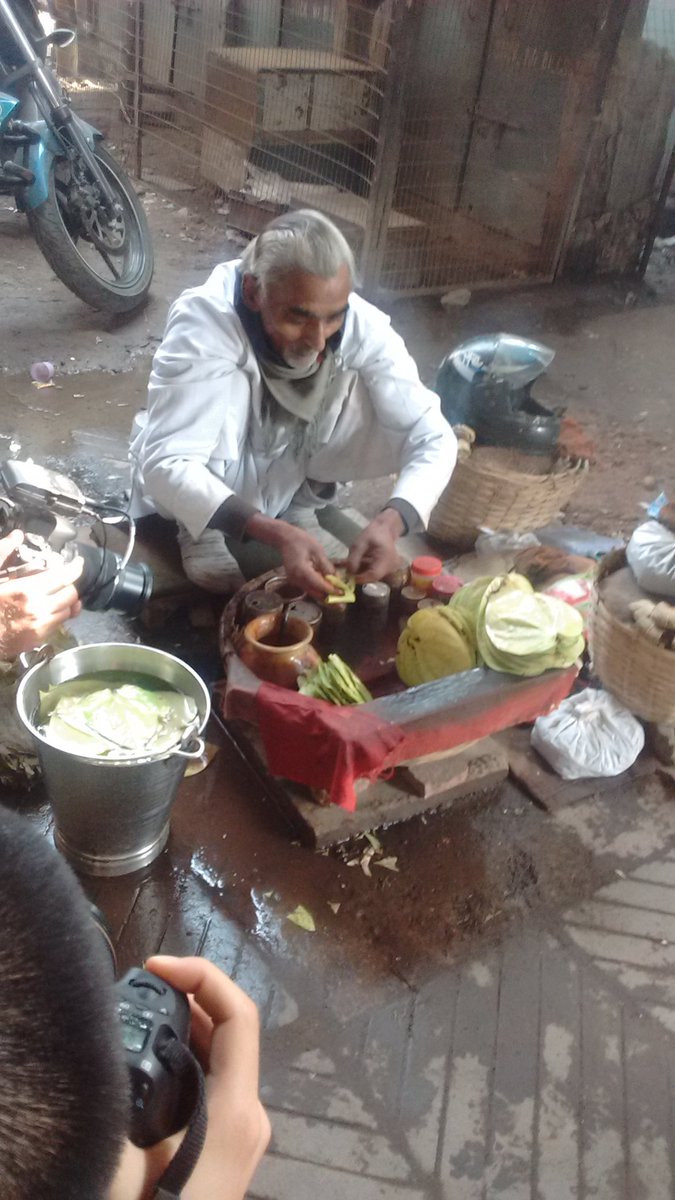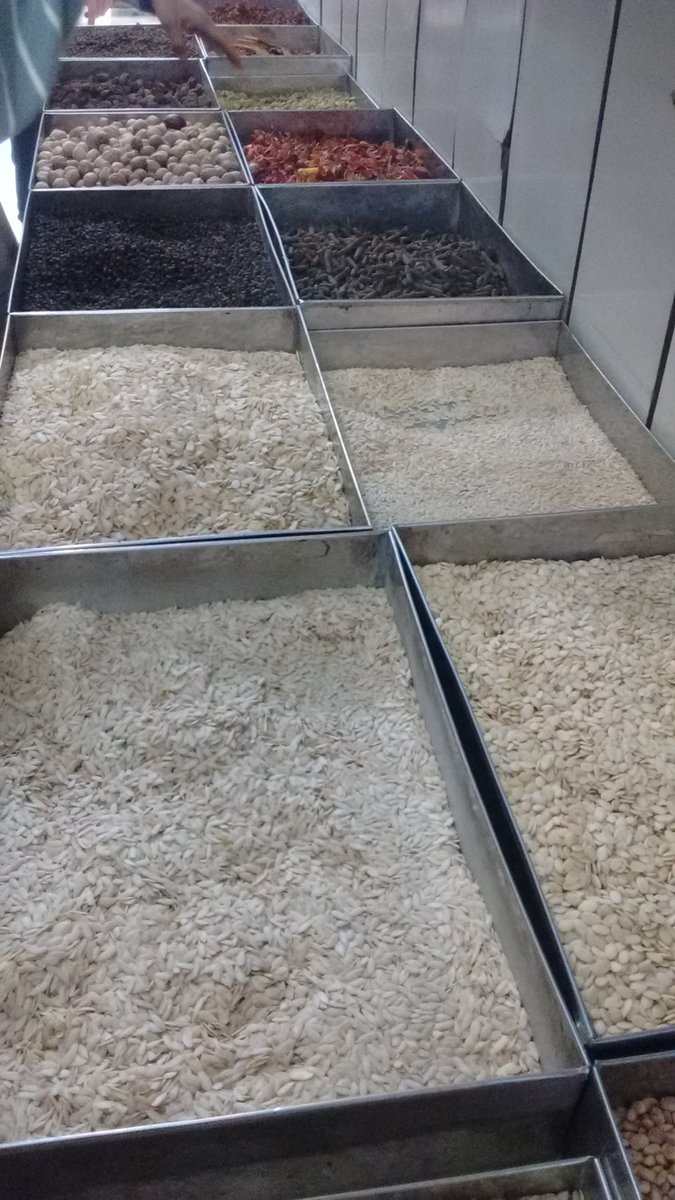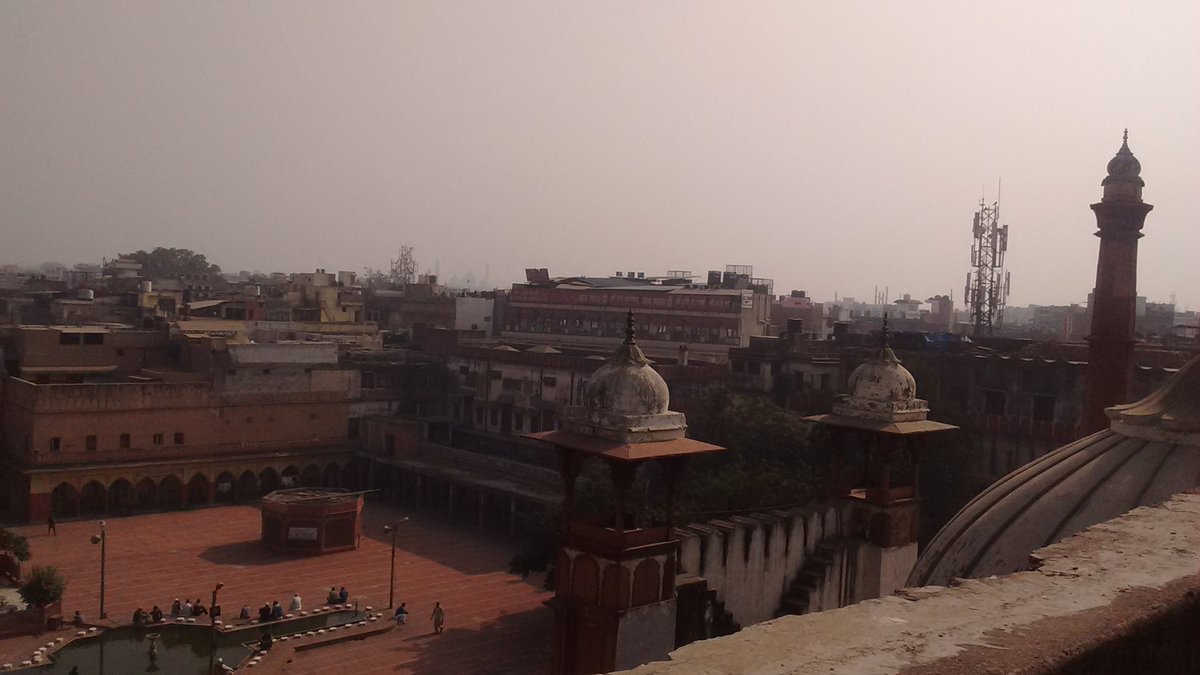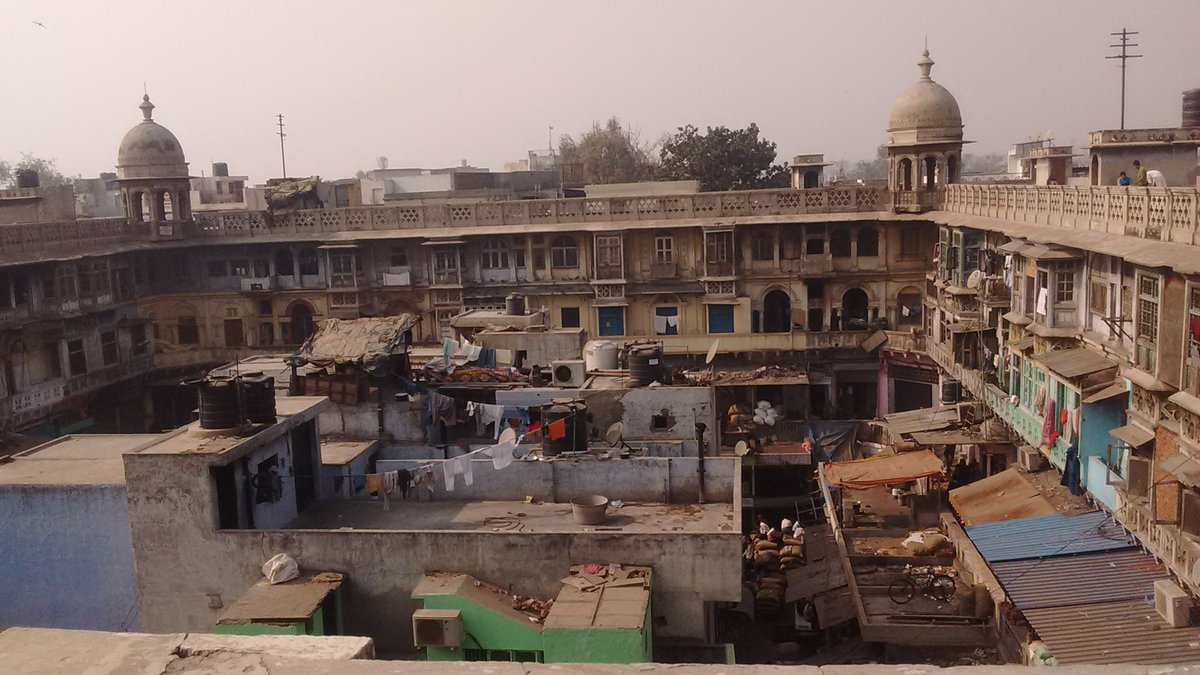 We went inside a few spice shops, and found the masalas for Chicken tikka/ Mushroom Tikka/ panner tikka to be very expensive and came out. Foreigners crowded these shops! Most of us were either sneezing/coughing because of the smell of the spices in the entire area. Some of the spices we had never even had heard of (one of the spice's name was Chhail Chhabili)!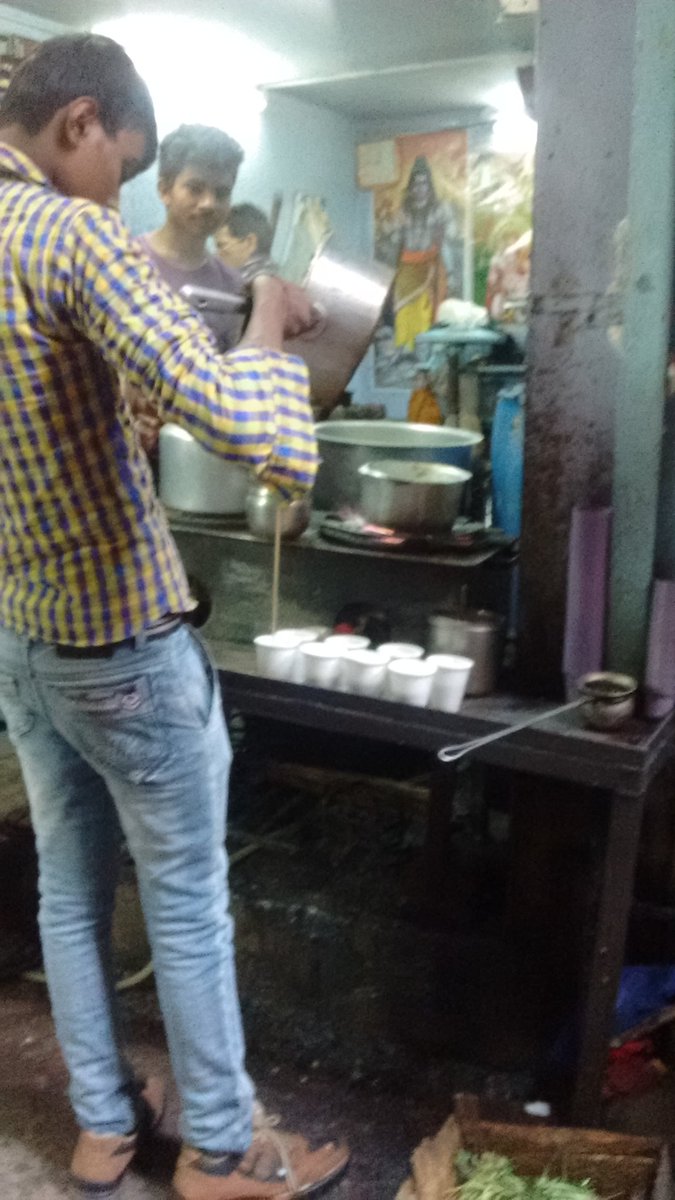 From Spice market, where we lost some one or the other many times, we finally walked back to the main Chandni Chowk lane. A betel-leaf/ paan wala (selling at the same spot since 40 years!) made paan for our camera guys"with qimam"! One of the tourist remarked that same kind of leaf with different kind of spread is also eaten in Taiwan. Our photographer, who is quite an expert on North-East narrated different kind of 'paans' that are eaten as a daily routine thing. Both our camera guys had different effects, one complained of a headache, the other went into "a zone"!
Next we went to Chhola Bhatura shop and all of us Indians shared one bhatoora. Foreigners had a single bhatoora each! By this time, we all were craving for tea, especially the headache-wala colleague. We went to a tea shop which was also famous for its milk cake. The tea was good and so was the cake. But, opposite the tea shop was a Man's saloon. We shamelessly kept staring at the men having facials/ massage and hair cut. Our Videographer asked for permission and shot some on camera. Men were actually very sweet to agree to this invasion of their privacy!
Post- tea we took a battery rickshaw to Gurudwara Sisganj Sahib. It was the time for Lunch Bhandara now.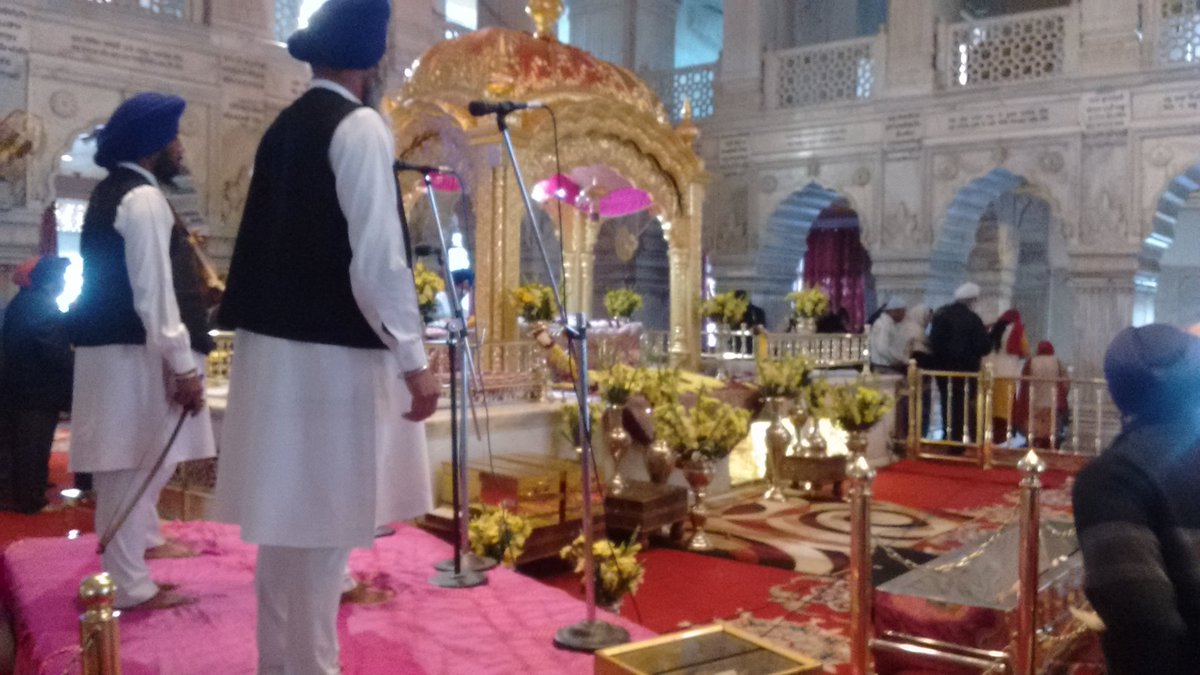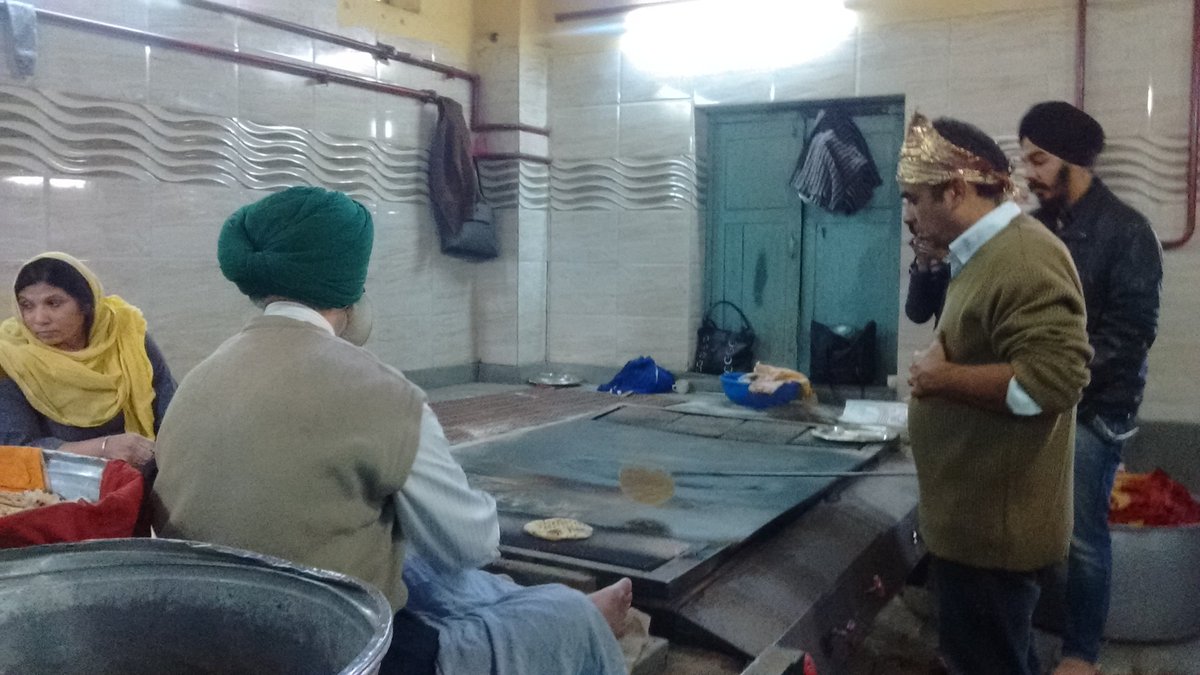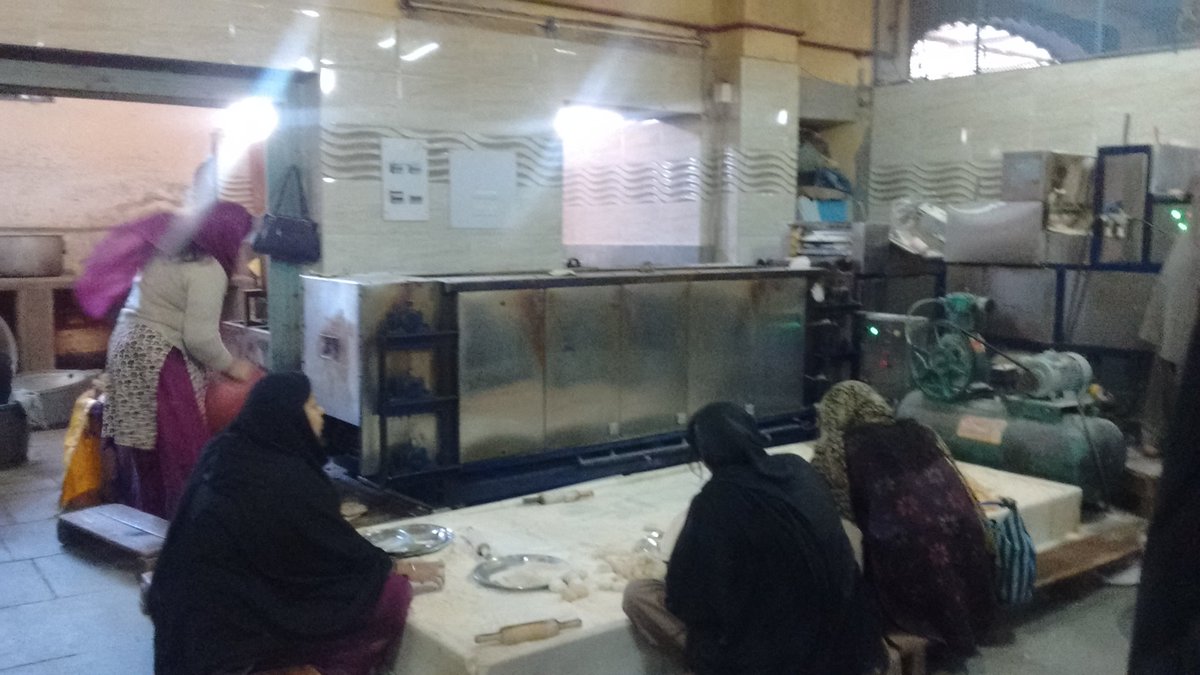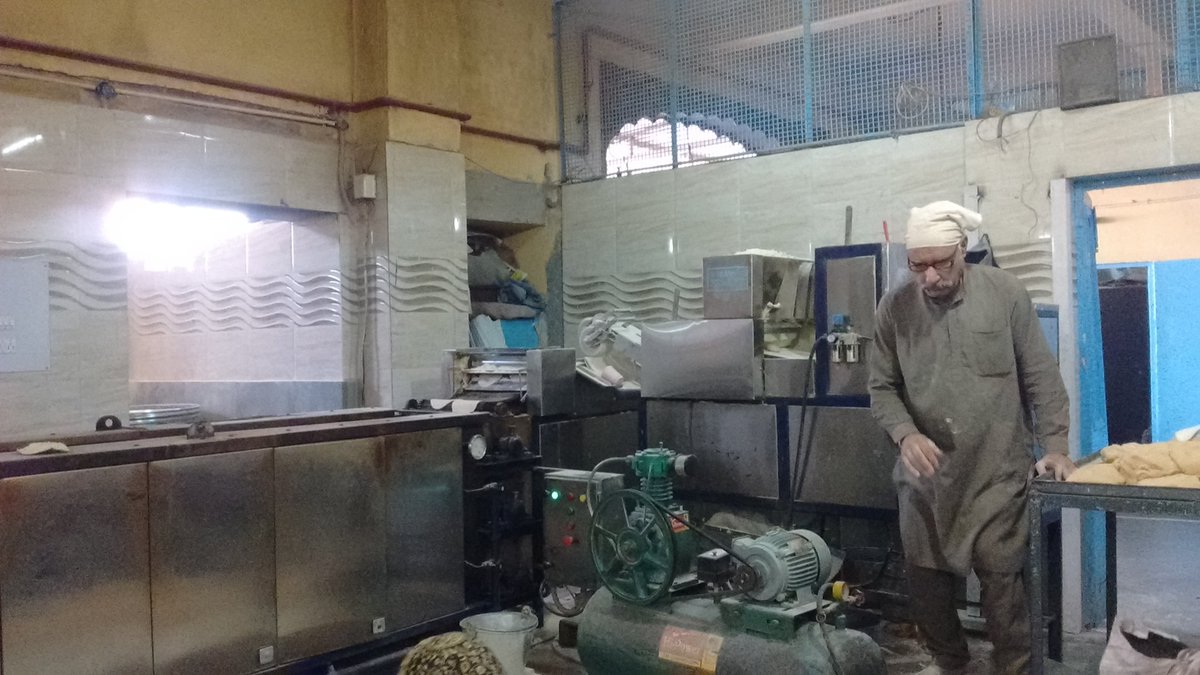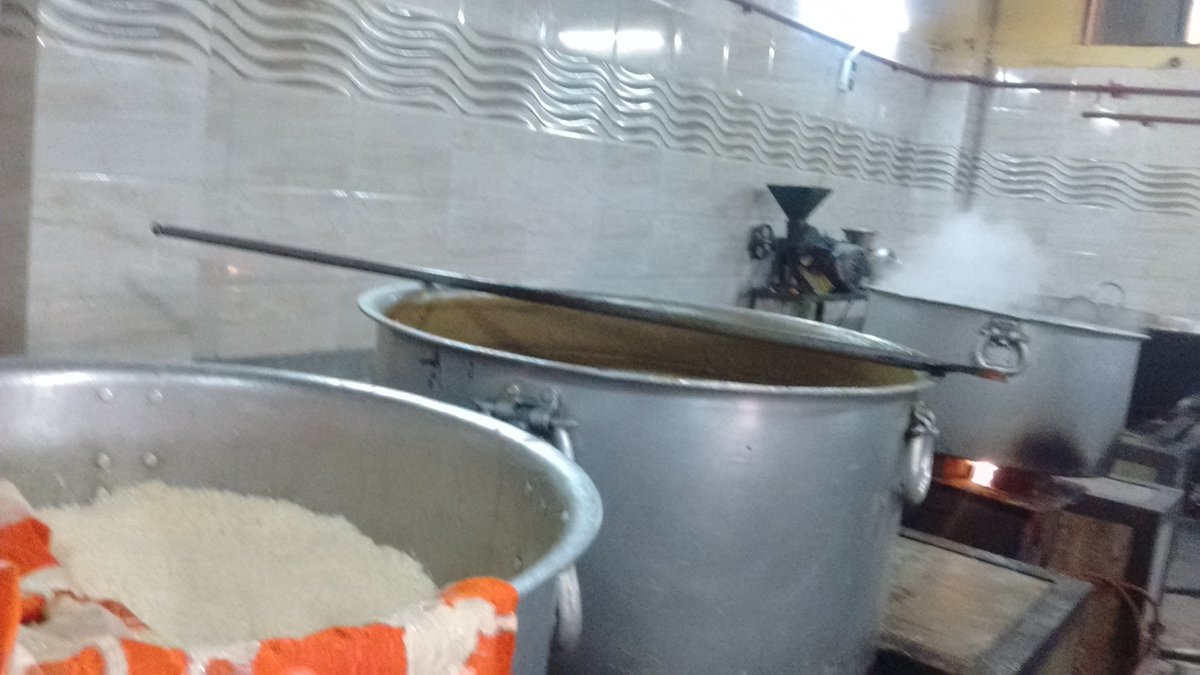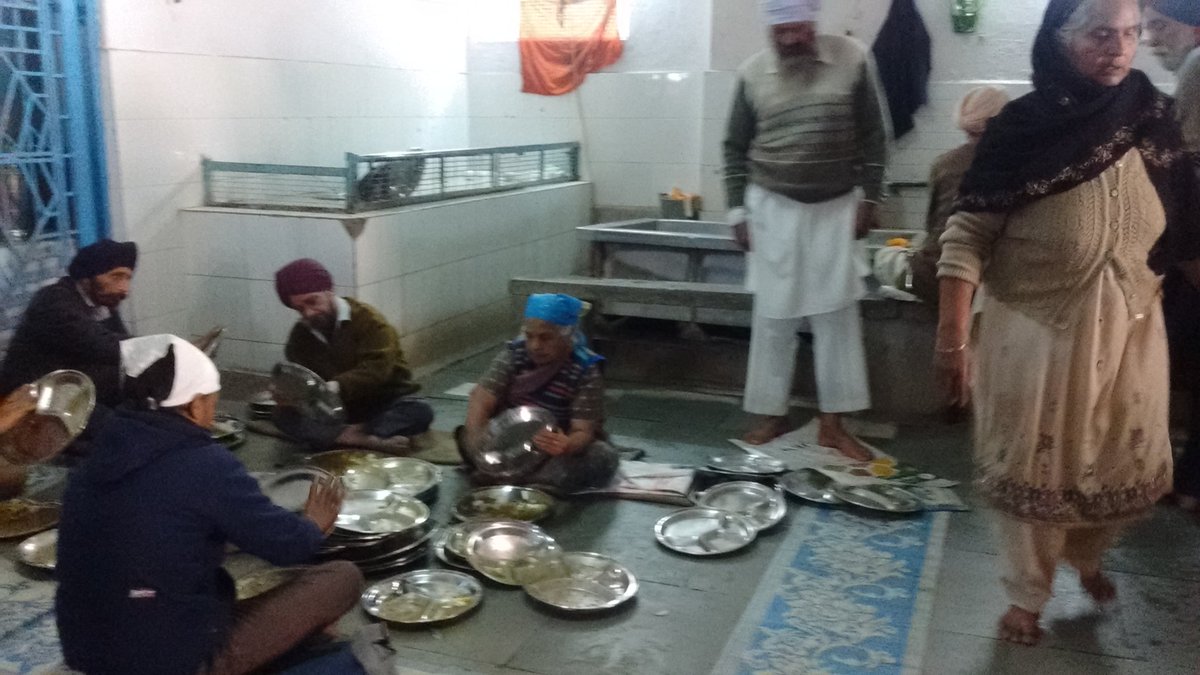 The entire operation is efficiently run mostly, on the basis of Volunteers. At first, we gave our shoes to pretty young girls, who took our dirty shoes like some precious thing, without making a face and gave us a token. We walked inside, 'Path'/ sermon was going on. We took a few shots (nobody objected, everybody was very friendly, no prior permissions required!). Then, we walked outside where the 'prasad'/ halwa was being distributed. From the Gurudwara building, Anubhav took us to another buiding, where langar is distributed and cooked. This building was built and added to the main complex much later. We entered a small room with two massive cauldrons, one was empty and hot water was boiling in the other cauldron. Senior Sardarji explained that Halwa is cooked here, and the bigger kitchen is towards the inside.
"The Kitchen" was a big room. There was a massive roti machine, where an old Sardarji was putting kneaded atta balls and those balls were being flattened, and roasted by the machine in dozens. There were also some women manually flattening the chapatis, and then they were being cooked by three people on the big, long tawa. On the side were really big cauldrons of dal and chawal. From the kitchen as you move inside, the plates are being cleaned and wiped by some volunteers, and as you keep walking you see a huge dining hall with rows of people eating hot, healthy food.
One of the volunteer Uncle, when I asked him, 'do they get this many people everyday?', said, 'it depends if its a holiday or week day or weekend. Less people come for dinner. Families come for shopping at Chandni Chowk and come to have food here as it is free.' But, he complained about those who leave unfinished food. The left overs are then packed and given to them. He said, food items- dal/ atta everything has become expensive. People should not waste food. He showed us some polythene bags he was carrying in his pocket, used for packing leftover food. Some people even find it difficult to take off shoes and socks. He (in his sixties, and pointed to other Uncles) said, "Hum bhi to khade hain, kaam kar rahe hain, (We are also standing and working here), so why can't you?"
All of us were overwhelmed by the entire 'Langar operation' and the service of the volunteers. Everybody was extremely friendly and nice. A great end to an interesting day of food, as we bid goodbye to the foreigners and Anubhav, and to each other here. We were all very tired but felt good after witnessing such a selfless gesture of human kindness.
World is not such a bad place, need proof? Go visit a gurudwara and Volunteer!

Video Link- https://www.youtube.com/watch?v=vLfN4bIUipM&t=168s