Shahjahanabad has some famous Jain Mandirs. The ones we were supposed to shoot were located in the bylanes of Kinari Bazar, which itself is one of the lanes at Dariba Bazar. I had gone there to ask for permission for shooting and I got lost! People directed me to different temples, but not to the ones I was looking for! I had to ask Sohail Sir for directions. The directions were- first look for a Khurchan (scraped milk sweet) shop, then Gajjak shops, then a couple of Chaat walas and further a spice shop! I followed the directions and reached an interesting street with beautiful European inspired arches and architecture. The caretakers and Secretary sahab of Indraprastha Teerth Trust were pleasant, looked at my documents asked my name twice but gave me the permission to shoot there after the next two days!
The Sahapedia team and I had decided to meet at Jama Masjid Gate no. 3 and from there we walked. Often getting distracted by jewelry at Dariba and beautiful laces at Kinari Bazar, but reached the temple at the appointed time given to us.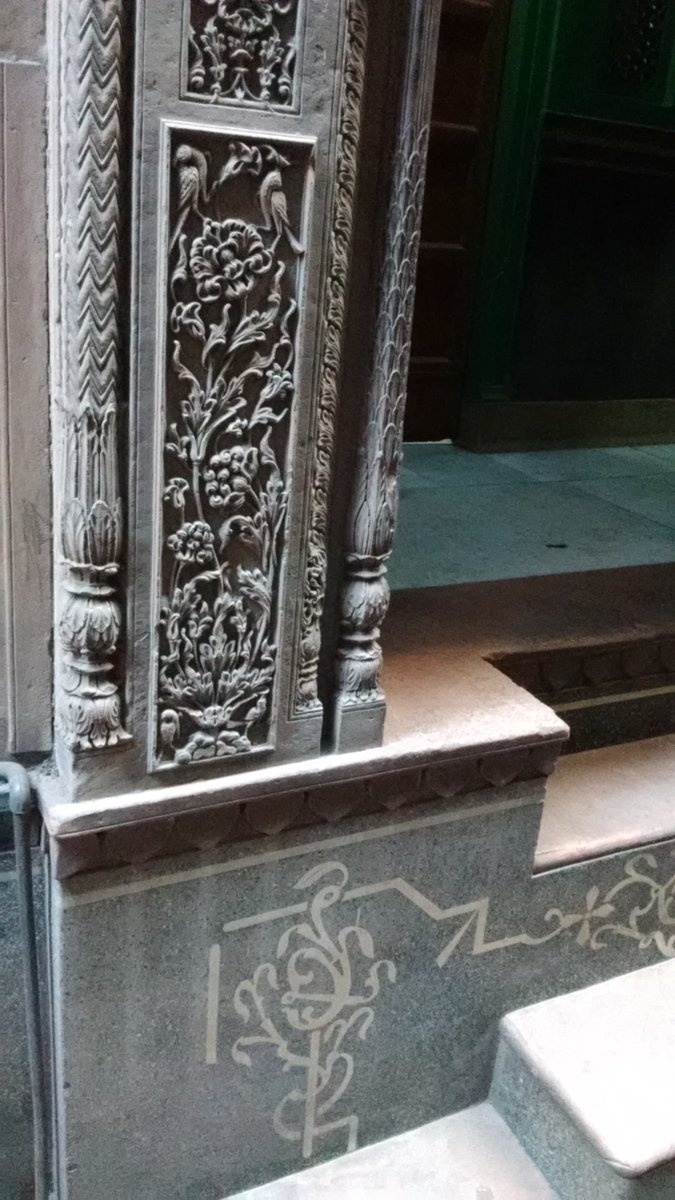 But, before we could begin the temple shoot we started shooting the street's architecture. There were a few men who were standing there who started explaining about their houses and the temple. The houses were well maintained and in good condition. The temple priest Mishra ji who was our guide for the day told us to first visit the smaller temple in another lane. So, we went to Shri Shambhunath Jain Shwetambar Mandir first. In a very narrow bylane where only one person could walk at one time, we saw this beautiful entrance which reminded us of the Nawab Rukun ud Dawla mosque's design at Chawari Bazar.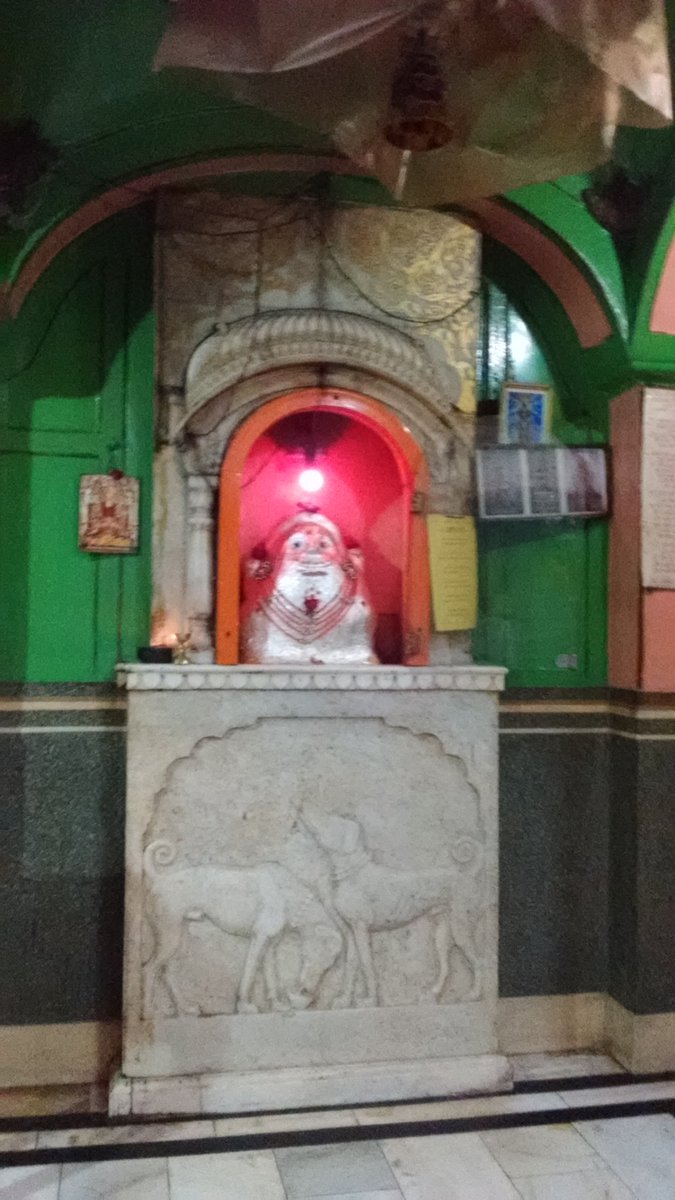 These temples are maintained by the Swetamber sect of Jains (the ones who wear clothes, as opposed to Digambars who practice nudity)! Both the temples are considered to be old and trace their history to the Mahabharata period. Maintained and sustained by the Jewelers and also referred to as "Johri temples", you can actually see the gold, silver, diamonds, crystals on the idols!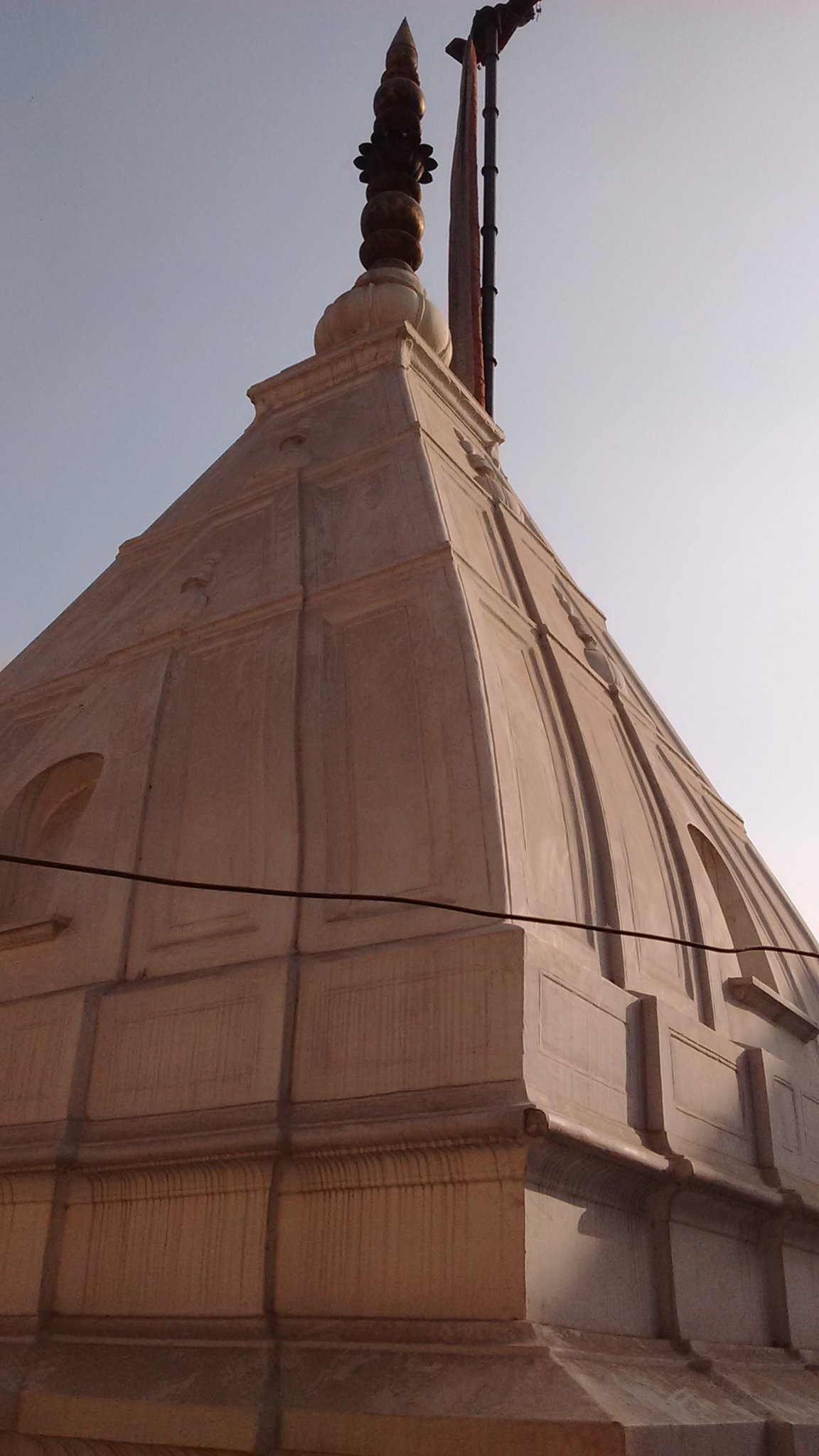 Once we enter the first floor Mandir through stairs, there are a few charts etc. with details of 22 rules to be maintained in the temple. First idol is of Lord Bhairon, the protector. The open Verandah covered by jaal, led to three rooms with idols of Mahaveer and other Teerthankars. There were paintings on the walls in which Vegetable dye was used, colors were still bright. Roof was of sandstone and floor of marble, Mishra ji said no iron was used in the building and it kept cool in summers and warm in winters. The roof hoisted a flag which is changed once every year on 24th Dec. with rituals and pooja. The walls had Victorian tiles embossed with flowers.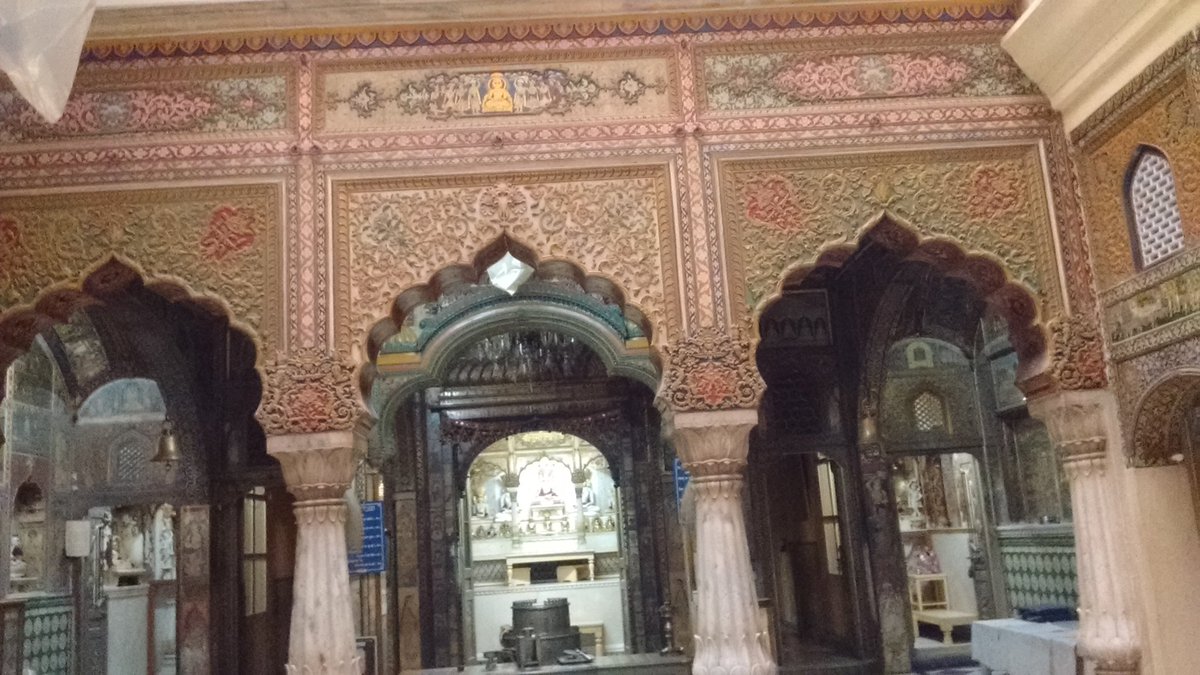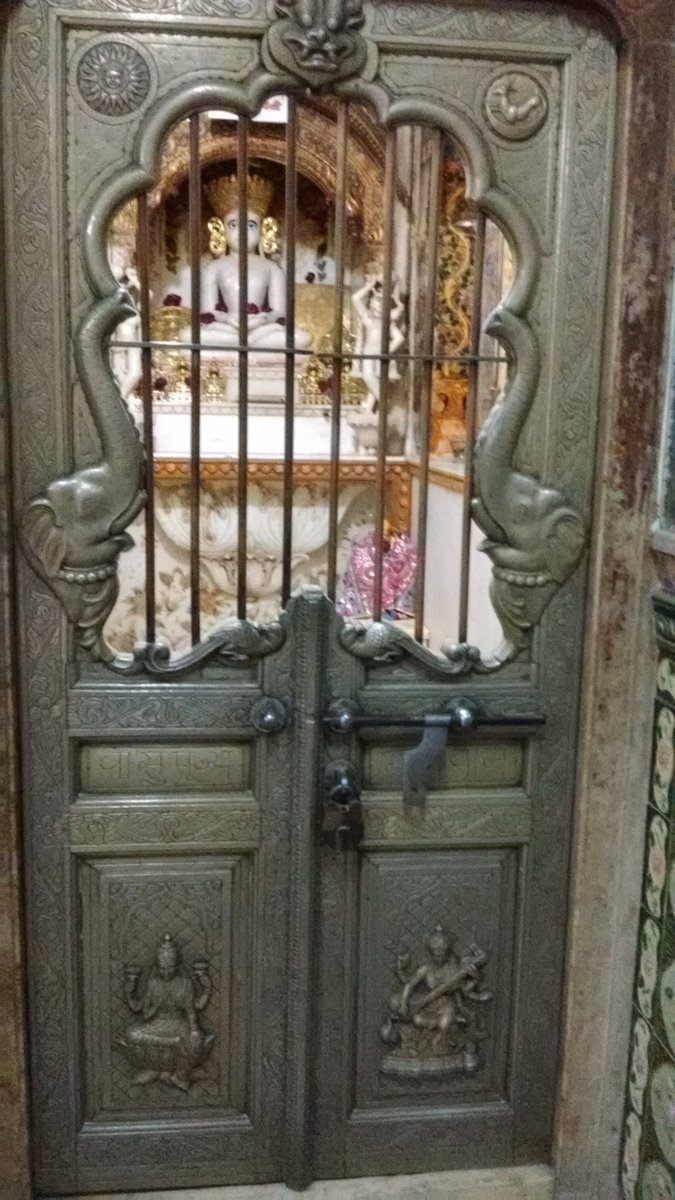 From here, we again went back to the bigger temple at Naughara, Sumatinath Jain temple. Here, there were 84 rules to be maintained (not to talk/sit/ show back to idols etc etc) . Mishra ji took us to the backside of the temple which was in bad shape and he said around the Mughal time that area housed army animals. The European arch of 19th century was still intact. We came back to the main temple and from the ground floor office where we had to keep our bags went to the first floor. This was far more grand, and as Sahapedia colleague remarked, "a Visual assault on senses". Not a single inch was left empty, every space had some design, paintings (Rajasthani style mostly) depicting different Teerthankars, Jain version of their Devis (for eg. Hindus have Durga, Jains have Padmavati), but Lakshmi was seen in her original avatar at both the temples (jewelers need Lakshmi!). The doors were carved beautifully, silver on wood frame. There were three rooms again, two with Mahaveer on both sides and the main one in the middle had other Gods/ Teerthankars all bejeweled with diamonds, pearls, gold and silver. The outer courtyard was getting painted as marble here was getting yellow. Mishra ji showed us the brilliant ventilation plan on the back designed in such a way that the natural light and air could pass at all times. On the second floor, were mostly massive paintings with glass work, depicting different times and incidents from Mahaveer's life. There were some miniature paintings at the back as well. Ceilings again were beautifully painted with different images. On the outer courtyard is a statue of Parasnath in black flanked by two white idols on the side. Mishraji said the white idols had come from Pakistan, post- Partition and since this was a major temple in Delhi, these idols were given to this Mandir. On the southern wall, there were no idols, as he said it is considered inauspicious to have idols in this direction. Ravan was also depicted in one of the paintings as he is also considered as one of Teerthankars. There were utensils which were used to bathe idols and clothes to clean and wipe them chandan crushers for pooja. Mishraji said, the temple also has a dharamshala where visitors can stay but it is strictly for Jains only.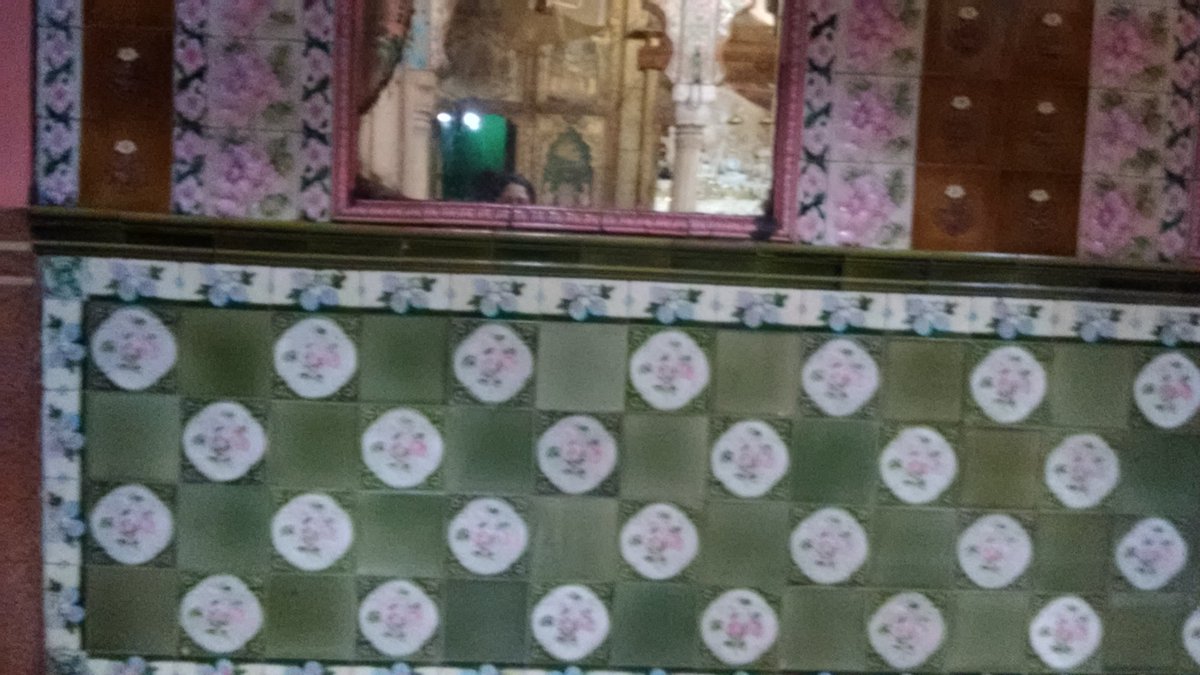 Mishra ji himself had come from Amethi, UP. A traditional Congress bastion, a Congress supporter himself. Earlier, his uncle was a priest here. He admitted Jainism is a very difficult and strict religion. He was happy with the respect he got, and the work he was doing as a priest. He was given a house near temple premises. One should live a simple life, he said.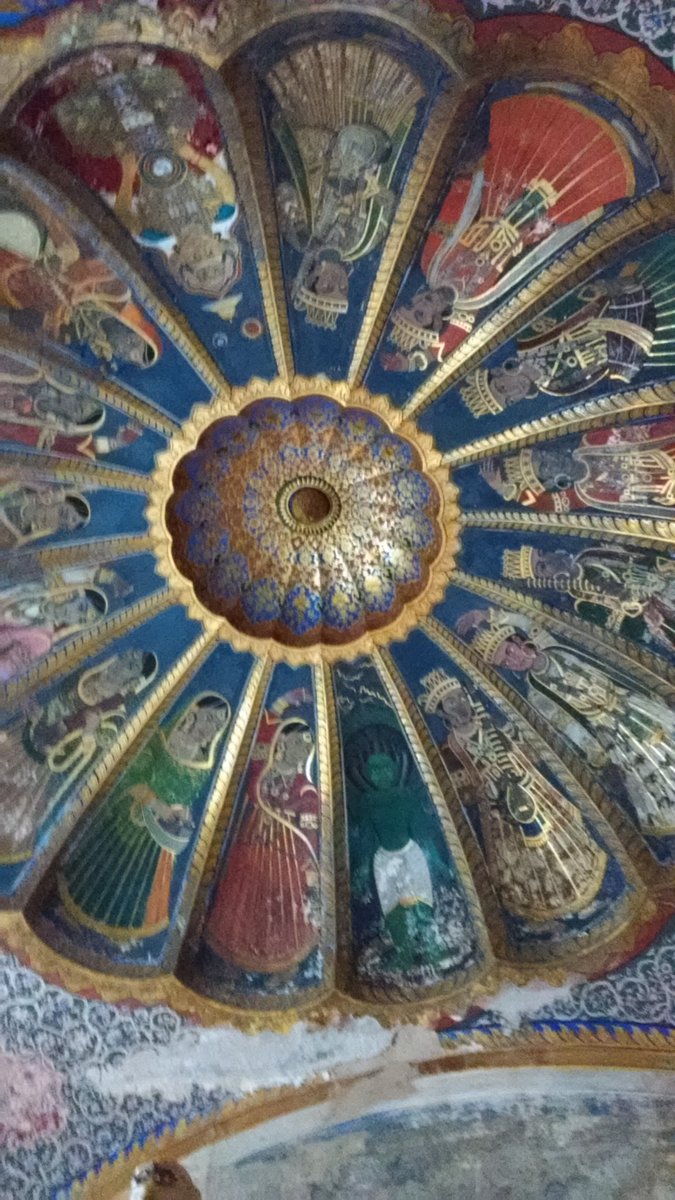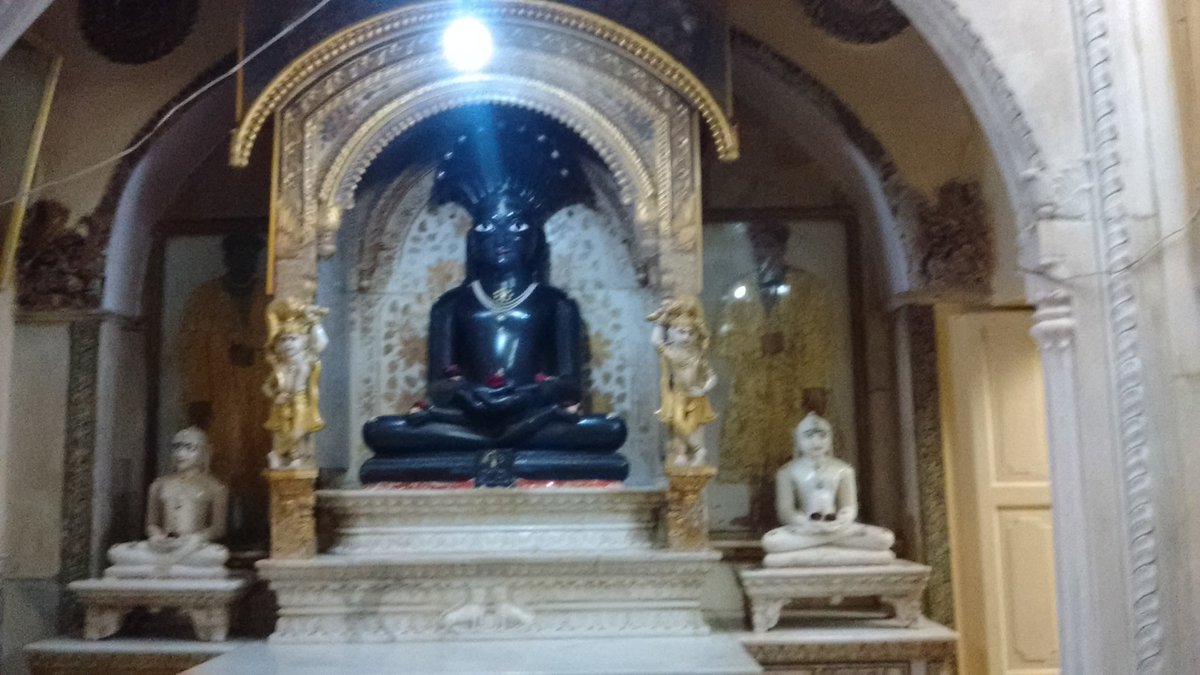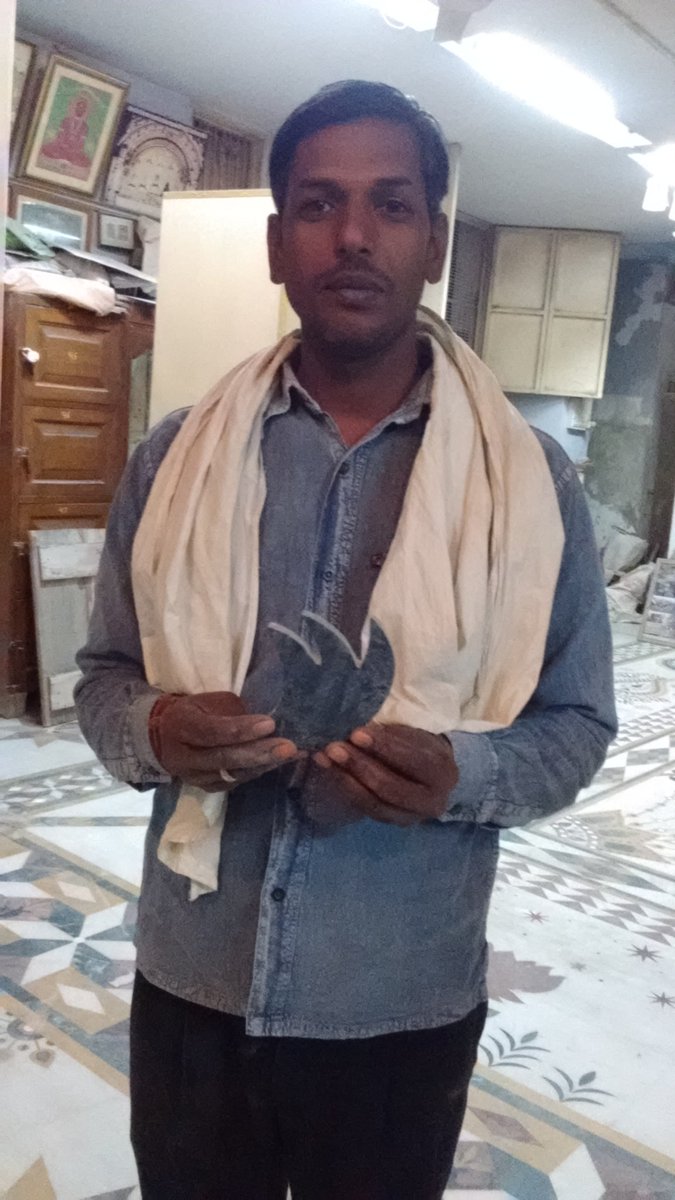 From here we came back to the ground floor office, by this time Secretary sahab had woken up and demanded to see all the footage. Satisfied, he then took us to the basement where Pappu Ram was doing all the stone cutting, designing and everything else. He had come from Rajasthan some years back and had been working now for two years in the basement under Secretary Sahab's supervision. His passion for his work was visible as he spoke. He also made amazing ginger tea for all of us. They invited us to visit them on 4th Jan for lunch when they take out a procession with a palanquin, big elephants and other things that were under cover are all used then.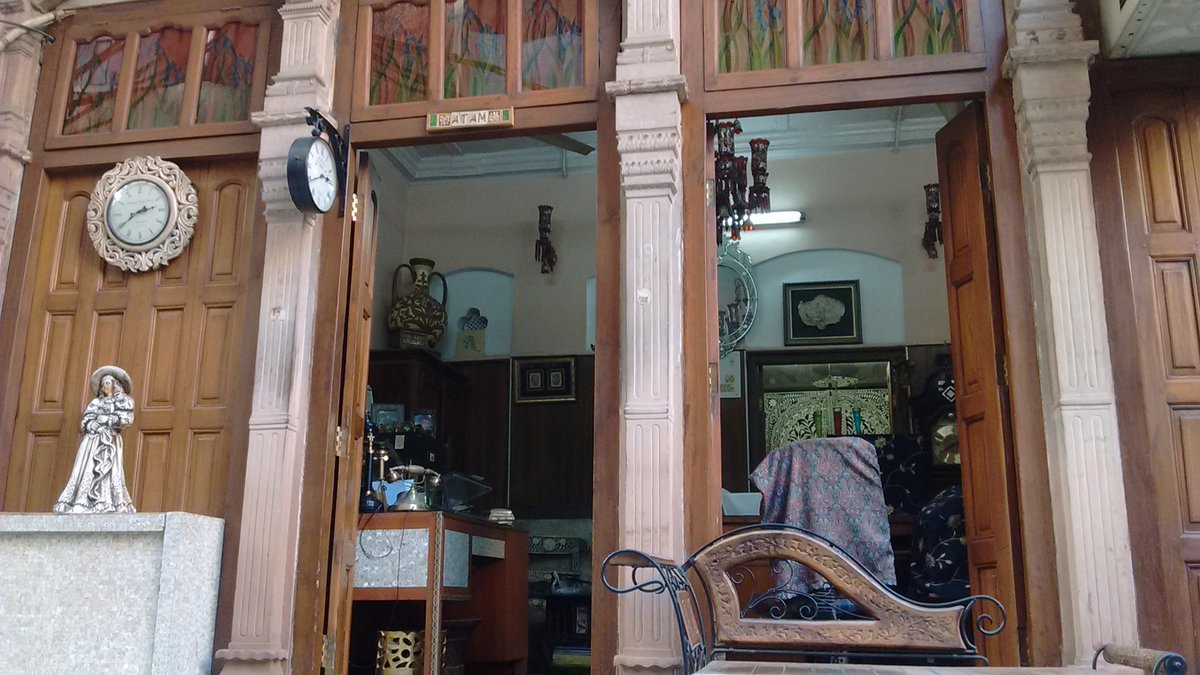 We came out of the temple and straight went to this beautifully built and maintained 19th century house. The drawing room cum office opened into the street and showed a collector's house. We were surprised at the open doors which gave a full view of the room and everything inside it. The room was full of beautifully framed paintings, other artifacts and luckily the owner, Atam Aggarwal agreed to entertain us. He told us, his father Ram Charan Aggarwal (he has a road named after him at ITO) was a freedom fighter, and showed a book on him with pics of Gandhiji, Nehru and other major leaders. Most of this collection was his own. A generous man, (brother of JP Aggarwal, Congress leader), he offered us tea but we declined and promised to visit him for chat and tea when we would come for the Mandir Yatra next.