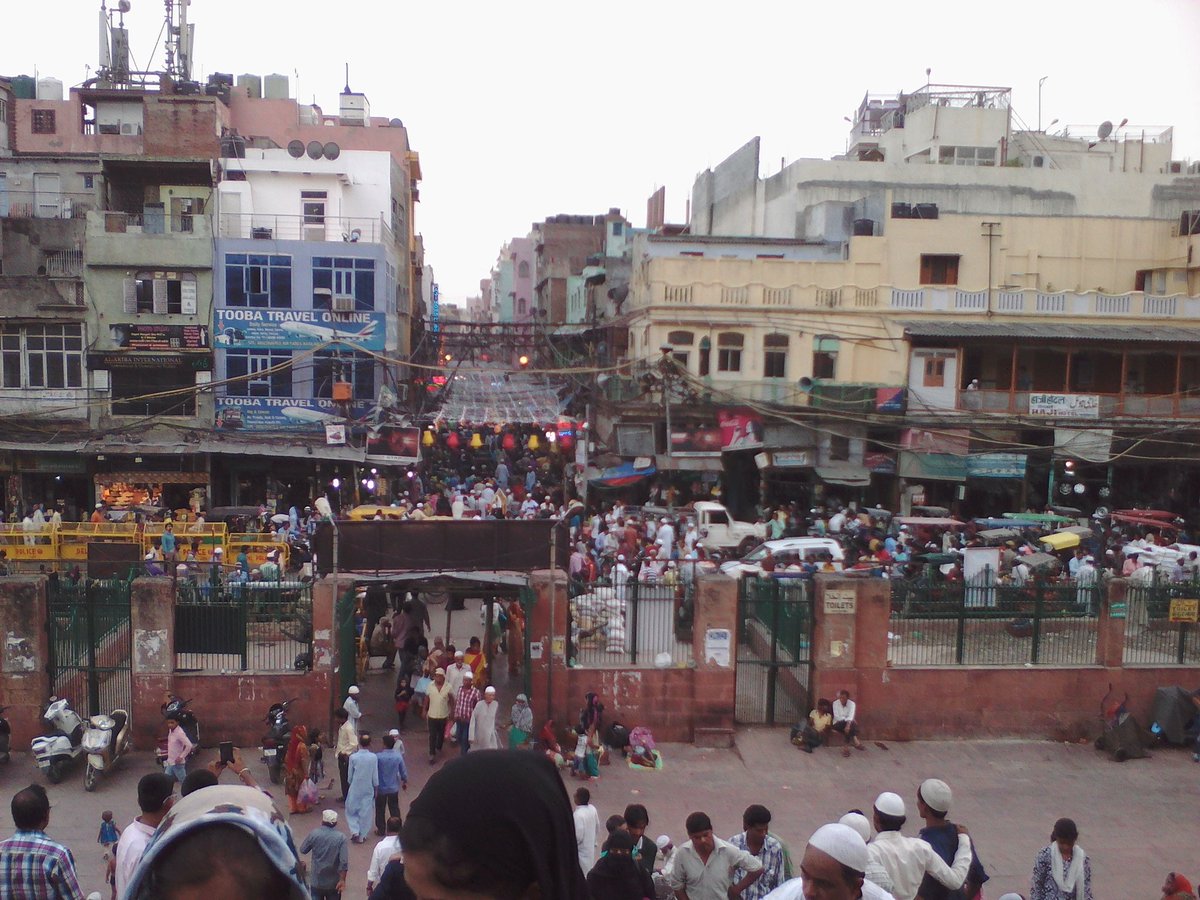 Since Ramzan at Shahjahanabad is such a special month, we decided to Video document some of it through Iftar and Sehri Walks with Delhi Food Walks. Chawari Bazar Metro station was our meeting point. The two groups of people (those who had registered with Delhi Food Walks and those who had registered with Sahapedia) had all arrived, totaling to almost thirty in number. The big group now had us worried, as it was extremely crowded, we were already sweating in the hot and humid weather and to carry such a big group around Shahjahanabad, needed special skills. Anubhav Sapra (Delhi Food Walks') was unfazed by the crowds.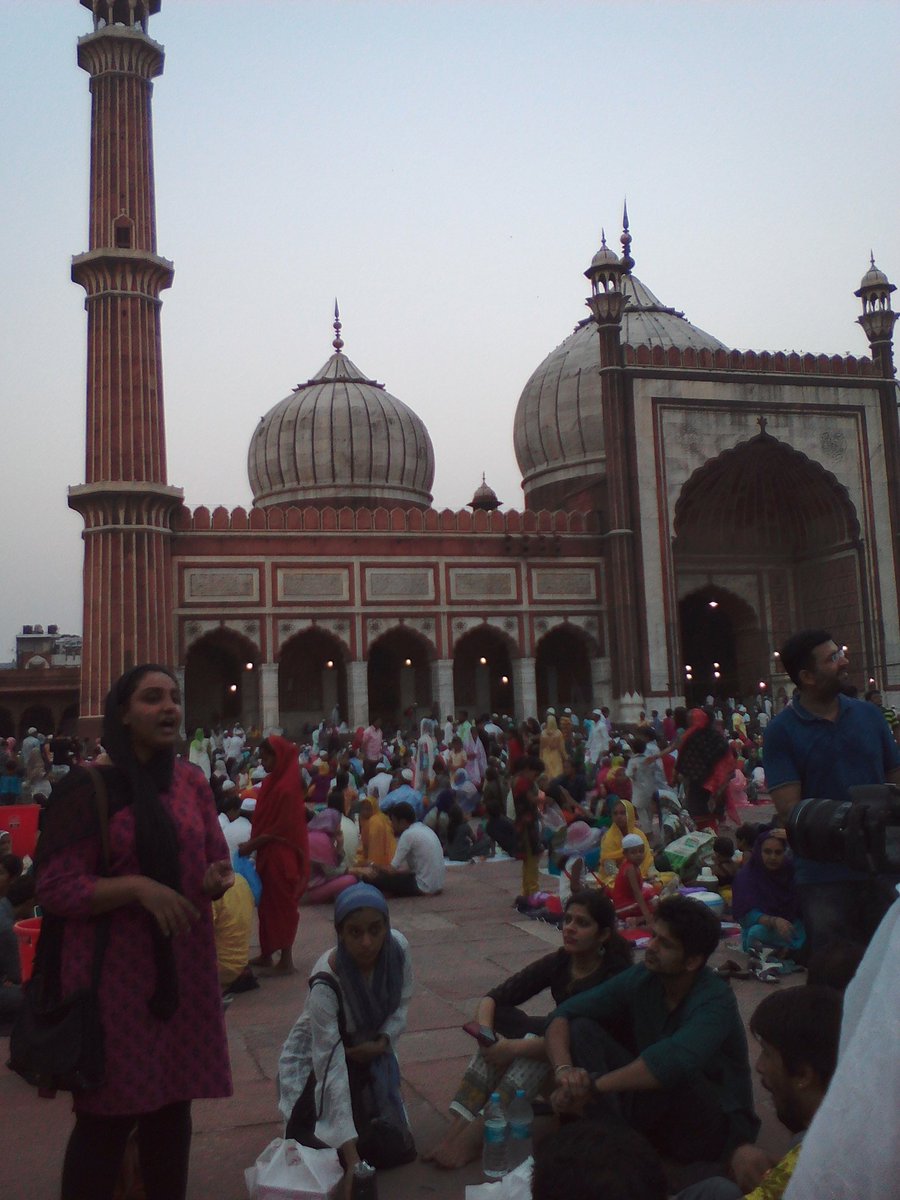 Anubhav led us from Chawari Bazar to Jama Masjid for Iftar. As it was a Saturday, the Nai Sarak-Chawari Bazar stretch was extremely crowded. The entire group walked in rows of twos and threes following Anubhav, up to Jama Masjid, crowding the bazar even further.
It was already 7pm by the time we reached the mosque. One girl from the group was wearing a short dress and was not allowed inside. It would have been extremely sad to leave out a group member during Iftar in Iftar walk. At first, I offered my dupatta as a wrap skirt but the sleeveless dress required top covered as well. Both my Sahapedia colleague and I, rushed to the Gate no.3 (Dariba side) from Gate no. 1 (Matia Mahal) to look for gowns they usually offer to foreigners. There were none at Gate no. 1, only lungis which was offered to a foreigner wearing shorts. The guy who had gowns decided to act difficult and refused for some reason. I named the person I knew who had given us the shooting permission and it worked! She finally entered the premises wearing a long gown over her dress.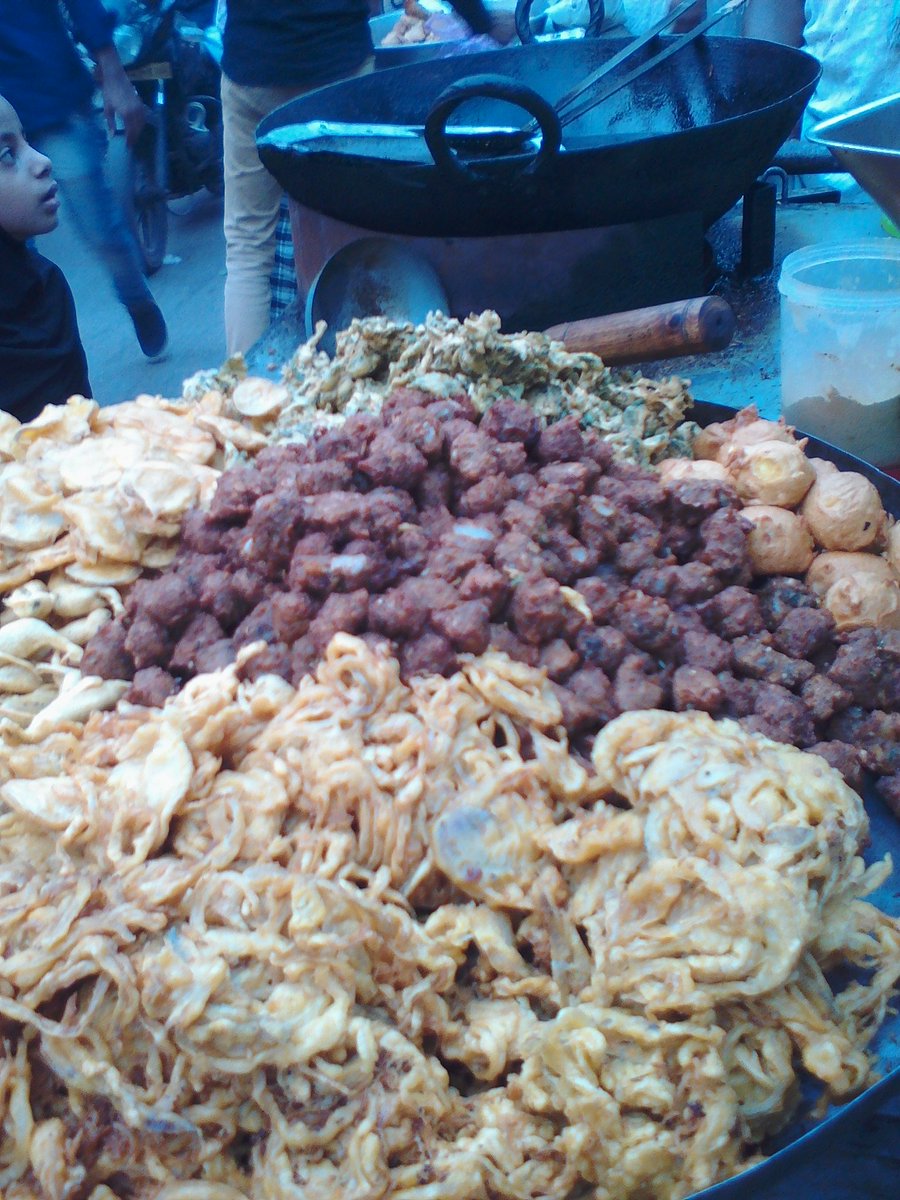 But in this running around, we forgot our camera people. They were getting harassed by authorities for carrying cameras and moving without shooting permission! Finally things got sorted and we started shooting as Tufaila (Delhi Food Walks) explained to the group the significance of Ramzan and benefits of fasting.
Anubhav had ordered water bottles and small boxes from Kallan sweets of mince samosa-paneer jalebi, along with dates and different kinds of pakoras. The courtyard of the mosque was filled with families sitting with their dastarkhwans spread out with delicacies waiting for the time to pass. The last minutes are the hardest, as we spotted people distributing Sharbets, samosas, dates to the Rozadars'. People selling water got taunted for being too commercial and selling water to Rozadars!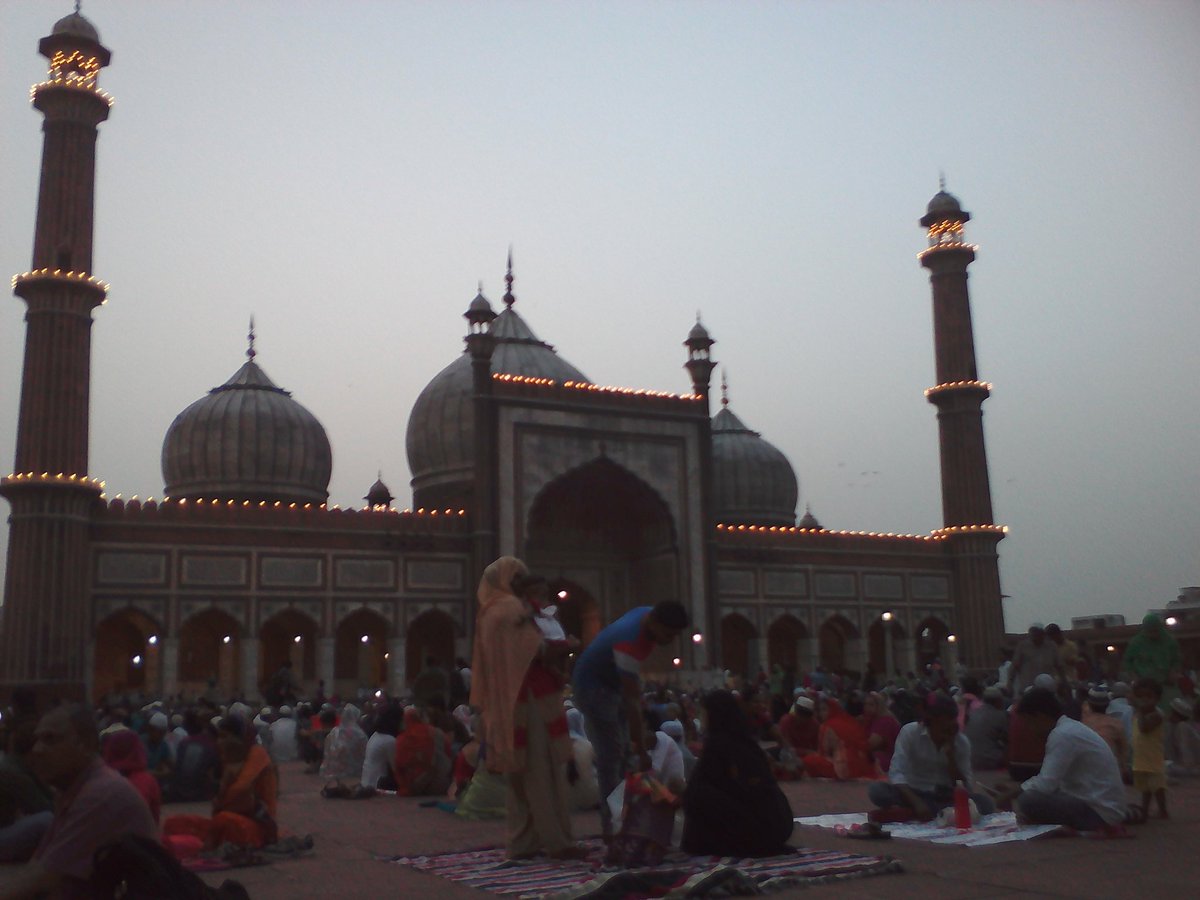 The most interesting is the announcement of iftar! A man stands at one of the small Minars and signals with a green flag then the cannon sound goes off! And entire Jama Masjid gets lit up. At other mosques time for iftar is marked by a siren sound but Shahi Masjid continues the tradition from Shahjahan's time! After Azaan, people get ready for Maghrib prayers, we finished some of our food and made our way to the Matia Mahal lane to start our food walk.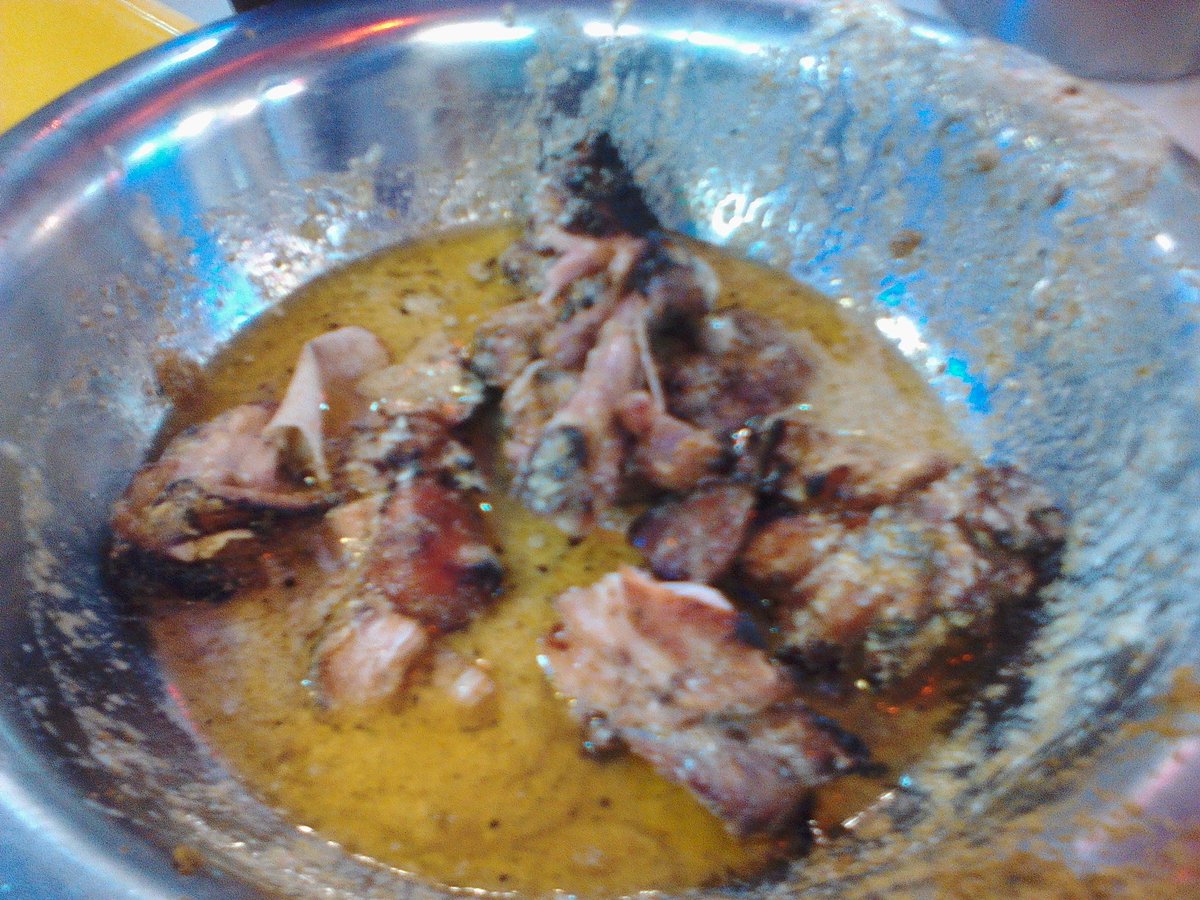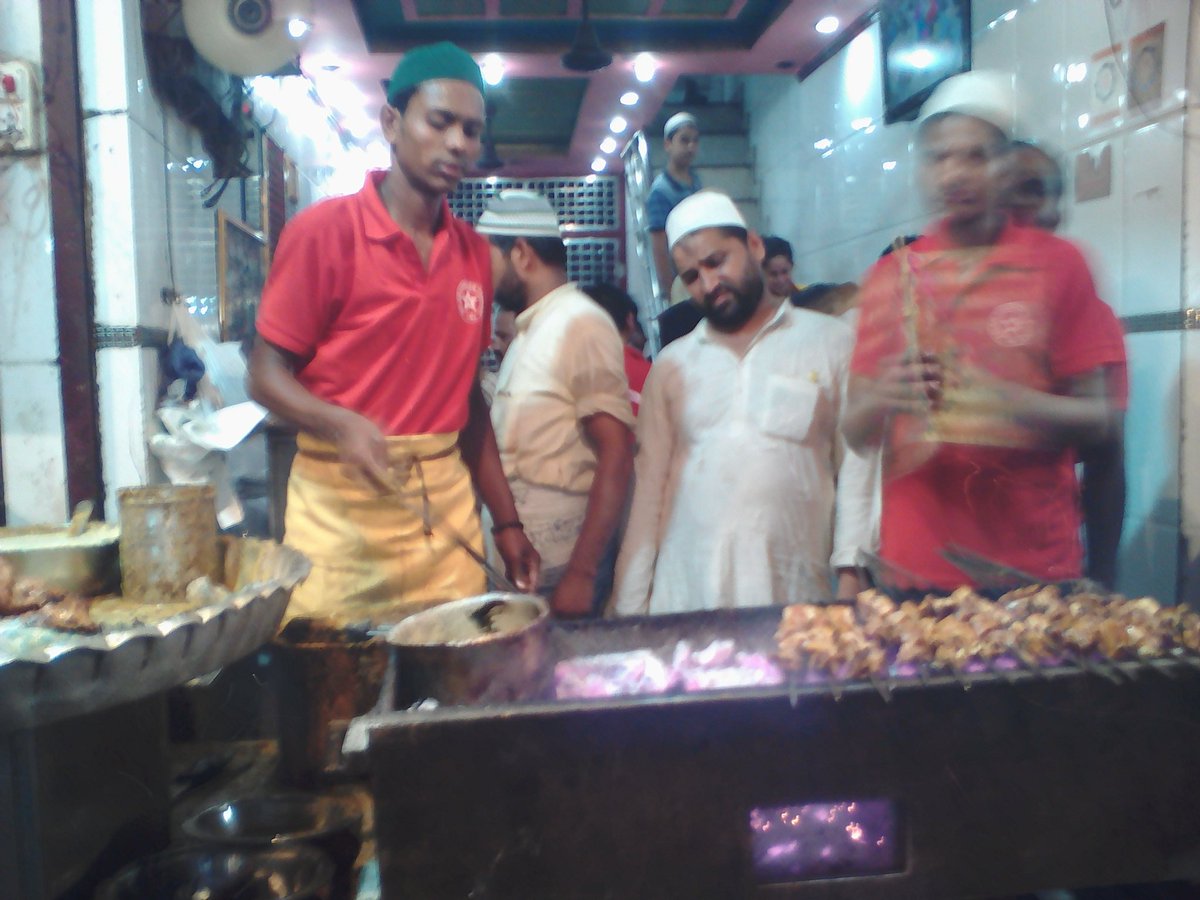 We started with Aslam located on the Matia Mahal lane, well known for its butter chicken. All the three floors were completely full. We shared our table with a Vegetarian couple and kept extending our sympathies to them(as we could not share our food) while finishing off our chicken and kebabs! We did not even touch the salad, and neither did they, not even paneer!
We should not have eaten as much as we did here (hindsight: but it was too tasty). From here we went to Taufiq Biryani where we tasted a few spoons of his achari Biryani and then went to Shabrati's Nihari. Here also everybody just tasted the nihari topped with butter, brain and bone marrow, with Khameeri roti. ()Taufiq's biryani and Shbarati's Nahari we had previously covered in our Breakfast walk with Anubhav).
A few steps ahead from Shabrati's shop, we had sweet khoya filled samosa at Ameer Sweet House. From Haveli Azam Khan we walked towards Chitli Qabar where we tasted different kinds of breads from Flora Bakery. For Ramzan, bakeries sell Coconut, Butter-Jam, Dry Fruit breads. (Coconut is personal favorite). By now, we had started to feel quite guilty for the vegetarian couple, here they finally had something to eat.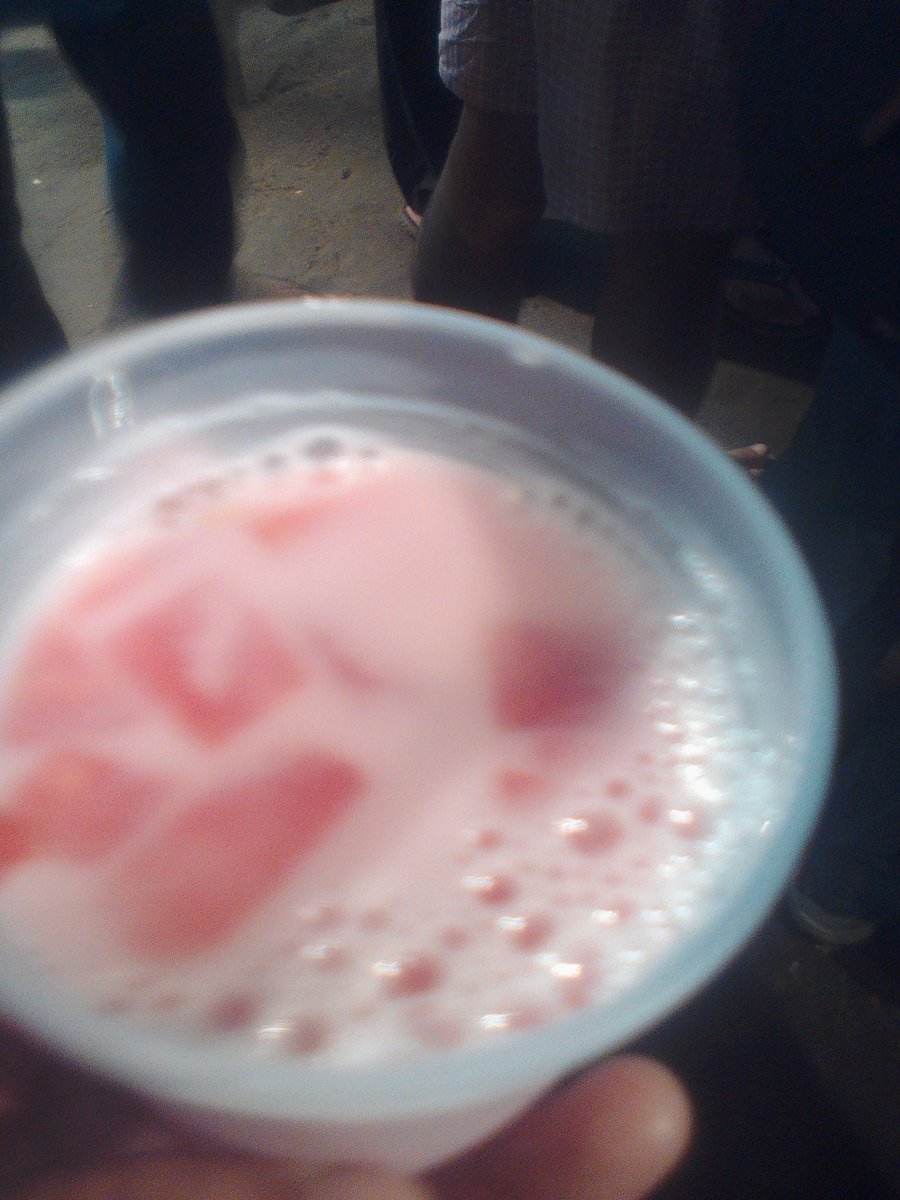 From Chitli Qabar we walked back towards Sui Walan for Al-Suleman's shakes. We tasted date and Injeer shakes (injeer was better as date was very sweet).
We again walked towards Matia Mahal for Pyaar Mohabbat Maza drink. The name intrigued us all. The shakes were heavy but the name of the drink ensured that everybody tasted it. It was milk Roohafza with water melon chunks. We made a few jokes about its name and moved a few steps for dessert.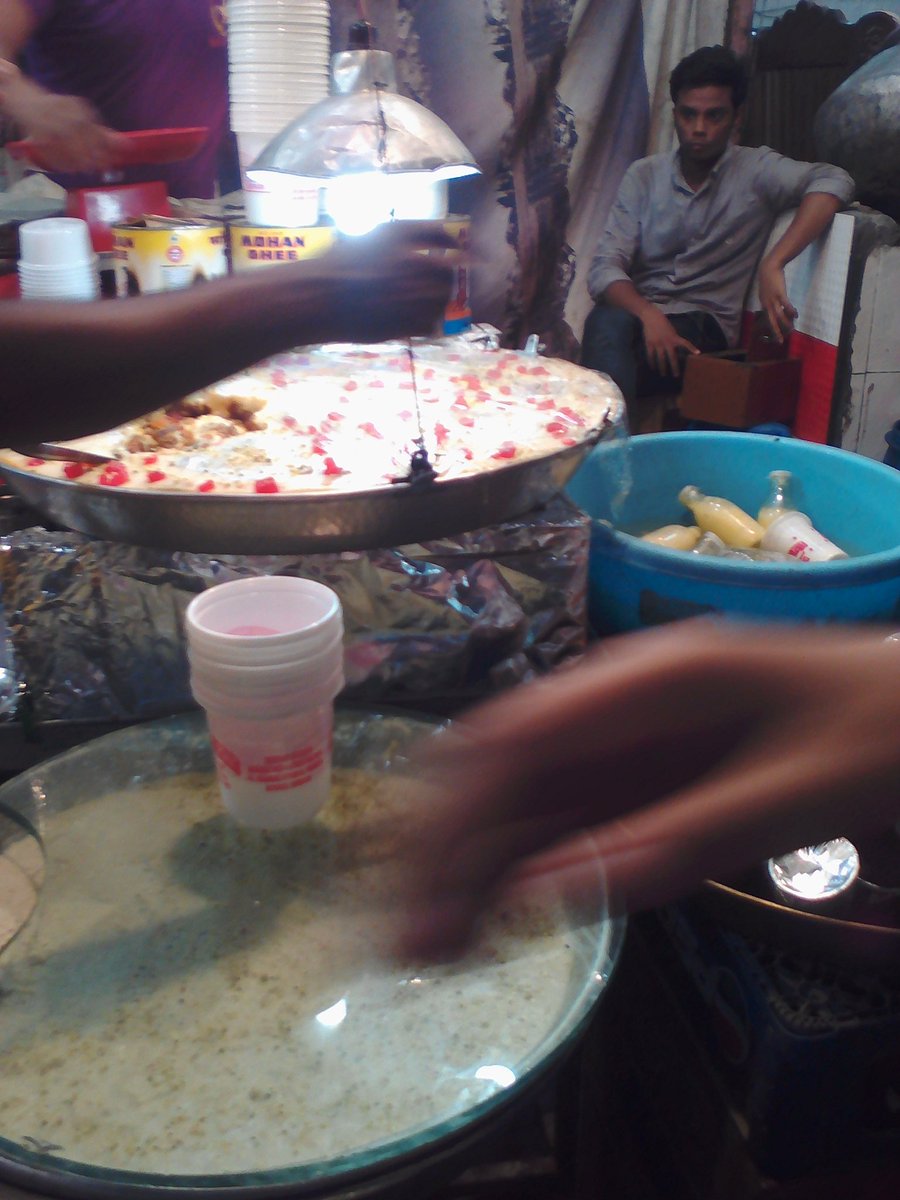 We were served Shahi tukda with mango ice cream. Some people preferred the combo, some only tasted the ice cream and kulfi. Mango ice cream was actually very good.
Anubhav offered to take us to an exclusive Date shop where the variety of dates from around the world was fascinating. The owner explained about the various dates on display and specifically about the Ajwa' dates' (most expensive) health benefits.
By 11pm the bazar was still crowded. We all had a very filling experience (pun intended!). The stomach was confused with the onslaught of various foods and drinks, after the day long fasting.
It took all of us a lot of effort to walk back out of Shahjahanabad towards Turkman Gate with such a heavy stomach.
Link to Video-
https://www.youtube.com/watch?v=Fq3vtotd4X4