Sehri is the pre-dawn meal which people eat before they begin their fasts. Sehri foods like different kind of breads (coconut/ butter-jam/ dry fruits, etc), khajla, pheni (fried sewaiyan) etc. are Ramzan specials and are available only during this month. The sense of time that Shahjahanabad follows (late mornings/late nights for markets) gets even more stretched at night now. The food is available till dawn when the Sehri ends. Markets remain open for Eid shoppers throughout the night as days are too hot and people fasting prefer shopping post-Iftar. With Ramzan the time schedule changes for Old Delhi, especially in the Muslim populated areas.
We had registered interested people through social media for our Sehri Walk. We thought a group of 20 would be sufficient, but it ended up being 25!
More girls' registered for this Sehri walk as they saw it as a chance to explore the streets of the city at night (11pm-4am!), without worrying about the safety aspect!
On the day of the walk, the prediction by the Met department came true (surprise, surprise!) and Delhi received its first Monsoon rains! Our team with our fingers crossed calmed each other's nerves that rains would stop by 11 pm, the scheduled time of the Walk! Rains did stop and weather cleared a bit, but as it happens, post-rains traffic was chaotic. People got stuck in traffic at different places, even Metro was delayed. At 11 pm with just a couple of us at Chandni Chowk Metro Station (our meeting point), we even discussed if we should postpone it to the next day. But then, people started coming in. We were left with a group of 20 people and could only start our walk around 11.40 pm!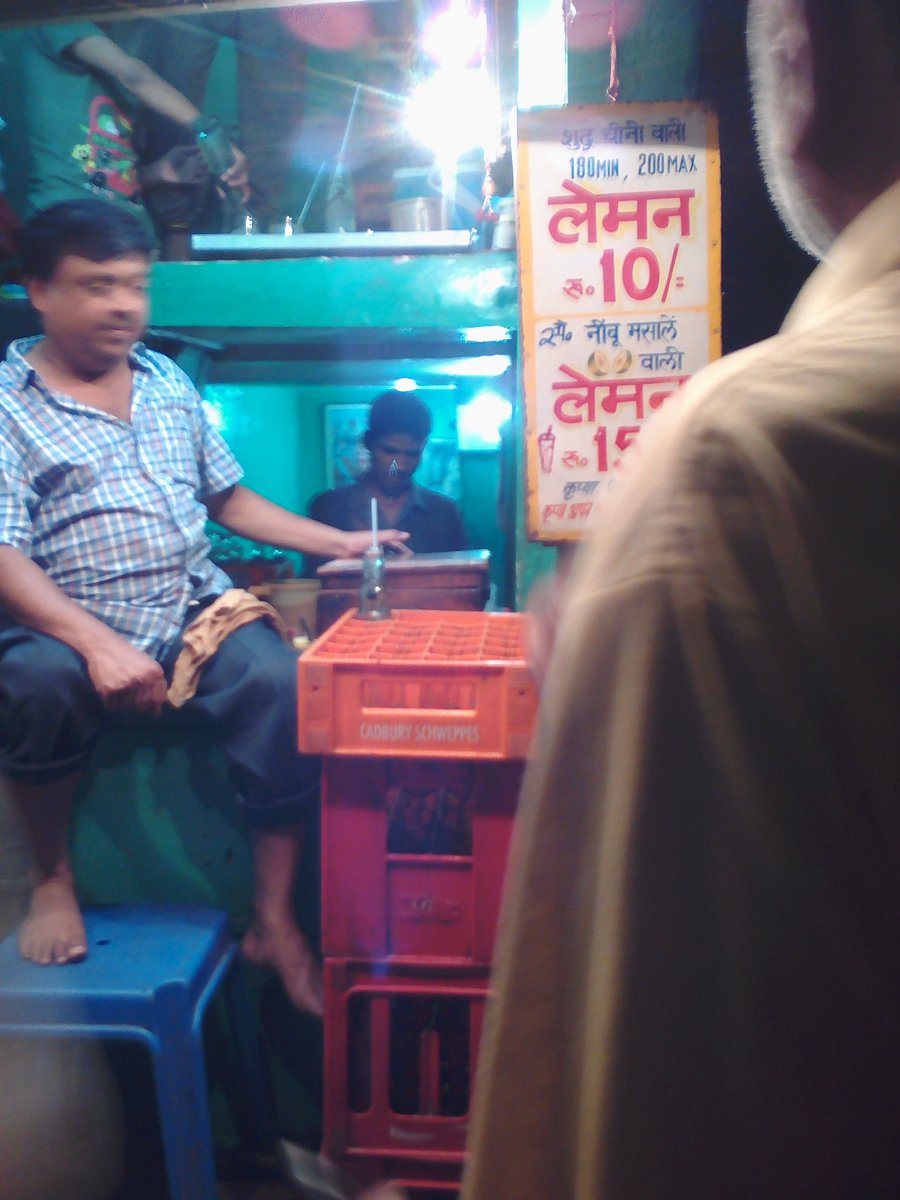 We walked from the Metro Station to the main Chandni Chowk market. Chandni Chowk was mostly deserted with homeless migrant laborers sleeping on the pavement. From the few shops which were open here, one was the Lemon Soda wala, which had a decent crowd even at this hour. One of the oldest 'bunta' shop in this area.
From Chandni Chowk we walked till the Ballimaran turn and were shocked to see the crowds. It was up and active as shop sellers sold Eid clothes, shoes, household stuff and food. We went up to Manzoor Nahari. Their nahari famous in this area, gets over in two hours. We sat and had nahari with big, hot Tandoori Khameeri nans/breads. Just next to their shop was the Habshi Halwa shop (made from burnt milk, black in color, thus named after the Blacks!). A few steps ahead was a Kebab wala whose Kebabs had been sold out already.
It started drizzling from here and all those who were carrying cameras, including our team started looking for things to cover their equipments.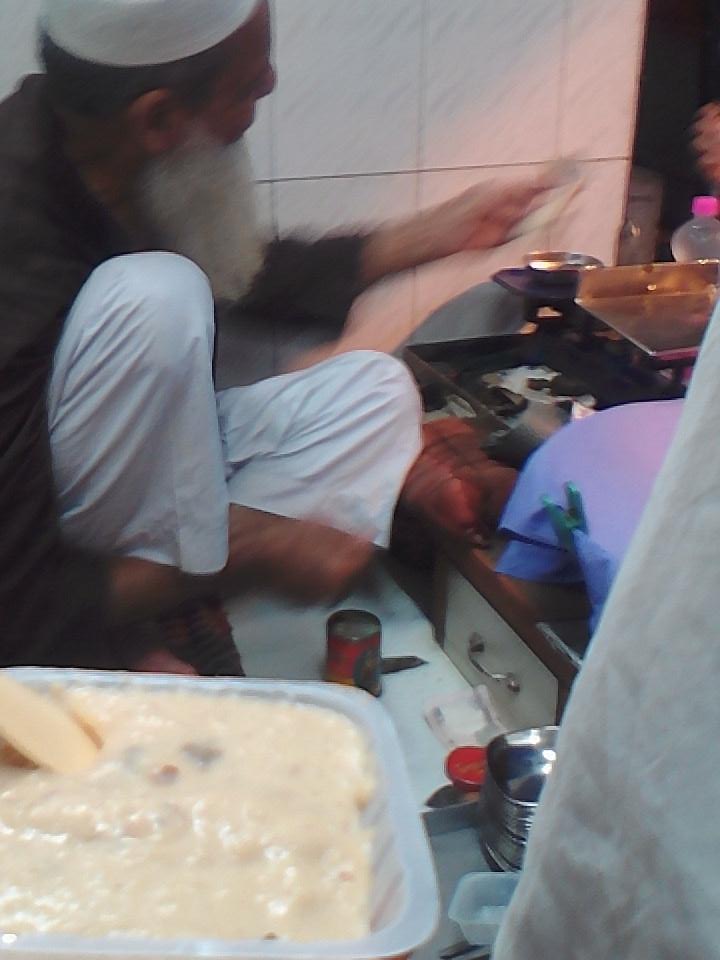 From Ballimaran we walked till Hauz Qazi main lane to Bade Miyan's Kheer. It was one of the best Kheers that I had ever tasted. 'It is cooked for 7-8 hours on very low flame' over a firewood chulha. Its owner also narrated that Madhubala was born at the house upstairs and her family lived there for sometime before shifting to Bombay!
The rain showed no sign of stopping as some of us walked, some took the battery rickshaws to the end of the Lal Kuan street to Katra Baryan for Khan Omlette. The name should have been 'Khan's Eggs' (given the experiments that Khan sahab did with eggs, but I guess, that would have been weird)!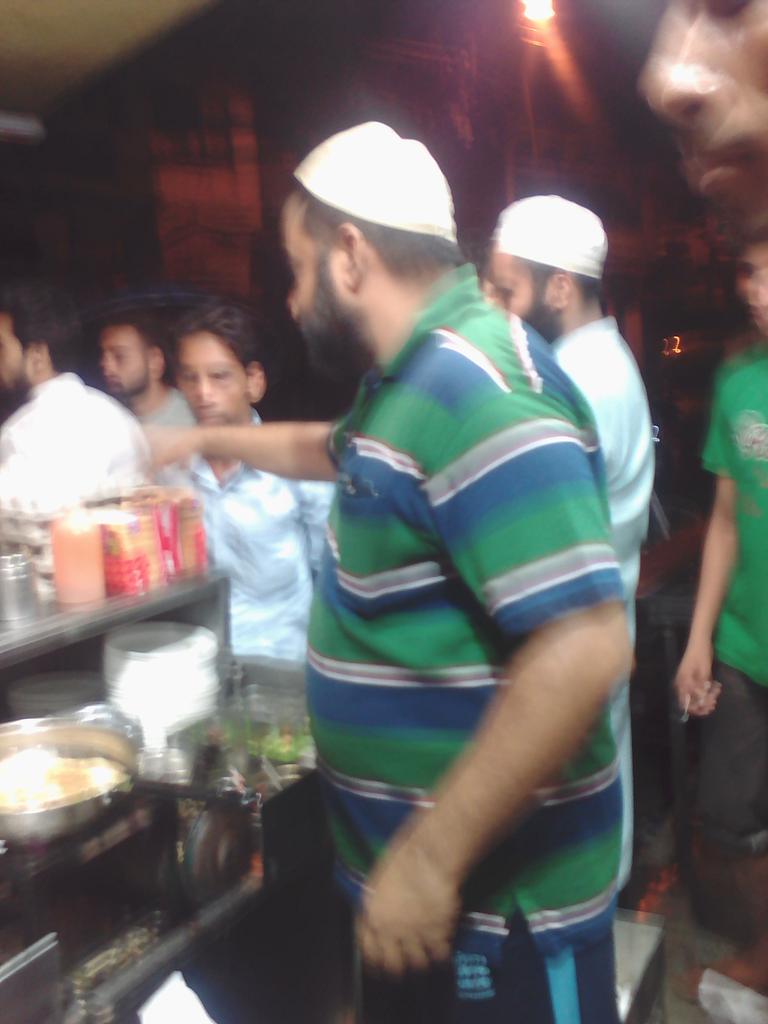 The eggs that we tasted were only three of his preparations from a big list There was a long queue and we were told that we had a waiting time of 40 mins atleast. On our persistent requests, our waiting time came down to 20 mins! We tried his special Omlette sandwich which had cheese. It was good, but his next preparation "Khan Special"was the best! The eggs tasted like Qeema. The third we were told was a boiled egg bhurji, which was good too. A complete revelation!
It was raining quite heavily by now. We hired four e-rickshaws for the group and a couple of cycle rickshaws for Jama Masjid. We were told that newly opened Anwar Food Corner had good chicken Haleem. We (me and my Editor/Videographer bhai) had not eaten much at other places as we looked forward to eating some good Haleem!We could not have been more wrong!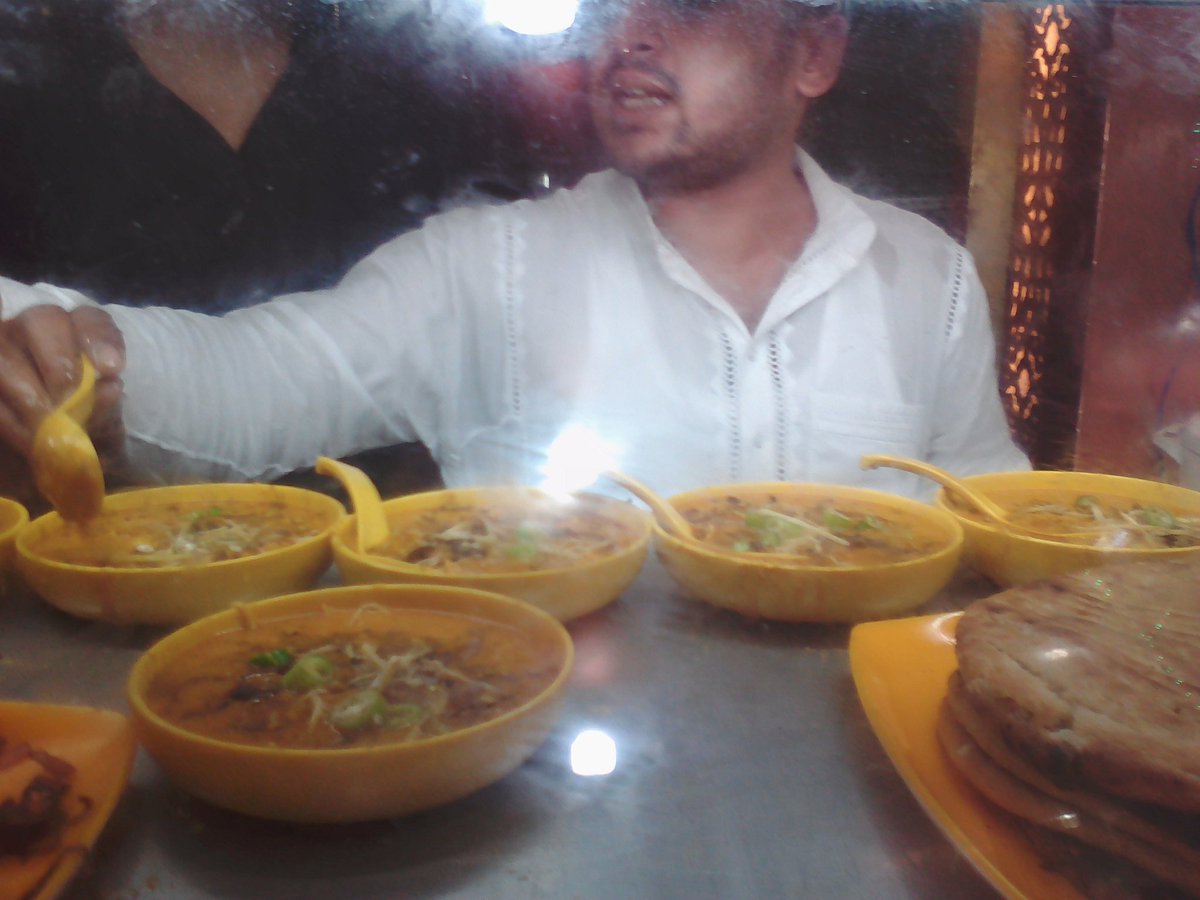 It was a disgrace to Haleem! Extremely runny, with bits of Chana Dal visible and no taste! I decided to give my feedback to the owner, who just completely ignored me and walked off! After a few spoons our bowl of Haleem remained untouched!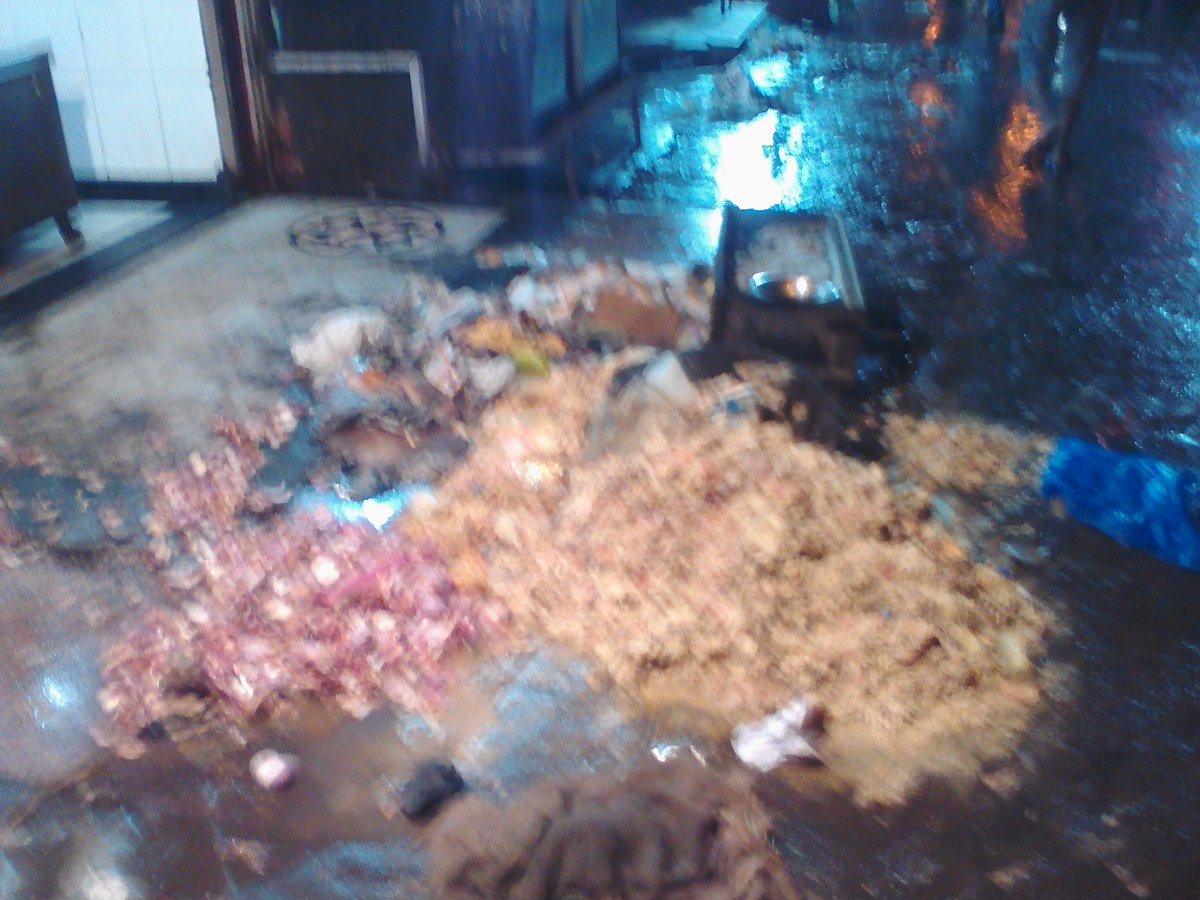 We started for Aslam Butter Chicken, but what we saw there just completely killed our appetite. It looked like the aftermath of a Chicken war. Leftover of Butter Chicken was piled up on the main road. Most of us just refused to eat. They had wrapped up the kitchen, so it took them time to make more food for us. By the time chicken came after almost twenty minutes most of us had dozed off.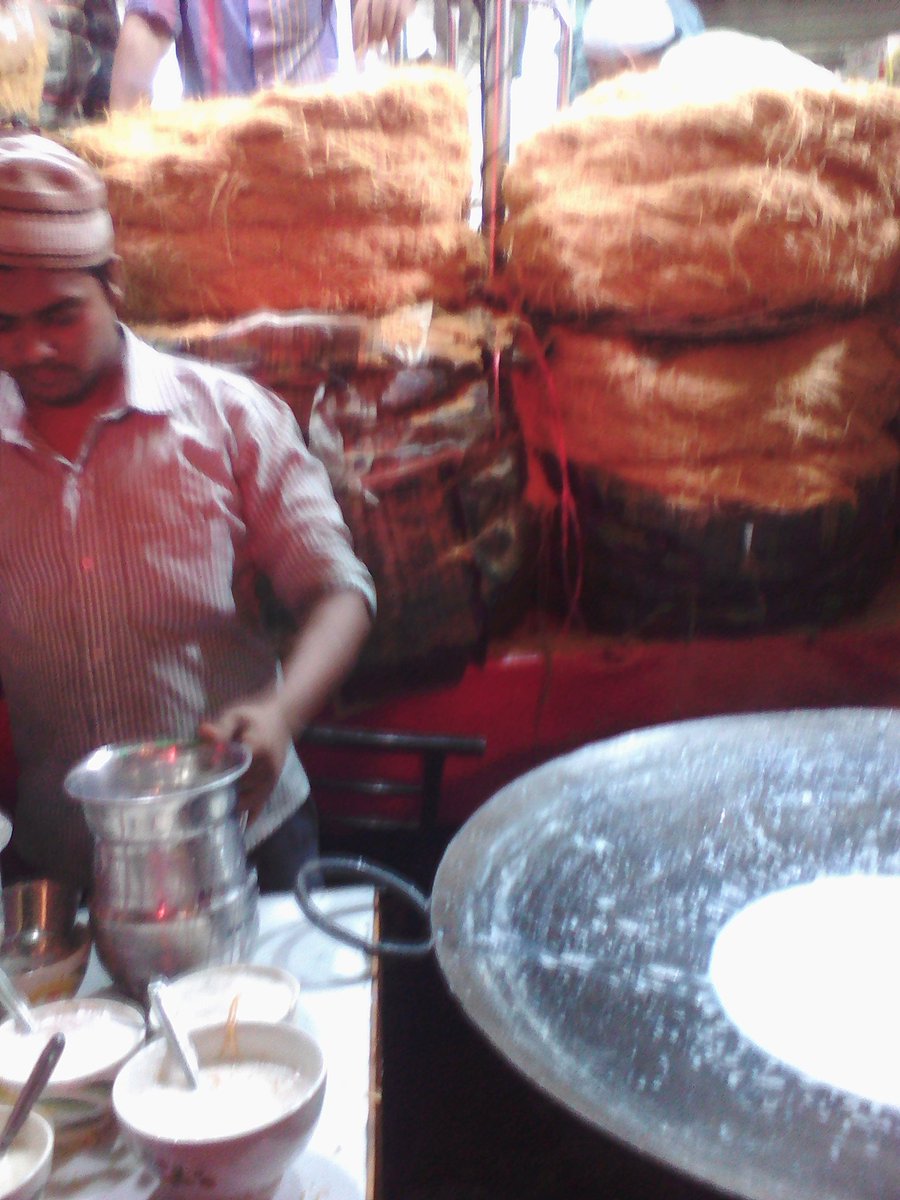 It was almost around 3.30 am by the time we left Aslam to taste some Pheni (fried sewaiyan) with milk. They had big bowls, I always liked my Khajla/Pheni crispy with very little milk, these were completely soaked in lots of milk. We skipped Shahi Tukda, and instead preferred some tea at the Pheni stall.
The announcements at different intervals from Jama Masjid kept reminding us of the time left in the Sehri "Hazrat Sehri Ka Waqt Khatam Hone me ab Paanch minute baaqi hain, apne apne mamoolat jald khatam kar len" (Respected people, now it is just five minutes left for the Sehri to end, please finish your routine things fast).