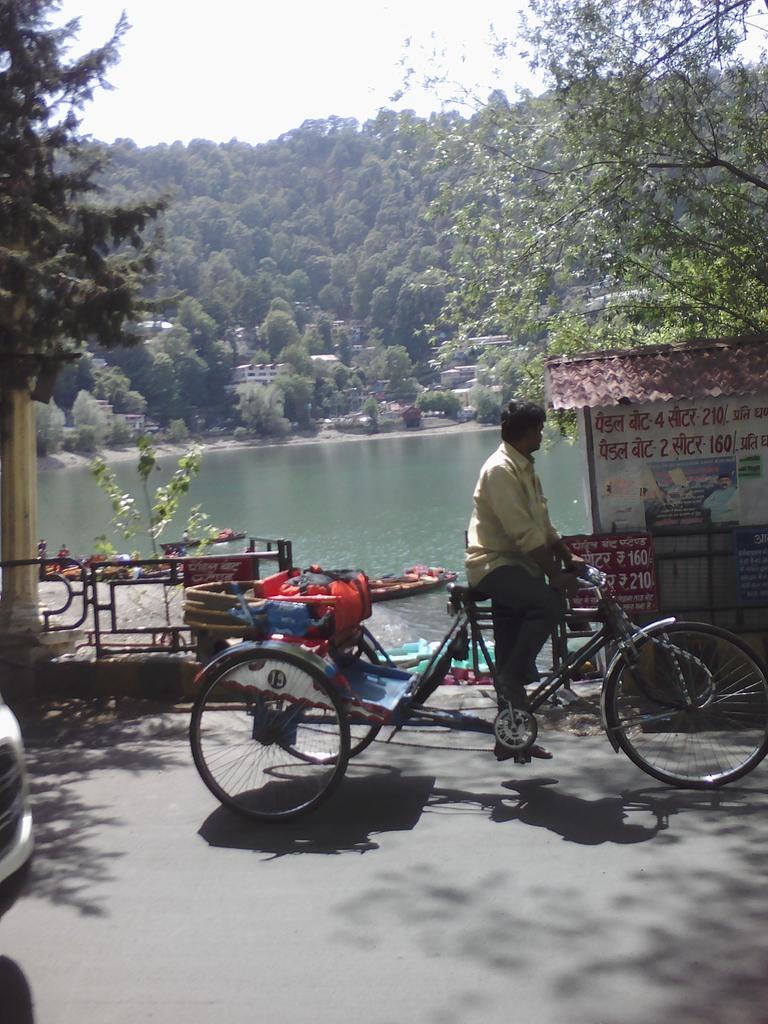 Nainital, is a city around the Naini lake and very interesting rickshaws, good markets and good food. It resembled Sarojini Nagar to my colleague with so many Delhi/Chandigarh people.
We had our lunch and kept our luggage at a restaurant on the main road before we went on our mission- shopping!
The huge Tibetan market with the Nainital Jama Masjid at one end, Gurudwara and a temple in the middle and Church a little further, not just enthralls a shopper but a 'Sarva-dharm Sambhav' believer too.
We had to buy an extra bag for the stuff we bought. I ended up buying socks for everyone- niece/nephew/friends/family.
We had chai and walked up to the other local market of Nainital, the Bara Bazar. I had remembered the local barfi, bought some five years back. The famous barfi (locally known as bal mithai) from Mamu's is really good, we tried from the other shop, same price but not half as good as Mamu!
It was getting late we decided to ask around for taxis around 6pm. We had to pick up our bags from the restaurant too. The taxi driver told us that we would get taxi from the other side. We kept walking, also bought a few squashes and plum chutneys from the main road on the way. We picked up our bags around 7pm only to realize that from evening on wards the traffic around the city gets one-way and taxis are available on the other side only and no rickshaws too! Now, we three with our bags walked as fast as we could around the entire lake city and realized well, the lake was quite big! As my friend remarked, if someone could spot on a satellite three people with huge bags running from one end of the city to the other, they would know it was us (not funny guys!).
Finally found a taxi around 8pm, driver over-charged and informed us that it takes almost an hour to reach Kathgodam and we will have to take a longer route because of traffic restrictions! Well, nobody warned us about Nainital's traffic restrictions, they do not even have that much traffic!
We were tired (with walking or rather running around the city with our luggage), stressed and the internet network on phones was not working. I called up a friend in Delhi, to ask for available options. He told us about Howrah train which would drop us at Rampur and from there many trains go to Delhi. We still kept praying (and puked from stress!) and hoping that we get our direct train to Delhi. Driver did try (to be fair), but we reached Kathgodam ten minutes late at 8.40pm, and direct train to Delhi had left.
We bought general train tickets to Rampur and found that there is a Ladies Compartment on the Howrah train. We had sometime so at the IRCTC diner, we bought food, ate some with effort, gave away rest and drank all the available options- flavored lassi/milk/ cold coffee/Minute maid etc.
Some policewalas came inside the Ladies dabba which had just two sections of berths, extremely uncomfortable upper berths. We took the single window seats on the side and Amma lied down on the berth. Policewalas clicked photos of all the women and told us scary stories about women poisoning other women with food and then looting stuff. One policeman sat in the women's section throughout 'for safety'. After a long day, we were all feeling a bit sleepy, but the fear of reaching Howrah 'by mistake' somehow kept us up! As train moved from Kathgodam, at every station, crowd of women with large luggage, boxes, sacks of utensils and children came into the compartment (women do not travel light, check out any ladies compartment!).
Amma had to get up and share her berth with four women and two kids ('chivalry' is a virtue lost on most women), they just talked or created fuss and fought! If so many women travel in Ladies Compartment, railway authorities should make more seats available. It is just tokenism without any facilities!
Thankfully, Rampur came soon and we got off Howrah train's women compartment-cum-Murgi-darba!
Rampur station was reasonably crowded. We went to buy the tickets for Delhi and got information that train was late by an hour, and subsequently all trains to Delhi were late. We kept waiting on Platform 3, made a few rounds of the ladies waiting room (quite clean!) to charge our phones, bought more cold drinks. The weather was much better because of the drizzle, just a few mosquitoes and sprawling benches looked quite inviting, and made acquaintance with chaiwalas, coolies, Amul Ice cream and other vendors on the platform.
Finally, the train came around 2.30am and power went off! It could not have been more dramatic, looked rather than a train to Delhi but to Hogwarts'. The light came back soon and we somehow managed to get in with our stuff, but the crowds- people sleeping on the floor, most spilling from their seats, some just hanging near the door and full AC/Sleeper class with TT nowhere insight, forced us to come out of the train. The same scene was repeated with the next three Delhi trains. We had serious discussions (that is what academics do!) on the bad conditions, Railways needing reforms, etc. Another train was scheduled for 6am and we were promised by an old coolie that he would get us space for Rs. 300/- extra. We had given up on trains by now. Around 4.30am, me and my colleague decided to go out and see what other options were available as it was dawn already, and small towns get up early. We spoke with a few taxi guys, a e-rickshaw wala took us to a taxi stand, sadly it had no taxis! We spotted a few buses and decided to take the bus. The old coolie walked us out of the Rampur station, we took a Volvo to Delhi at 5am and reached Delhi around 10am thankfully!
After coming back, instead of taking out her policewala danda for the Nainital fiasco, Amma/Umma cooked a nice lunch with kheer as dessert for us :)